---
---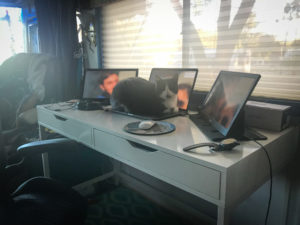 Ever wonder how we afford to give Lucy the cat a nice life?
Or pay for the endless list of repairs Dyna seems to need?
Or buy all that beer in all those different cities and towns we park in?
Answer: Lucy works a full time job.
Ok, that's a lie. But she does spend a lot of time laying on our laptops.
But really, we both work. Remotely.
And to work remotely, we both need to have access to internet.
Except we live in an RV, which means we can't get internet via a magical cord – like that which runs into a typical house.
Jake is a web developer who telecommutes full-time for a company out of the DC area.
Liz works for a company run by fellow RVers who focus on all things mobile internet. Which is convenient, because that means we stay pretty up to date on the latest and greatest tech and plans for maintaining workable internet while traveling.
So, how do we keep online?
Behold: Our tech cabinet.
We utilize the awkwardly shaped cabinet above our front windshield to hold the numerous, magical small devices that play a role in keeping us connected.
This conglomerate of electronics typically does a pretty decent job of keeping us online to be able to voice conference, check-in code, be available on Skype, blog, and monitor social media (hey, that's really part of Liz's job!) Usually it even allows us to play Roblox with our nephew – which may be more important than keeping online to be able to work.
And when the magical devices are unable to keep us connected, we use our wheels to roll our home to somewhere where the magical devices do work to get us online. Or head to Starbucks or the public library for the day.
Unless it's the weekend. Then we typically say "screw it" and don't worry about the no-internet access issue until Sunday night.
---
Cellular Data Plans
The core of our internet set-up consists of cellular data plans. Yep, we almost always use cellular data to get online. And if you have a phone plan, you may be aware that cellular data is really freaking expensive. Especially if you are using it as your main source of internet. But, there are options. And we are currently pretty happy with the options we're using.
Grandfathered Verizon Unlimited Data Plan (gUDP)

We assumed liability of a Verizon gUDP back in December 2015. Verizon gUDPs are pretty awesome in that they offer truly unlimited data for what is currently considered an absurdly low price on what is currently the largest cellular network in the US. When you travel all over the place in the US, it's a good idea to have the biggest network in terms of coverage on your mobile internet team.
Verizon gUDPs don't have data caps for hotspotted data and are not subject to network management.
We paid $700 for the gUDP upfront (to own the line), and now pay $73/month (with taxes) per month

AT&T Rural Plan 250GB

We jumped on a limited time offer that AT&T put out in March 2017 for specific zip codes (yay for being South Dakota residents!)
This addition added some redundancy to our set-up, for those times when Verizon coverage might suck, or towers are overloaded
250GB of data on the nation's second largest carrier in terms of coverage
$70/month
Standalone Hotspot Devices
We run both of these data plans through hotspots.
Our Verizon gUDP runs on the 8800L mobile hotspot device. Our second 8800L, in fact. The first one had the 'famed' reboot issues and also Liz drop it and smashed the screen. This current edition works fine though.
Our AT&T 250GB Plan runs off of the AT&T HomeBase device, a funky sort of mobile hotspot specific for this plan type, but works just fine as one for us.
We pair our hotspot devices with a Pepwave Surf SoHo Router.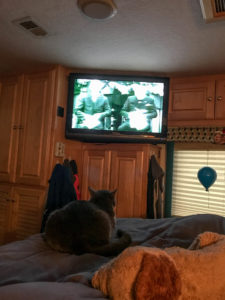 Gives us better WiFi range, so that I can surf the web or watch a girl show on Netflix with Lucy in the bedroom while Jake works up at his desk in the front of the RV.
Lets us connect our devices (computers, TV, phones) to one network, rather than having to figure out whether Verizon or AT&T or the park WiFi (haha – usually not) is strongest for that area. The router decides for us.
Signal Enhancing
We then have the option to boost our cellular signals via a weBoost 4GM booster, which we pair with a 4G OTR trucker antenna that Jake attached to our batwing antenna (for picking up local TV channels over the air). We also carry a Netgear MIMO Antenna, which we test against our booster's effects when we need to signal enhance.
Miscellaneous Pieces
We also carry a completely separate family phone plan on Verizon – just like any regular phone user might. We made the jump from a capped data plan with 16GB per month (which supported 4 family member phone lines) to Verizon's 2019 edition of Unlimited plans. We keep one of our personal phones on the Unlimited Starter plan (with no hotspot capability and 480p video streaming) and one on the Play More Unlimited (with 15GB of available mobile hotspot just in case – and HD streaming for when we need to HDMI output our favorite NFL team's game to our bigger screen because the NFL is a pain-in-the-you-know-what when your team sucks and you're typically out of the market).
Jake uses a VPN at all times for added privacy against Verizon/AT&T and park WiFi when we use it.
We back everything up on a Synology NAS. This also houses a bunch of downloaded videos that we can watch (and therefore don't have to tote around DVDs).
---
For those 'in the know' re: mobile internet tech, ours isn't exactly cutting edge or the 'latest and greatest'. But, we have found it works for us. And we find that we can upgrade pieces and parts of the set-up as needed, which we have done consistently.
When we first hit the road we were paying $~320 per month just for data (internet) on a capped Verizon hotspot data plan with 30GB. And because the plan was capped, we had to watch our data usage constantly. Which meant no Netflix. Or cat-slap youtube videos. Or Roblox with the nephew.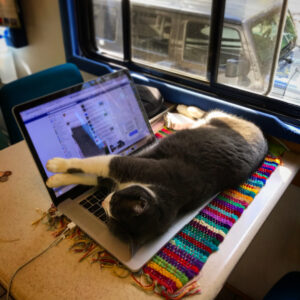 On top of that ~$320 data cost, we also had a grandfathered AT&T on device only unlimited data plan that we were paying $80/month for. This plan wasn't useful for much other than surfing the web on the phone, making phone calls, and streaming a show via HDMI mirroring the phone to a TV. Which also meant that Jake couldn't use his phone while I was using it to watch my shows with Lucy. And that was lame. But we held onto it until we found something better – which turned out to be the Mobile Internet Resource Center.
Chris & Cherie of the Mobile Internet Resource Center shared their expertise in all things mobile internet, and ended up saving us over $150/month. And this new cheaper set-up we had created by using their knowledge was also more functional, stress free, and usable than our initial $400 set-up.
Now we don't have to watch data caps, don't have to share devices, and don't have to worry about Verizon having overloaded towers (as much).
And then a little later on down the road, Chris and Cherie also gave me a job (which I love). Cool, right?
So, there it is. How we travel full time and still work online. When the cat lets us.