Las Vegas, NV. It's loved. It's hated.
It has a big airport.
The airport drew us in.
Her gaudy vibrance won us over. And also the swankiest RV park we've ever stayed. Yeah, that part really extra won me over.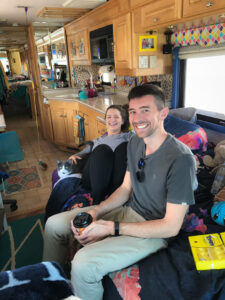 Our friends Cam & Alissa came to hang out with us near the Grand Canyon, and while they flew into Phoenix, AZ, it was cheapest for them to fly out of Vegas. And when Vegas says "come here, we'll fly you home cheap," you go to Vegas.*
*When Vegas offers you other things or activities with the same tag line, you don't take her up on that offer
Anyways, after traipsing around the Grand Canyon for a few days with Cam & Alissa, we crammed them into our wheeled house, asked them to train Lucy to not hide in her cat hut and pretend to sleep while we drive, and headed North West to Vegas.
We made a few pitstops during our driving day – there are some really great tourist trap towns on 66. If you haven't had a footlong hotdog and a practical joke from Delgadillos Snow Cap in Seligman, I suggest you should.
Also, when the Hoover Dam is a short detour off of your route – you reroute and stop at the Hoover Dam. Even if that means that you have to find somewhere to park your lunk-of-a-now-sauna-temp-because-you're-officially-in-desert-and-your-house-on-wheels-has-crap-for-air-conditioning so that you can detach your shuttle (Jeep) and go see it.
If you are driving from the East to the Dam and also have a large home on wheels, or simply don't want to deal with having your home on wheels searched by The US Department of the Interior Dam Police, who happen to carry large automatic weapons and are kind of scary, you can park here and then track back to the Dam in your towed. 
We got to The Dam a few minutes before it closed, so we didn't get much chance to explore before being commanded to leave by an incessant voice over a loud speaker telling everyone to leave while the Dam(n) Police carried their massive guns and walked the sidewalk along the top of the Dam to let everyone know they weren't screwing around.
After being evicted from the wonder of the Hoover Dam by military weapon, we completed out trip to Vegas – arriving at the best RV Resort we've ever been to. I'll tell you more about that in a minute – I have a lot to say about the place.
We really should have just spent Cam & Alissa's final evening with us hanging out at the RV Resort. But, it was their last night. And we were in Vegas. So, after arriving in town around 6:30pm after a long day of driving, we headed down to Freemont Street.
Jake and I remembered Freemont Street as being a 'fun, family, stimulating place'. We had only been to Vegas once before – to run the Vegas Rock-n-Roll Marathon back in 2014 with some friends. When we ran through a mostly shut down Freemont Street that night, it was quiet and sparkly and there were no folks free boobing it on the street.
Welp, I guess that's not the 'real' Freemont Street experience. And if you've experienced the 'real' Freemont Street experience , you will probably agree that it isn't an experience you should experience when you are dog tired from a full day's experience of driving/riding in an 85º RV. Experience.
Personally, I was still pretty mesmerized by the 'real' Freemont's flashy lights, ridiculous schticks, and plethora of scantily and/or ridiculously clad people trying to make a buck.
On our walk down Freemont, Cam pretended to be 'okay'. Jake was on the lookout for pick-pockets or ninja-butt-grabbers – as per usual. Alissa? Yeah, I think that Freemont Street may have broken her soul.
Anyways, you should totally go spend some time on Freemont Street when you're in Vegas. But maybe not when you're exhausted. Freemont deserves your full energy and requires your full attention.
After feeding at Vegas' favorite local dinner joint, The Cheesecake Factory, we put Cam & Alissa to bed with Lucy (Lucy adores them).
And then Cam & Alissa jumped on a plane out of Vegas (I seriously think Alissa may have asked the pilot to floor that sucker out of there) and left us to suffer at the RV Resort.
We don't typically even consider a Dyna parking place that is over $50/night. But, we decided that we would book a few nights at The Las Vegas Motorcoach Resort in order to impress Cam & Alissa and act like we don't normally stay at either oftentimes slummy, always budget RV lots or somewhere out in the woods without any water or electric or sewer like a couple of doomsday preppers.
But this once, we decided to suffer. And it was the best suffering I could have imagined. I never don't want to suffer again! I woke up on our second morning at the Resort and let Jake know that we would never be leaving and he had just better figure out how to work this new lifestyle I had decided to live into the budget.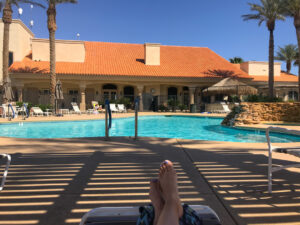 This resort had FIVE pools guys. FIVE! And they were all clean and open. And all of them had at least one hot tub along with it – except for the main pool – which had TWO hot tubs!
I decided pretty quickly that we didn't actually ever even need to leave this resort, even to explore Vegas. Everything I needed was there. FIVE pools. Concrete patios which meant that I didn't need to vacuum our front steps every day or crawl beneath Dyna's big a$$ to put blocks under her levelers. There is a diner, with pretty good diner food. A gym with one of those rowing machines that has water inside of it to pretend it is actually on the water rowing. An almost-exactly-one-mile running loop around the resort that provided ample entertainment in the form of scoping out the excessive number of Prevosts (see: million $+ tour bus style RVs) parked in lots with varying outdoor kitchen/patio build outs and pimped out golf carts. A Starbucks and In-N-Out within walking distance (in case I did want to leave the Resort for a very short time to get sustenance to bring back to the resort to enjoy).
One afternoon while sitting next to my new 'main office' (the main pool area), I overheard the gaggle of women who congregated there at 12:30pm daily trying to come up with a group T-shirt they could have printed (and bedazzled – no joke) and wear together. They settled on:
"Our life is better than your vacation."
I wasn't even mad, or offended. Honestly, I can't really argue that – at least in terms of where / how they live. They can come and go from the luxury resort in their luxury buses anytime they want. Sounds pretty sweet to me.
After seeing how much I loved pretending to be rich and famous at the RV Resort, Jake said we could extend our stay from 3 nights to 7. I was stoked. We would have to move to a slightly less luxurious lot after a few days to save some $$ (this place was seriously the opposite of cheap – we paid a little over $100/night!), but what-freaking-ever. Even the 'barest' of the lots were still very swanky. Also, our 'less luxurious' lot, which was less luxurious in that it didn't have a full outdoor kitchen, two patios, and an outdoor fireplace, was in line with 3 other Monaco Dynastys! Dyna is a Monaco Dynasty! We rarely ever run into another one of our rigs – so seeing multiple in one row was a real treat.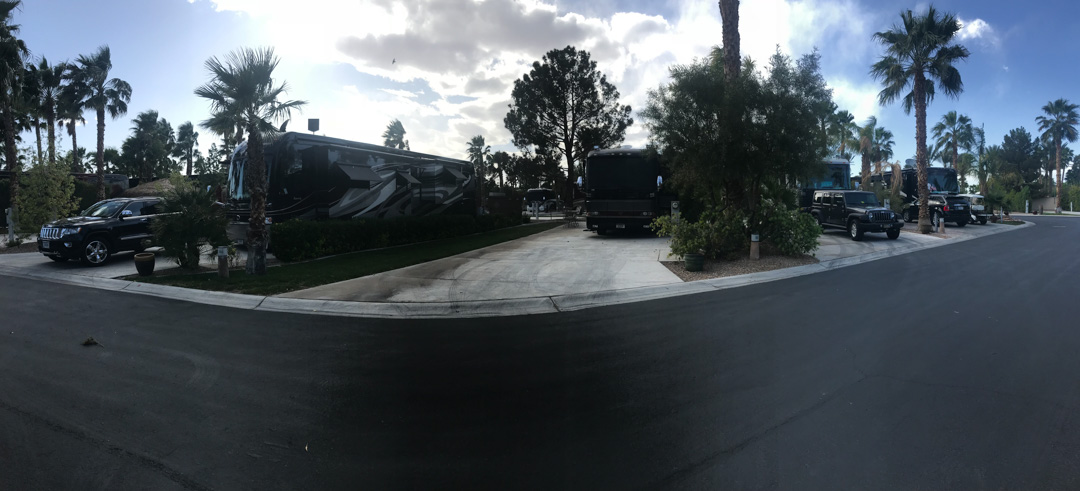 Maybe the RV life has gotten to us – I don't know. But we were excited about this.
Jake did persuade me to leave the Resort a few times. He lured me with promises of seeing the Blue Man Group and ultimate all-you-can-eat buffets and a visit to the Neon Museum / Neon Boneyard.
I have wanted to see the Blue Man Group since I first saw their commercial sometime in my youth. Maybe I was too hyped, but it wasn't an overly impressive experience. I feel like it would have been super impressive when I was young, but technology has made it so that if you are trying to 'wow' people you really need to 'wow' them. Not perform 'puking out of my shirt' jokes. In my opinon, you could pass on Blue Man group – even if it was a child hood dream of yours too.
I love buffets. And the Bacchanal Buffet at Caesar's Palace is pretty badass buffet. Whatever. I don't care that you say that buffets are gross and the food is not good and people sneeze into the food. I love buffets. Also, Jake, who doesn't tend to like buffets for the aforementioned reasons, had to redeem himself at the Bacchanal. Our first visit to Vegas in 2015 involved a very long day of day drinking (the day before running a marathon), and ended in Jake not remembering ever having eaten at the Bacchanal. The Bacchanal provided an okay reason to leave RV paradise for a few hours. They have all you can eat macaron, cake pops, flan, tiny donuts, tiramisu, crêpes and some other food that nobody cares about.
If you get the chance to go to the Neon Museum / Neon Boneyard you will probably also want to go. It's a place where they gather a bunch of the old neon signs from Vegas' various reinventions. It's a pretty fantastic place and the tours are on point in terms of keeping you interested visually and with history and stories.
I also got bullied into leaving the resort by our friends Leigh and Brian to meet up for drinks. And one night Jake convinced me to go downtown just to walk around. We ate footlong hotdogs and drank milkshakes. Jake is a real weasel sometimes.
After a week in Vegas, the weather called for 20+mph winds for a day – on our driving day. While I can typically drive in such conditions, I don't like to because Dyna is scary to drive when it's windy and if you see her driving down the road when it is windy you should probably keep your distance. Also, I definetely could NOT drive in these conditions on this day, and since Jake doesn't typically drive, I was the boss of that and I convinced him to stay one extra day at the resort.
Safety first, last, and always. Safety never takes a holiday.
I swore to Jake that he would need to drag me out of the Las Vegas Motorcoach Resort, and I was working on keeping that promise.
But, on Saturday morning, he did in fact drag me out. I was a bit more compliant than I had planned to be, as Friday evening we shared a bottle of wine and made the decision to go hunt down my new online friend Amanda who also lives in an RV and was in Moab. Wine fueled decisions are not always good, but we decided this one was. So, I cried and we left the resort.
And now you know where I will be if I ever go missing. In Dyna. Just me and Dyna going missing. And also, maybe I'll take Lucy, because she also clearly appreciated the resort.