While at our last stop, in Murfreesboro, AR we had an emergency. The emergency was called "The Oh Shit We Are Fresh Out of Sumo Oranges Incident of April 2019". We tried a quick fix involving mandarin oranges as bandaids, but the pain persisted.
So, we had to find the nearest Whole Foods so that we could cauterize the wound. The nearest Whole Foods was Oklahoma City (OKC), so we steered Dyna there. We pulled into a first-come-first-serve park outside of OKC proper (in Edmund, OK), found a spot with full-hook-ups so that we could wash the laundry that had been amassing for 2 weeks, and dipped out to Whole Foods right quick.
We promptly spent a stupid amount of our income on what we suspected would be one of our final Sumo Orange hauls of the season (January – April), and then returned to Dyna at Central State Park, to begin binging on them. Central State Park is not a State Park. It is a City Park. I can see how the name would lead you to believe that it's a State Park. But, jokes on you! It's not!
Most importantly, we got the Sumos. $20 worth of Sumos. Because they were on sale! And I'm a goddamned animal, apparently. Party on, orange eating people!
Central State Park , which is not central in OKC, or a State Park, provided a nice backyard for our almost two week stay. Our full-hook-up site wasn't water front, or secluded, but we did get a lot of laundry done. And we were treated to daily roping shows followed by repeated evening drunken hootin-n-hollerin sessions by the neighbor. The neighbor left eventually, and after he did, things were much quieter. Except for the one night when we were blasted awake by a really really freaking loud announcement over a loud speaker warning everyone that there were lightening storms in the area and if you happened to be out on the lake at 2am you should get off the lake. I almost poo'd my pajamas when this announcement startled me awake. But I didn't. But if I had – we had full-hook-ups for unlimited laundering. So it would have worked out.
Another neighbor, not the fake steer roping hoot-n-hollering about beating his (non-existent?) wife while drunk at 2am one, told us about a place called "Pop's" up the road from the non-central, non-state park we parked Dyna at. He said there was a lot of soda there, and that we would like it because apparently we look like soda loving people to him.
He's not wrong.
So we made a pilgrimage to the mecca of soda, which is located on the same portion of Route 66 as the non-central, non-state park we parked Dyna at. We checked out the giant pop bottle marking the location of Pop's Soda Ranch, ate a veggie and a regular burger, and got 2 giant cups of pop. The bill was surprisingly cheap, which made me feel a little less guilty for spending $20 on oranges. Also, the Pop's waiter offered us a "to go" soda which I like to call my 'roadie soda'. I love being in the part of the country were restaurants offer you "to go" refills of your drink. Everywhere should be that part of the country. Also, all burgers places should ring up at less than $15 for two burger meals and soda. Also, I think more places should utilize the word 'Ranch' in their name. Also, up the road from the Soda Ranch is a barn which is round. We looked at it because our neighbor also told us to do that.
A few paragraphs back I mentioned that our backyard at the non-central, non-state park we parked Dyna at was "nice", then I went on a hyper tangent about some of our neighbors and a Soda Ranch, and neglected to tell you about the nice backyard. The non-central, non-state park we parked Dyna at did provide us with a nice backyard!
The non-central, non-state park sits on Arcadia Lake, and is home to miles of a red dirt trail that winds through several different lakeside areas. That trail catalyzed some of my longest, and most enjoyable runs since "the crappening" (my last attempt at an endurance run).
To be honest, I've been pretty down about running since "the crappening". My knees have been nagging me. I've felt like a slug every time I've attempted to run. My desire to get out and get comfortable with uncomfortable has been negligible at best. But, these red dirt trails – they were good. And it was Springtime in OKC. I think I want to be a runner again. Maybe.
Another thing that makes me want to spend more of my time running is upholstering shit in Dyna. I hate doing this job. But, after 3 years of living with my initial re-upholstery job, it was time. 3 years of windows opened to the dusty breezes of the West, the red dirt breezes of the SouthEast, the pollen laden breezes of 3 Springs, and the tomato sauce breezes of our tiny human nephew, who visits us often, meant it was time.
So, for 3 full days Jake hid between his headphones and focused on his computer stuff (what is he ever doing on there?!) I tore down the 5 window boxes which adorn Dyna's 'designed specifically for a circa the year 2000 seventy-year-old white person's' interior. After performing Olympic gymnast level contortions to semi-adequately re-upholster said window boxes, I gave the walls a fresh coat of white paint, and then remounted said window boxes. I hate doing this job. I would rather run, even when I also currently don't like to run.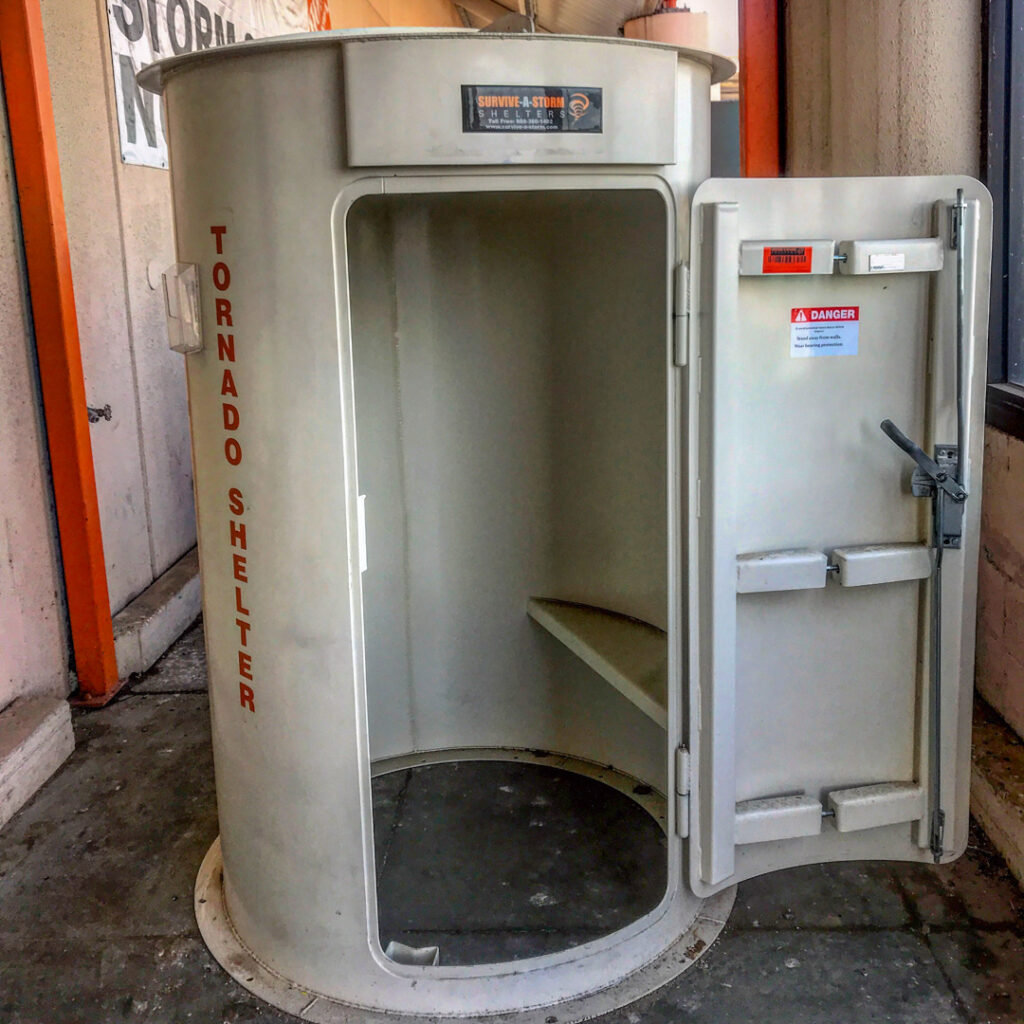 While picking up ingredients for my re-upholstery / fresh paint extravaganza, I got to spend time at one of my least favorite stores on the planet – aka, any home improvement store ever. While I was in my own personal shopping hell I found that the Oklahoma edition of the hell store sells tornado protection pods! Isn't that incredible? A pod, which you can buy, and I guess screw into some sort of sturdy ground, and then go stand in when you're get tornadoed!
Tornado fear is real in this rolling family. We've only evacuated Dyna to stand in a bathroom area one time during our almost 4 years of travel. However, Jake is a frequent "potential tornado weather" checker. And we've spent many a restless night with Jake up checking the tornado radar. But, if we had one of these things tornado pods… maybe we'd be safe!
I'm still working to convince Jake that a tornado pod is a necessity and we should start triple towing a tornado pod on a trailer behind Dyna, behind the Jeep.
Ok, so OKC.
OKC is awesome.
We figured out decently quickly that, like many cities, OKC has many neighborhoods which combine to make a big ol' city, called Oklahoma City. Very creative.
There is the Pie neighborhood, where you can go to get some pie. There is also some other stuff in this area. Most importantly, there is pie. At the pie shop. We got to the front of the pie shop line just in time to be offered an 'abandoned' piece of banana cream pie – FOR FREE. Who does that? Who abandons their banana cream pie slice at the counter? I would not be friends with that kind of person. No worries though. We adopted that piece of abandoned pie. #whosavedwho?
There is a San Antonio Jr neighborhood, where you can find a manmade riverwalk area that is clearly modeled after the riverwalk in San Antonio. I have done no research to actually verify this claim, but facts aren't really currently a 'thing', so fight me. It's a San Antonio Riverwalk wannabe.
The OKC San Antonio Jr neighborhood is home to a really shitty candy shop (the horror!), an OK brewery (hahaha), and riverboats which look suspiciously like those in San Antonio.
There is the Old Car Shops That Aren't Car Shops Anymore neighborhood, which is mostly local shops and restaurants inhabiting old car shops that aren't car shops anymore. We really liked this neighborhood. We liked the local goods shops. And we liked Twisted Spike Brewery. And we really liked the promise of a Meow Wolf-like art space called Factory Obscura in a (probably) old car shop that isn't a car shop anymore. The location has something to do witt the 'womb' of the Flaming Lips. We were delighted by 'Phase I' of Factory Obscura, but we were bummed that the full experience won't be ready until long after we've pulled our levelers up and chugged out of OKC. Such is nomadic life.
There is Best Vegan Restaurant We've Ever Eaten At neighborhood, which could also be called Public Market neighborhood, but it is not called that because we never went to the public market. We did go to the best vegan restaurant we have ever eaten at, and so, thus forth, this neighborhood will be called the Best Vegan Restaurant We've Ever Eaten At neighborhood. We ate the best vegan food we've ever eaten in the Best Vegan Restaurant We've Ever Eaten At neighborhood. We ate macaroni-and-cheese and barbecued not-chicken and corn-not-dogs. Multiple times we ate the vegan food. Multiple times my stomach later hated me for it, because my stomach is absolutely wretched. The vegan food, was not wretched. Just my stomach. I would eat the vegan food at every opportunity – wretched stomach be damned.
There is the Hurts Donut neighborhood, where you can go to get some Hurts Donuts and also to get a good chuckle if you're a dad. In the Hurts Donut neighborhood you can also find a Poke Bowl restaurant so that you can prime your donut hole with non-donut food before eating 3 Hurts Donuts each.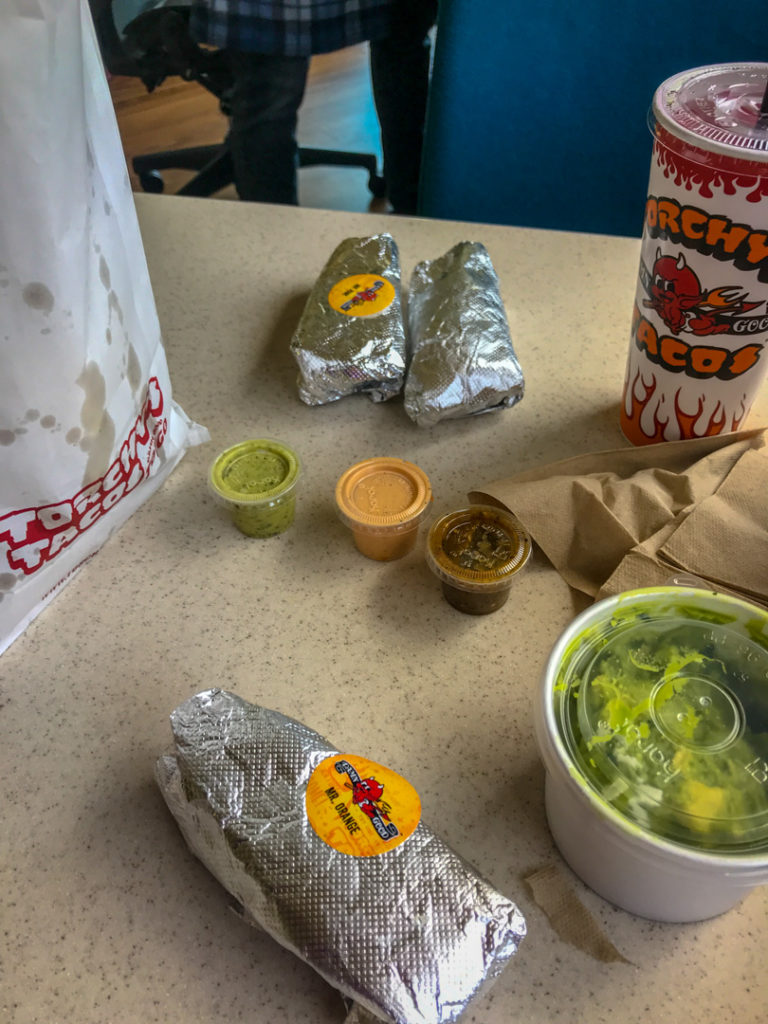 There is the Holy Shit OKC Has a Torchy's Tacos Neighborhood, which is actually out in Edmund, OK, but still counts because holy shit OKC has Torchy's Tacos and it's now official that we could stay in OKC for long periods of time.
Mostly eating.
Because as our time dwindled in OKC we started becoming anxious that we couldn't get more visits into our growing list of "I need to eat this food forever and only this food forever" places.
The best way we know to quench food induced anxiety is by drinking beer. So we popped into Coop Ale Works, based on a tip from Scott, who is still out there, in the wilderness of the East Coast, hiking the AT – depending on when you read this. Because if you read it after November 2019, we hope he's not still out there. That might mean something bad. Like he's been eaten by a baby bear.
Anyways, Coop Ale Works is a purveyor of tasty hopped drinks. They have a really nice jalapeno beer. The brewery is in a weird area of the city, which we could probably call Coop Ale Works neighborhood. But we're not calling it that. I don't know why. But we're not. Jake thought the brewery and tap room resembled a prison.
Scott also recommended we investigate Red Coyote Running Company, because apparently he knows someone who knows someone there. It was a nice running store, and Jake popped off on some new trail running shoes. We didn't locate Scott's someone of a someone. I'd argue the beer suggestion was a better suggestion, because of the beer aspect. And also, I'm still not totally sold on being a runner again – yet. Maybe I should go re-upholster the window boxes. Again.
The non-central, non-state park called Central State Park that we parked Dyna at has a 14-night stay limit, so we were a little bit forced to leave OKC. And also, leaving is kind of our thing at this point. We come, we eat, we drink, we leave.
But I'm gonna miss that vegan food that pisses my stomach off. And those donuts. And the availability of Torchy's Tacos. And pie. And beer. And decent trails. But not angry fake cow roping neighbors. Or lightening warning siren announcements at 2am.