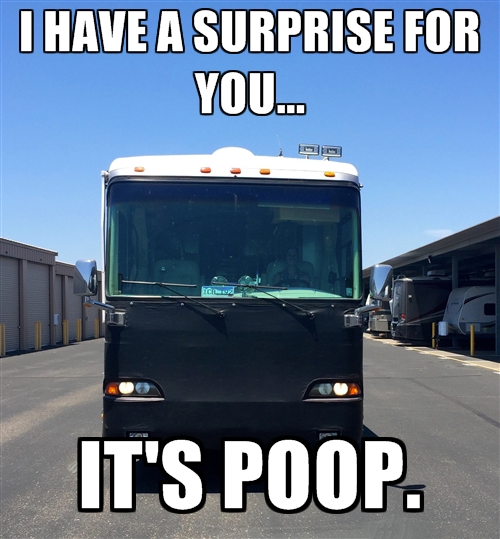 We've been doing some stuff over the past week. Like meeting up with my long-lost college running mate and goodfriend, JessBrown (she will always be JB- JessBrown- to me. Sorry Andy!). And moving Dyna up to Page, AZ. And adventuring on foot, car, and kayak. And playing a fun little game called 'plumbing'. Let's start with the fun game.
After an afternoon of exploration and getting conned into eating at this place with every European tourist in town (no, we don't recommend you go here for good barbecue, but the people watching was elite status), we tucked in for the night. However, our neighbor's dog (he was a very sweet German Shepard) had other plans for us. These plans involved waking us up to the sound of our poop tube being torn off of Dyna for easier access of chewing by the dog. Now, we do eat quality foods in the rig, but come on, pup, it's bed time. Not poop snack time. Luckily our poop tube popped back into place easily. Anyways, this must have been an omen for what we would encounter the next morning. The sun was shining, the birds were chirping, and there was a strong stench of poop emanating from under our sink. We spent our Saturday playing the fun plumbing game to make the smell stop. We won.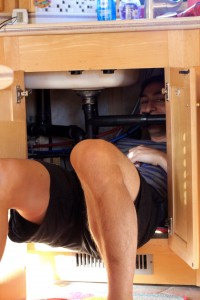 Now that our plumbing game recap is over, we can tell you about fun stuff we've been doing. Like getting dinner with JessBrown the night before heading up to Page, AZ. JessBrown is awesome because she likes to run, hang out with her dogs, is a badass physical therapist, loves to eat, and is an adventurer. She does awesome things like hike all the way across the Grand Canyon in one day, run a random ultra across Zion, and save people from never walking again after they have strokes. JB is super cool and dinner with her was also super cool.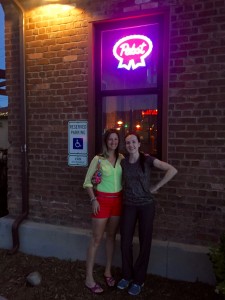 We're currently in Page, AZ. I don't fully trust this town for many reasons.
There is no brewery in this town. There is not even a brewpub. Or a place that advertises distributing quality beer.
It wasn't founded until 1958. As such, charm is seriously lacking.
There are more Europeans (tourists) here than Americans. Now, I love me some Europeans, but I don't trust an American town where there are more tourist Europeans than tourist Americans.
The carwash sucks.
We haven't found a single decent food joint.
The internet is atrocious. This makes Jake sad.
There are some redeeming qualities of this town. They include:
A 'Shave Ice' stand. Shave Ice has become an anchor in our diets.
Randy, the guy at the hardware store, is super awesome and knows all about everything in his hardware store.
The hardware store sells candy bars for $0.50.
There is a fast-food type joint that sells cherry dip-top ice cream cones for $0.75.
There is a running trail here that is freaking amazing.
Page, AZ is an awesome hub for adventuring the surrounding awesomeness. There is a 'rim trail' right up the rock face from where Dyna is parked that runs along the outskirts of the town. We decided to drive after Jake was done working one evening and sauntered down a random dirt road until we decided the RedRammer would get stuck if we went any further. Then we climbed some buttes (heh-heh, Butt(e)s) and did some geocaching. Another evening we drove down a windy dirt road into the Grand Staircase Escalante Park and found a trailhead that lead us down a low flowing river through some canyon; Jake spent most of this hike anticipating a mountain lion attack (we did see a huge Ram looking down on us Lion King style). We paid $28 each to tour the Lower Antelope Canyon with about a million other tourists. Then we kayaked out onto Lake Powell and down the watery part of Antelope Canyon until we found a dry trail. We did a self guided tour at the other end of the canyon for free. The self-guided version was way cooler, but involved a lot more sweat and dirt; if you are concerned that we got sweaty and dirty, you can rest assured that we washed all that grime off with some cliff jumping and then re-hydrated with some beers at the marina. We cycled our bikes down to Horseshoe Bend after work Tuesday evening, looked at and threw some sandstones at it, and then got more Shave Ice (gotta stay hydrated).
Also, we've been slowly working on some interior redecoration for Dyna. Because she was born in 2001. And marketed to retirees. 2001 was the year of this. Ok, so take Britney & Justin's excellent style and change the fabric color to a more neutral (tan) color, and we're getting closer. Anyways, completely unacceptable in my rainbow-unicorn world, so we're working on it.