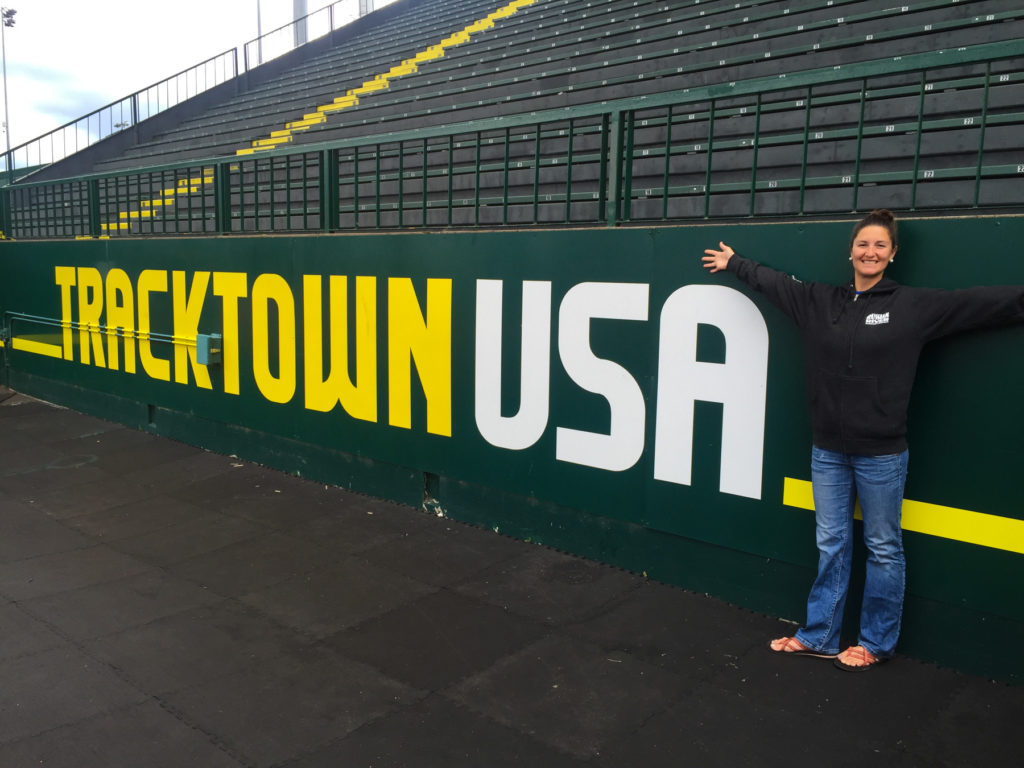 On our drive up to Eugene from Northern Cali, I was rambling on and on about how great the city of Eugene was going to be. At some point in my soliloquy of praise, Jake stopped me and said "you know Eugene is a small city right?" To which I argued, "well, it's bigger than Rochester!" Which is false. And I was wrong. Somewhere in my highschool/college girl track runner dreams, I had some up with the idea that the fantasitical city of Eugene must be HUGE in order to hold in all the greatness that it contained. Greatness like Hayward Field. And Steve Prefontaine. Bill Bowerman. And the origins of Nike. A frequent host to the Track and Field Olympic Trials. Yes, Tracktown, USA was an elusive, mystical place to this mid-pack distance runner. Especially since this was the land of Bill Bowerman, the man who stated "I still bother with runners I call 'hamburgers'. They're never going to run any record times, but they can fulfill their own potential." (Hey, that's me!) Somehow, however, Jake was unaware of how special this place was going to be. And then, it got worse. I found out Jake had never seen ANY of the 3 Steve Prefontaine movies. He didn't even know that Bowerman coached Pre. And Dellinger. And 33 other Olympians. And in that moment, I realized I had failed. So, on our first night 'in town' (we actually stayed about 20 minutes outside of Eugene, in the sleepy little 'town' of Dexter), I set out to make it right. We watched Prefontaine. And I promised him we would watch both Without Limits and Fire on the Track. And then the next morning I scurried down into town to find and run on Pre's trail. And all was right in my world.
Eugene, although smaller than the city I dreamed of, was more than big enough in it's passion for running and runners to fulfill my hopes. I love this town. Miles of incredibly well maintained trail circle the city. And so that you can easily find these trails, the city publishes a 'runner's map.' The bill boards which usually hawk things like cell phone service or fast food are smeared with images of Oregon University runners or advertisements for upcoming track meets. Water fountains dot the city and they produce cold water (rare). There are random 'runner's news' boards which host bulletins for upcoming races, workshops, and events. One of the local bars I ran past had a HOKA 'tap takeover'; as in, you could test out a new pair of the world's most ridiculous looking, but possibly most comfortable running shoes. While drinking beer. Oh, and the options for replenishing lost carbs after running about Eugene are plentiful, locally sourced, and delicious. I love this town.
We happened to be in TrackTown at a great time of year; the tail end of track season! Have I mentioned my excitement about this town's love for Track & Field yet? Going to a track meet at Hayward Field is much like going to a college football game. The stands are packed, everyone is super enthusiastic, and there is a large gaggle of older men with hand written stats sheets who are discussing the strengths and weaknesses of each athlete in the field. It's a magical place that continues to be watched over by Bill Bowerman (now in statue form) and his stopwatch. Parents brought their children, and patiently pointed out who the top runners in each race were, and then smiled as said children shouted the runner's names as they passed each lap ("Go Mo!"). Jake and I made it out to 'distance night' at the Prefontaine Classic, where I was happily surprised to see that Molly Huddle would be running the 5k. I raced got lapped by Molly Huddle during my high school T&F days, and it was beyond awesome to finally get to see her run again. She currently holds the American Record for the 5k (14:42), and won the 2016 NYC 1/2 marathon. She's pretty badass. As if seeing one of my running idols wasn't enough, each event was inundated with Olympians and hopefuls. A few weekends later, we checked out the NCAA DI T&F Championships and got to watch Texas A&M Freshman Donovan Brazier shatter the 800m collegiate record which had stood for 50 years. So cool. Hayward Field also has an awesome set up for watching field events (they take place in the center of the track- except for the hammer and jav) so there is always some feat of athleticism to be observed.
When we weren't taking in all the running glories of Eugene, we ventured off to checkout some nearby forest trails, breweries, and Crater Lake. Crater Lake (~2hrs away from Eugene) was very pretty, but we were a bit early in the season and none of the trails were open yet. So we looked at it, then left and found a juicy old growth trail in the Willamette Forest on our drive back. The small towns (many unincorporated) that dot the outskirts of the Eugene area boast some pretty sweet covered bridges. Stumbling upon them during my longer runs was a highlight. Each town also boasted a solitary 'convenience store', many horses and cows, and the occasional herd of sheep. And that's about it. I respect that. The Simpson's Springfield was based on the town of Springfield, a larger, incorporated town which borders Eugene. We checked it out and attempted to find some resemblances. They were few, but there. We also spent some of the month's worth of time we spent in the area revamping Dyna's interior with a little white paint and some new dash window curtains. Painting blows. So does sewing, but I found a nice lady to do that part for me. But yeah, painting still blows. Dyna looks a bit more spiffy on her insides now, so the 3 days I spent locked amidst (possibly) carcinogenic fumes may have been worth it. We'll see.
And because I was so bolstered by all the excitement the town of Eugene offered it's running community, I went ahead and ran my first 100mile race. Also, it was advertised as being 'A long day on the Oregon Trail.' And who didn't love playing the Oregon Trail? Yes, I am alive. No, I didn't take any sleeping breaks. But I did walk a bit. And at mile 90 I sat in a chair for 5 minutes. And in those latter miles the movement I was making could not rightly be called 'running'. It was glorious and it was full of woe. It hurt and it was pain free all at the same time. It poured rain and got sunny. It was light and dark and cold and hot. The race director (RD) fought a losing battle to keep the trail semi-dry by shoveling drainage holes for puddles; the puddles soon connected and the entire trail filled with ankle deep water. Time was not constant; one minute was not the length of another. The night was in slow motion- nights are oh so much slower than days. Jake kept me sane and protected me from the terrifying leaf shadows in the forrest at night. The course was an easy mile loop with two tiny inclines which transformed into Mt. Everest and Mt. Denali by mile 85. The abundant aid station boasted VooDoo donuts, TrackTown Pizza, and friendly, helpful RDs and volunteers. Overall, other than the extremes in weather and the redundancy of running in mile long circles, this was an 'easy' ultra. So if you have friends that have run other 100miles races, they are probably still cooler than me. But, I have never stayed awake for so long in one stretch in my life. I'm pretty proud of that accomplishment. I don't plan to stay awake that long again until the next time I run that far (or farther). Because, yeah, I'm already looking forward to doing it again.
And with those final 100miles, our time in Eugene came to an end. We are headed North to see what Portland has in store.