We got chased out of Moab by a family of mice who decided it would be cool to squat in Dyna. Spoiler: it is not cool to squat in Dyna, mice.
So, this is officially the second time a pack of tiny critters has caused us to pull up our levelers and haul butt out a place. Cool.
We hit the road on a Thursday morning, Jake at his computer working away, while I pointed the wheeled house South on US 191.
We weren't really sure where we were going to stop and set-up camp, but we did know we would like it to be somewhere free. Offsetting the costs from my newfound resort obsession needed to happen. Also, if we couldn't stay at another resort, then we might as well just stay on some dirt somewhere. Because I was being ornery and was not ready to accept a subpar campground.
I'll get over it.
Jake scrubbed Campendium (the best campground website ever – duh) for free spots that looked capable of handling a big rig in mid-April from Moab to Durango, CO. Well, there didn't appear to be a plethora of options, mostly because of the chance that much of high elevation Colorado is typically still 'touched with snow' in April, and Forest Service tends to keep things locked down when there is snowfall or snowmelt in order to protect the nature from idiots like us driving up on wet areas and destroying shit.
So, we decided to scout while sauntering South, and if we found something that was open, free, big rig accessible, not overly dusty, and not home to a million mice – we'd stay for a bit.
We hit on the (almost) first try!
Monticello, UT is a tiny town not far South of Moab. While I held things down in Dyna pulled off to the side of a road in Monticello, Jake scouted some potential spots  up in the hills beyond town. With a little hesitancy in his voice, Jake reported that we might be able to squeeze Dyna up there and get level enough that we didn't bust our fridge or slides.
Hearing the hesitancy in his voice made me recall seeing a rig parked in Google Satellite maps a few days before when exploring the area for another site that a user reported to Campendium. Long story short: I spend a lot of time on Google Satellite scouting out potential camping spots for Campendium. Because I work on the team Campendium. So my tooting their horn a few paragraphs back was clearing completely unbiased.
I figured we might as well go check that spot out and see if there was any indication of whether or not we could overnight there for a few days.
We pulled Dyna up to the potential spot, looked around for signs of 'no camping', saw nothing, and decided 'why not.' If we were asked to move, we'd do so without question.
But guess what – we weren't asked to move! In fact, several local police officers and forest service trucks passed us while we enjoyed the quiet and views of our new, free home. Nice.
So, that's how we ended up in Monticello, UT.
We spent most of our stay there enjoying the view, working, watching a bird antagonize Lucy and fight its image in our side mirror, working, walking around the pond, and working.
On Saturday morning we decided to leave Dyna for a few hours and make the drive up to Canyonlands National Park Needles District and hit up a hike. It was a good idea. The hike was spectacular.
I am pretty sure the Chesler Park Trail/Joint Trail loop hike that we sauntered along was one of the most diverse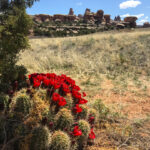 trails we've ever explored. There were big canyons and big lands and needly rocks and slot canyons and blooming cacti and hoodoos galore and rainbows painted by nature across swaths of rocks. For 11 miles we enjoyed puffy clouds and a not-unbearable sun while we let the Needles District of Canyonlands National Park impress us.
And she really impressed us.
After several hours of hiking, we headed back to Monticello, grabbed a (really good) late lunch at the Peace Tree Cafe (recommend) and headed back to Dyna for what I thought would be a nap and some reading.
Jake had other thoughts, and within a few minutes of getting back to our rig on that sweet little piece of free land at Loyd's Lake we had her packed up and rolling East towards Colorado.
Jake is obsessed with Colorado. And the obsession keeps growing. It's getting a little creepy at this point. And Colorado might want to think about taking legal action. Restraining order?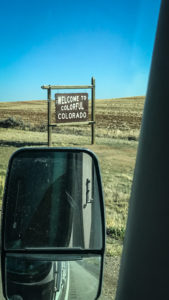 Once we crossed the Colorado State line that evening, I could visibly see him relax into a state of low grade euphoria. And it wasn't legal weed induced either. I don't totally understand it – you can't even see the State line in real life. And the landscape changes gradually. But, there is something about Colorado that just 'gets' Jake – and when we cross that line, he's happy.
We spent a night at Mancos State Park outside of Mancos, CO with plans to dump our (literal) shit and scout some boondock spots nearby. We still hadn't seen reports on our favorite review site (it's Campendium guys!) as to whether any nearby spots were open yet or not, and it was getting late for dragging a big rig through back roads.
But tomorrow – we go scout. Lucy has been asking for somewhere nice to chase birds that isn't near traffic because she is kind of dumb and will probably get hit by a car. We plan to find one in the National Forests outside Durango.