2:30am alarms suck. The Grand Canyon does not suck. Hiking the Grand Canyon completely negated a 2:30am wake-up.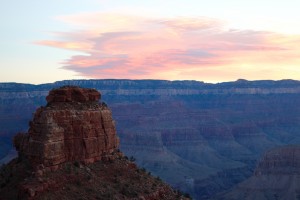 After doing a lot of online research (all of which said DO NOT do a 'day hike' into the Canyon in July), we decided to do a day hike into the Canyon in July. We found a 13.5 miles loop that would get us pretty close to the floor of the Canyon without roasting us alive by actually attempting to hike to the Colorado River & back in one day. This involved starting from the South Rim, hiking down most of the Kaibab Trail, crossing over on Tonto's Trail, and then meeting up with the Bright Angel Trail to head back up and out. It was an awesome, intense hike involving 5 miles of steep downgrade, 4 miles of rolling scrub brush trail, and then 4.5 miles of steep upgrade. I'm still sore in the most specific places (2 days later). We saw maybe 3 other people (from a distance) for the first 9miles; other than that it was just Jake, me, a mule train (lead by 2 real life cowboys!), and a random mule-deer who was very insistent on going up the trail even while we were coming down. We walked, ran, drank a crap-ton of water, and occasionally conversed about big things (like the canyon); other than that, we just enjoyed the noises of the canyon, the occasional patches of shade, and the smell of fresh air (between the patches of mule poop, which smelled like mule poop). We finished in 6 hours and 15 minues with a fresh coat of red dust on our bodies, 1/2 a Nalgene bottle of water, and sweat pouring down our faces. It was seriously amazing.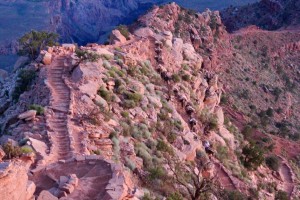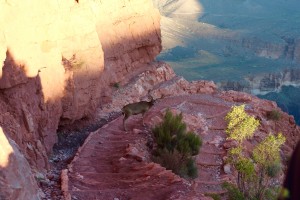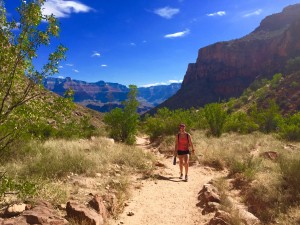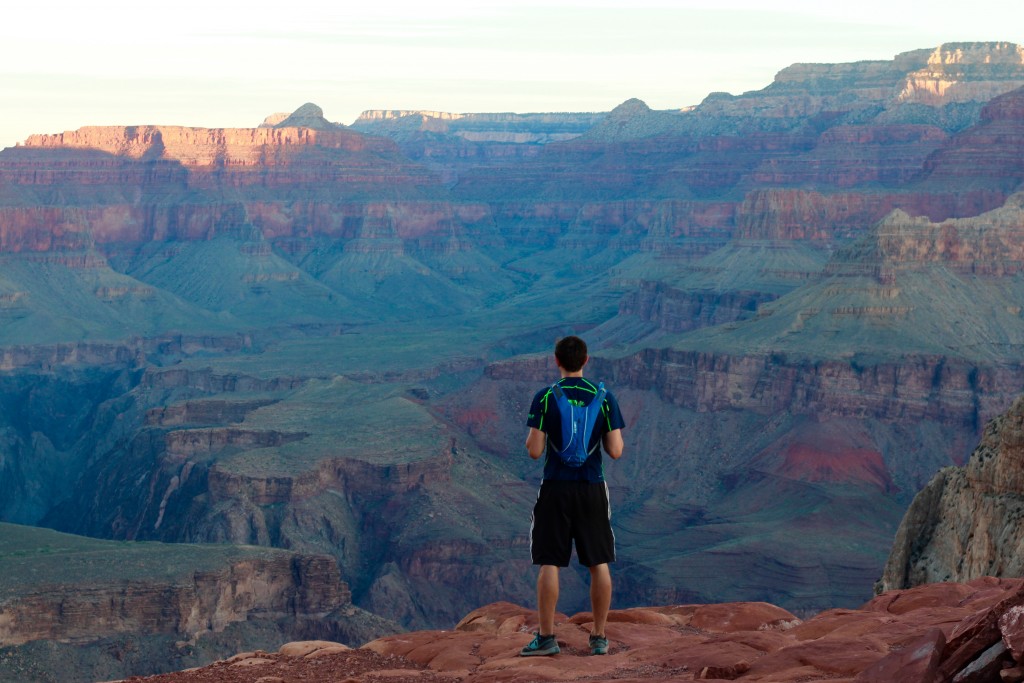 ---
We emerged from the Canyon at ~11am with the goal of heading back to Dyna and taking a nap. However, these plans were interrupted by another 'grand' attraction… BedRockCity! *Please note, this place is for sale. So, before I start rambling on about how awesome it is, re-evaluate your finances and current living location because it's really tempting.* BedRockCity Arizona is just south of the Grand Canyon, directly on the road back to Williams, AZ. It lures you in with it's decrepit old sign and questionable 'restaurant.' The fantastic-ness continues from there; for a measly $5 per person, anyone can step into a run-down version of the stone-age city of Bedrock filled with dilapidated buildings representing Fred Flintstone's home, doctor's office, barber shop, bone-phone, and a Goat-a-saurus (which may or may have been just a regular old goat). As an added bonus, there is a stage where it is blatant that no theatrics have been performed in years, a creepy theatre where you can watch old Flintstone's episodes, and a giant dinosaur that all ages, body types, and personalities are welcome to slide down (we witnessed a variety of the afore mentioned people sliding). Oh! And there is a 'Fredmobile' Tram that runs a loop through a fake volcano. Sadly for us, the operator was sleeping at the helm- we didn't want to arouse him from his stone-age slumber. We enjoyed some stale soft-serve vanilla ice cream (another first! we didn't know ice cream could be stale), which was absolutely fitting for this place. BedRockCity was eerily excellent and is fully recommended.