Disclaimer: our 'lead editor and typo catcher extraordinaire', Scott Baron (who you may know of if you read this blog with any regularity) recently set forth on a 2000+ mile adventure along AT, where he will hike for months from Georgia to Maine. So, if you find any typos in this post – it's his fault. Can you believe he would choose to leave us high-and-dry to hike by himself through the wilds of the Eastern US? Yeah – us either. But for real – how cool is Scott Baron you guys?!
Myrtle Beach, round two…
I've been looking forward to setting our big butts down in Myrtle Beach for the past few months. We stayed a winter month in Myrtle back in 2017. I loved that stay.
Myrtle Beach is all things gaudy and decaying and a little dirty. There is little in the way of 'culture' – other than the culture of waiting around until summer hits again so that the average American family can make their annual trek to an overcrowded beach at an affordable price.
But during the winter there is an (almost always) empty beach for exploring every morning. Most of the not-really-good-but-it's-edible restaurants are open – and void of customers. The streets are clear of traffic and there is always a place to park. Views of the slightly dilapidated buildings, many of which involve delightfully garish features, are unimpeded by other humans. And the off-season monthly rate at Myrtle Beach State Park is mad cheap.
But most importantly – our good friends Cam and Alissa and their 'boys' live in Myrtle Beach. During the 'on' and 'off' seasons. I assume they also enjoy the 'off' season more – mostly because that is when we show up and harass them for a month.
Now, let's talk about their 'boys'. The boys. Sigh. I love them. So much. Because how can you *not* love the most luxurious cats in the world? I love them second most to Lucy. Because she's also very luxurious – but in a fatter, more gray medium hair length #bossbabe way.
Anyways – beach access without crowds plus cheap hook-ups plus the promise of the world's most luxurious cats and their humans = WE'RE BACK IN MYRTLE BABY.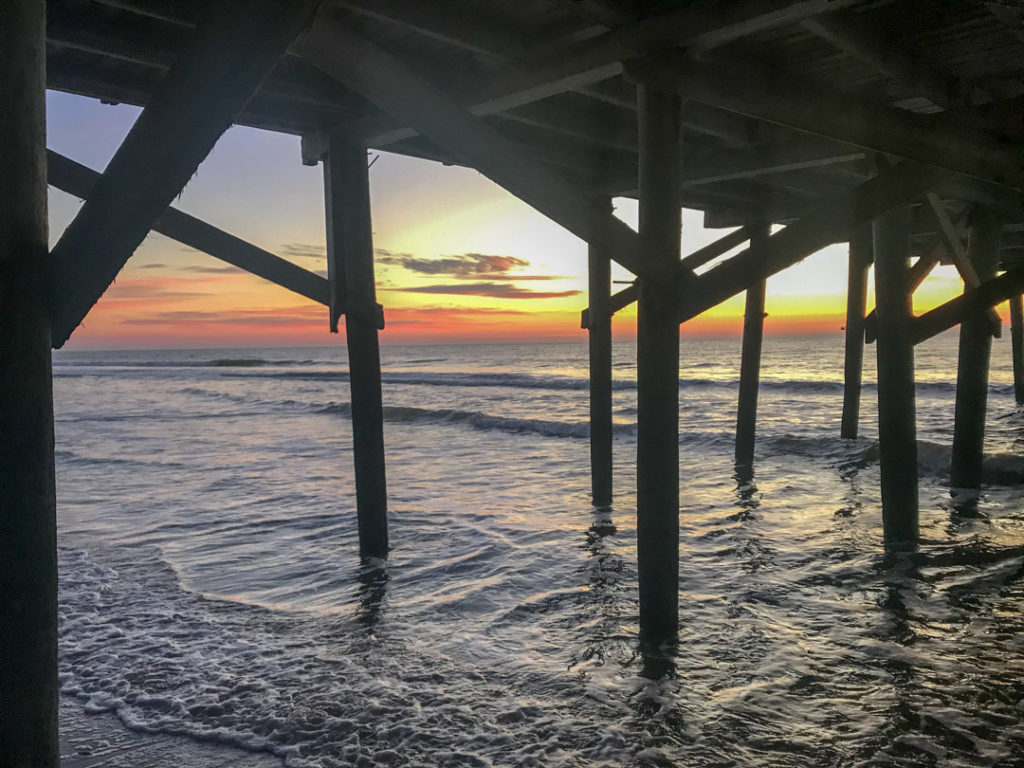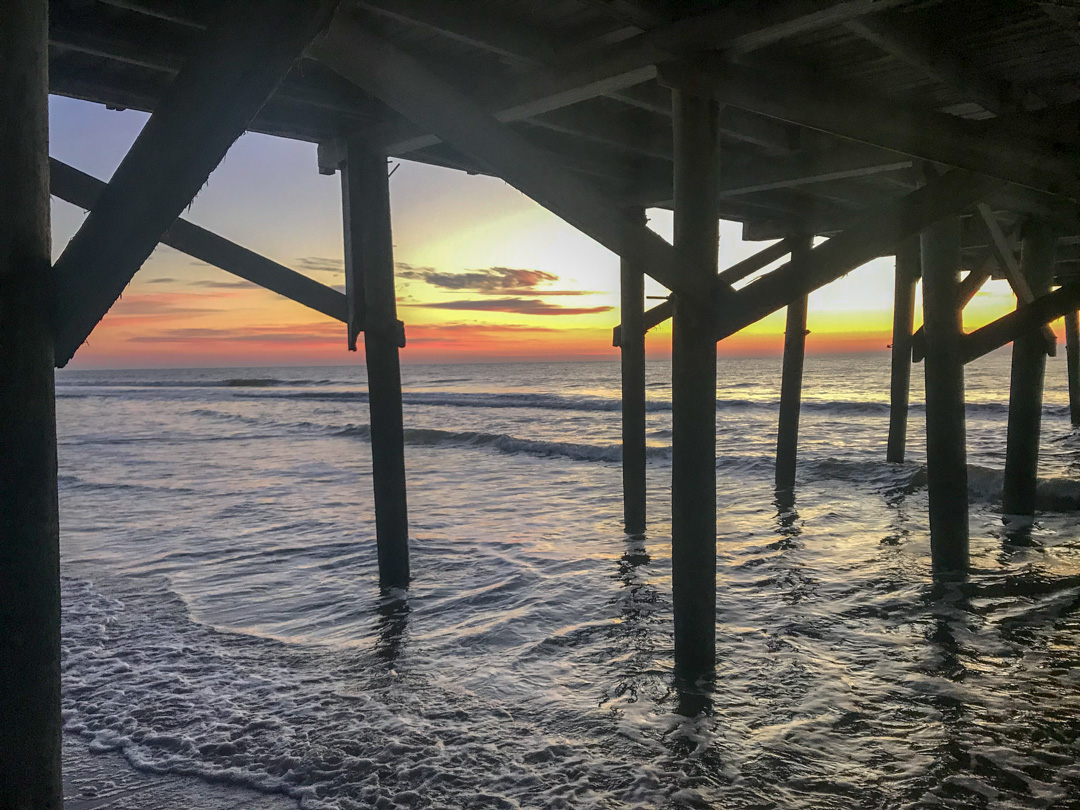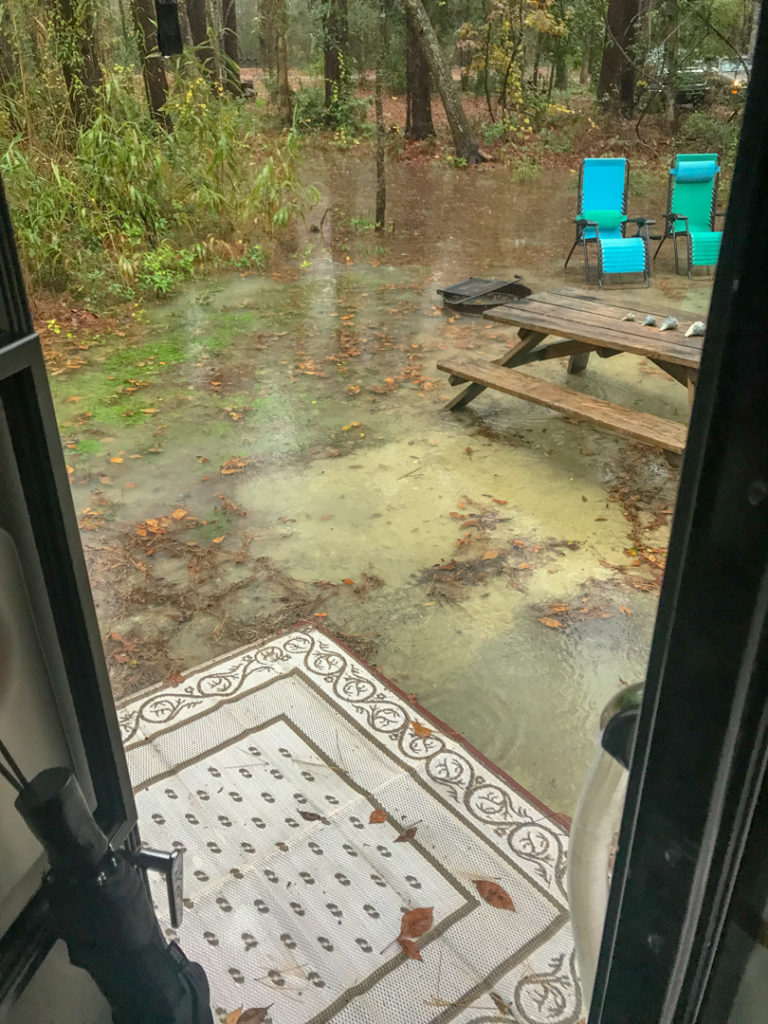 Our stay at Myrtle Beach State Park was a bit different this time around. When we stayed two winters ago, the weather was a bit warmer – and way less rainy. So we dealt with some campsite flooding this time. But luckily Dyna is decently lifted off the ground, so the only real hard-ship of this flooding was that we had to use rain boots leave the rig or come home. This added to our natural fashionability – we're already extremely fashion oriented folks.
Myrtle's moodiness (rain rain rain) also convinced us to sleep in a bit more this go round than last go round. No reason to get up at dawn's asscrack if there isn't a sunrise to witness. Hey, we're not bragging about our ability to sleep in every morning if we want to because our offices are 7 feet from our bed but actually yes we're bragging.
On mornings when it wasn't pouring rain, we had to get up early so we could take the 3 minute walk to the beach. Life is rough. Any morning that the sky was not calling for rain, we still got our asses up and out of bed and walked down to the beach to watch the Atlantic's morning light show. Those mornings were definitely fewer than they were last go round. Also, we usually had to wear our winter jackets so we didn't die this year. Regardless – WORTH IT.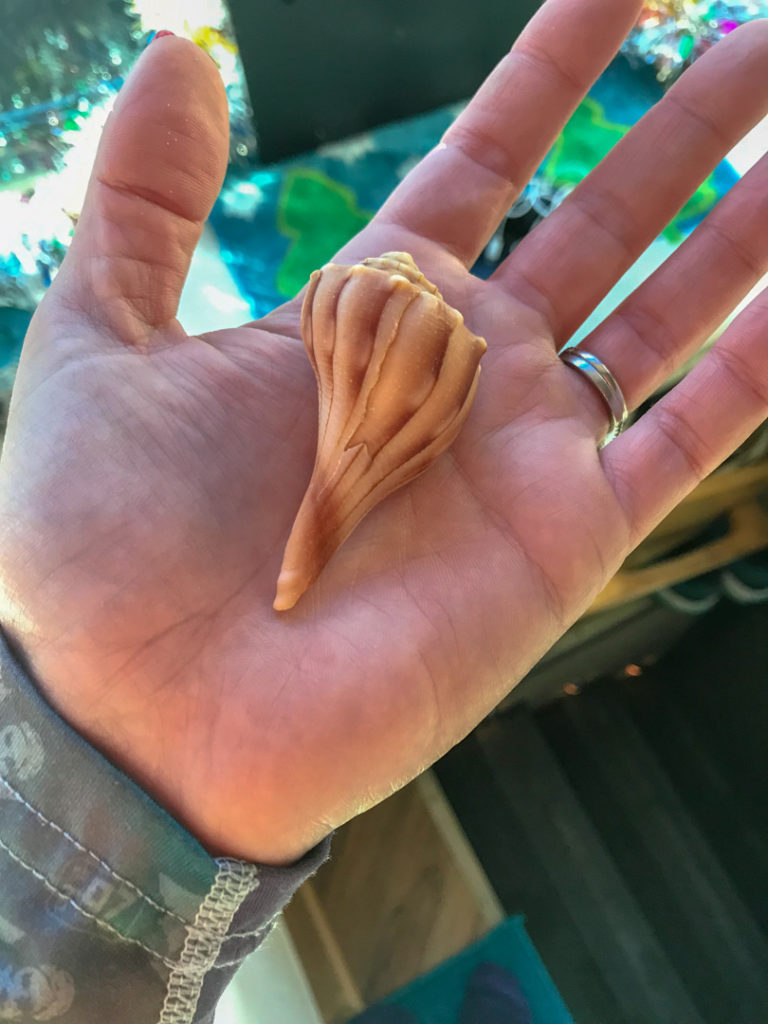 We found a lot more shells on our morning trysts this visit to Myrtle. I guess shells like the cold. Or maybe people don't like the cold and therefore weren't out on the beach beating us to the ocean's bounty. This theory was further backed up by the lack of people we saw on the beach most mornings. So we had a bunch of shells. And no where to store said shells. So we had to leave them behind. But, I kept my favorite shell. And as of the moment I am writing this I have yet to break the favorite shell! Which is a bit of a shell miracle.
As mentioned lightly before, our friends Cam & Alissa and their perfect cats live in Myrtle Beach. Since I only mentioned this lightly previously, I am going to mention it heavily here. Cam & Alissa & THE BOYS! Seriously – these cats are the most gorgeous little men. Teddy is a tank. He is large, chill, and when you pick him up he just flops right into you. It's amazing. Leo is extra. He is small and perky and nosey and always up to something. When we were upstairs at their house, he would holler at us from downstairs, presumably because that is where Cam & Alissa's work offices are, and he likes to do work. Jake and I actually voted him employee of the month due to his inner drive to do work.
It's officially official: I have turned into a cat woman. I am obsessed. Mostly I'm obsessed with Teddy and Leo – and of course, Lucy. Because Lucy is queen.
And like all queens, Lucy held court with Cam and Alissa several times during our stay in Myrtle. Lucy is not a 'cat lover' like me. Actually, she hates cats. Very much. If she knew that we were spending time over at Cam and Alissa's home with 'the boys'… oh dear. Wrath of Lucy. Which, by the way, Alissa felt one evening while she was visiting our queen. We suspect Lucy could sense 'the boys' on Alissa, because Lucy put Alissa in her place with a good 'bop' on the nose. And Lucy historically LOVES Alissa. Lucy has performed tasks for Alissa that she wouldn't ever consider doing for Jake or I. Once, when we were driving from the Grand Canyon to Vegas with Cam and Alissa in tow, Alissa talked Lucy into sitting on the couch with her while the RV was in motion. This is an incredible feat. Lucy hates when the RV is in motion. But she loves Alissa. But lately, the queen seems to be getting too big for her cat britches.
By 'too big for her britches' – we mean literally and figuratively. As in, Lucy has gotten moodier AND chunkier in her older age. We put her on a diet. It's not going well. But we just adore her and all her moody sweetness. Also, I seem to have developed allergies to her, which is totally cool and I guess I'll just have to die because the hierarchy of our RV family puts Lucy above me, and I accept that.
Not pleased by her annual vet visit.

Working her 'skinny' angle.

She's chubby, but she works hard.

Jake has a lot to deal with over here.

She's really good at girl parties.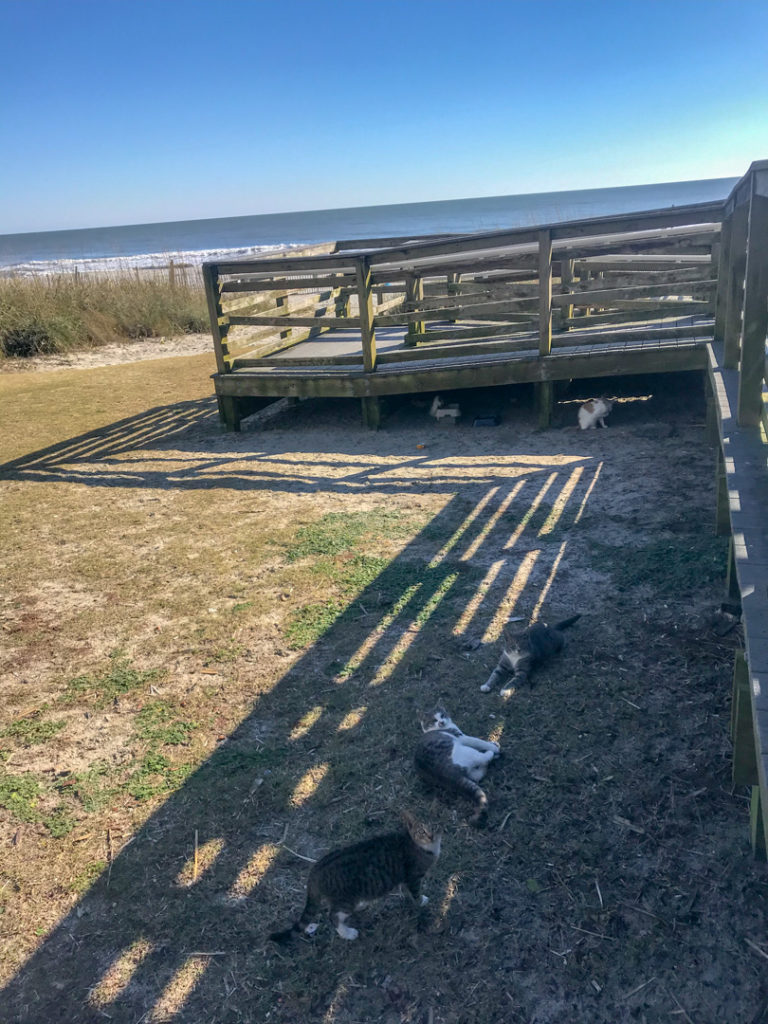 We also did 'not cat things' with Cam & Alissa. Realistically, I think all four of us wished that our harem of cats could have been with us always. Because everything is better with cats. Including Myrtle Beach. Which reminds me that Myrtle Beach has a cat saving program which involves spaying and feeding the local beach cat colonies. Where beach cats congregate, you are sure to find Jake and I. You will also happen to find a port-a-john with several glory holes drilled into it – but that's unrelated to either the cats or Jake and I visiting that area. But on a side note, there is totally a port-a-john with a slew of glory holes drilled into its side at the park where the cat colony resides – and this port-a-john has been there since our last stay in Myrtle. The only change we noted in the glory hole port-a-john was that the old glory-hole which we had noted two years ago has been patched over (along with apparently several other replacement glory holes) and there is a new active glory hole. Myrtle Beach remains the first and only place I've ever seen an actual glory hole. I feel like I've witnessed some sort of endangered, nasty species – twice. In Myrtle. #dirtymyrtle
Back to all things Cam & Alissa – who have nothing to do with the glory hole, although they are very glorious. Alissa was doing her yoga teacher training while we were in town. We learned pretty quickly that yoga teacher training is no joke. She was doing yoga at night after work. And on weekends. And pretty much in all of her free time. Which motivated me to visit her yoga studio (Yoga in Common) and sign-up for a month of classes. Yoga is always a good choice. But this month of yoga just happened to be the best choice. Because I met Javier. Javier changed my yoga practice in the span of a month – both in its physicality and mental aspects. Javier is a yoga angel. I haven't experienced a yoga teacher who made my practice so enjoyable and educational since my original OG yoga teacher – the yoga goddess of Rochester, NY, Amanda T. But really, guys. Javier. He is a yoga magician. And he was one of my favorite parts of our stay in Myrtle this go round – and I may have cried a little when I was finished with my final Javier practice of this trip. If you're ever in Myrtle and in need of some yoga, go see Javier.
And again – I got distracted. Cam and Alissa! We played with them several times (never enough!) while in Myrtle. Without Javier or cats. But sometimes also with Javier and cats.
Cam mentioned that he wanted to complete a run that was 'in the double digits' sometime. Which was convenient, because 'double digit' runs just happen to be an interest of Jake's and mine. So, on our first weekend in town, Cam, Jake and I went for a 10 miler up the beach and back down the strip. We didn't realize that the furthest Cam had run prior to this jaunt was 5K. But fret not! Cam is an impressive human. He does KungFu, which evidently translates to being able to run long distances without running training. Or maybe he's just a mystical magical man who can do impressive things whenever he feels like it. I'm thinking it's the latter.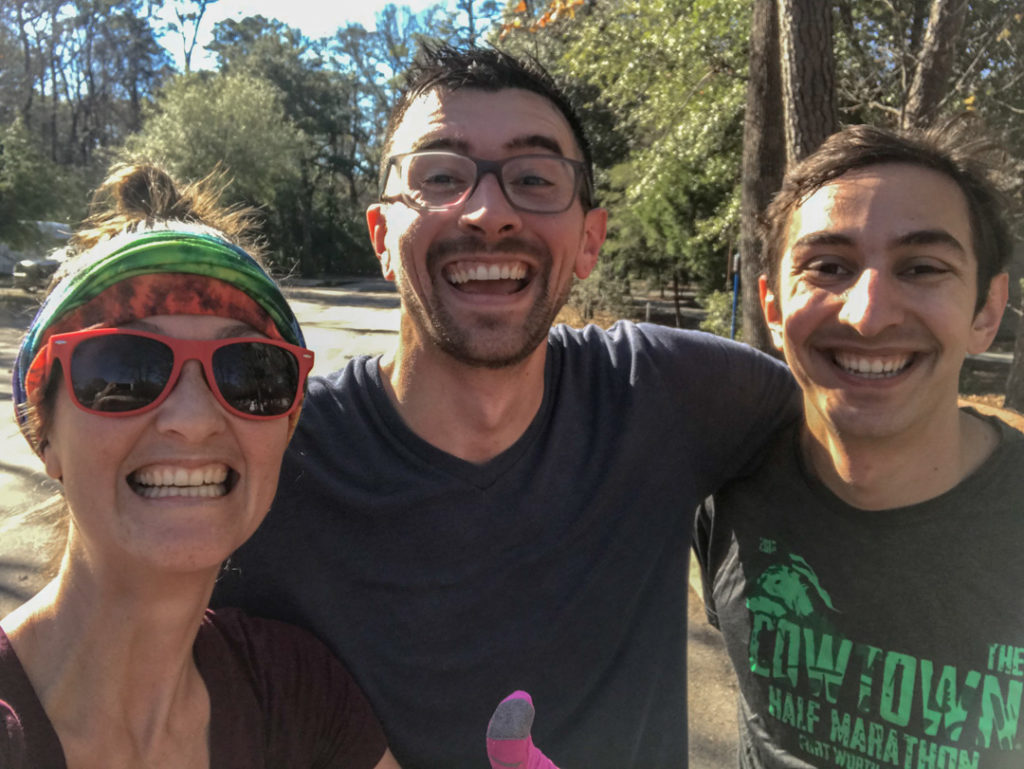 Cam and Alissa treated us to 'Night of 1000 Candles' at Brookgreen Gardens. Brookgreen Gardens was super cool! Although the promise of 1,000 candles was in actuality only about 10 lit candles – we still had a great time. You can't knock an event that persists, regardless of a wind situation. Especially when the event continues to try to light their 1,000 candles all evening. Over and over and over. Lit candles or not – recommended.
Sometimes we all (or parts of us all) just 'hung out'. At the beach. Or at a restaurant (preferably Croissants). Or at the trampoline park. Or at the yoga studio. Or at one of our houses. Usually with Miyabi Jr's take out.
Hanging out is something I miss so very much. Life on the road doesn't lend itself to hanging out with 'your people' very often. So when it does – YOU DO IT. You hang out.
Hanging out at the trampoline park.

3 buddies waiting for Alissa to get done with her Yoga Teacher training.

Hanging out at the beach.

Hanging out at the Acai Bowl place.

Hanging out at Night of 1,000 (10) Candles.
We've never visited Myrtle Beach during their 'on season'. I imagine it's a bit of a different place than the Myrtle we have been #blessed to experience twice now. It is a tourist town after all. And while we love being tourists, we also love having space to roam and freedom to go places without crowds. One of the perks of spending time in a tourist town when the tourists aren't around: candy shops that are fully stocked and free of children trying to eat all the candy before I can get to it.
We perused several of Myrtle's many extra large sized candy shops – and found one that offered bulk Pez. PEZ IN BULK. It was pretty miraculous. We also obtained ice cream in late December. Because in Myrtle, ice cream never closes. We walked into Cafe Old Vienna and enjoyed being seated immediately and then fed delicious spaetzle. I could live on spaetzle. I'm pretty positive. We walked past dilapidated versions and mid renovation versions and newly renovated versions of Myrtle Beach. And we just generally enjoyed the non-raining days and the raining days and knowing where the milk was located in the local grocery store.
Bulk Pez do happen!

Bruesters is open year round in Myrtle!

Lemon bars in bed from Croissants.

Spaetzle/calamari dreams coming true at Cafe Old Vienna

I love THIS Myrtle.
Dyna spent two holidays in Myrtle Beach this year – Christmas and New Year's. We ditched her for Christmas and headed up to our homeland of New York to spend time with family. We returned to her for New Years. While we initially had plans with Cam and Alissa for NYE, things got thwarted when Alissa had a back attack (yoga, I tell ya!). So after joining them for one last meal of 2018 (take-out from Miyabi Jr's at their place – a very respectable choice), our NYE turned into a classic Liz and Jake New Years Eve. Another year of facetiming with our nephew Dexter and watching the ball drop in Times Square on TV. It's become our tradition – although we are having a harder and harder time finding a way to watch Pitbull's NYE celebration – which is inarguably the best NYE celebration on TV. #bringbackpitbullsNYE
As I write this blog, at a bit of a delay, I am reflecting on the news that Cam and Alissa shared with us this week: they are moving to Florida! Which means we probably won't spend a full month at a time in Myrtle Beach in future. I mean, maybe we will. But now maybe we'll have to become more traditional snowbirds and head to Florida. Although we'll probably make a pitstop in Myrtle on the way. Gotta visit our beach cats. And check on the status of how many times the glory hole port-a-john has been patched. And catch a few more sunrises. And stock up on bulk Pez and lemon bars from Croissants.