Denver, how we love thee. Let me count three of the ways:
We have a sweet moochdocking spot in Denver, courtesy of our friend Holly. She provides us with 15amps of electricity, access to her shower and bathroom, and as many Henry snuggles (her Golden retriever) as we can handle. The running from her house isn't half bad either – a mile or so on side-walked streets plops you onto the Cherry Creek Trail.
Denver has both Torchy's Tacos AND Voodoo Donuts. All nutritional needs are met in Denver.
Ample access to mountain related activities, such as, but not limited to: Avalanche Ranch, multiple skiing opportunities, hiking trails galore, breweries and endless new food opportunities that we rarely take advantage of due to the existence of Torchy's and Voodoo.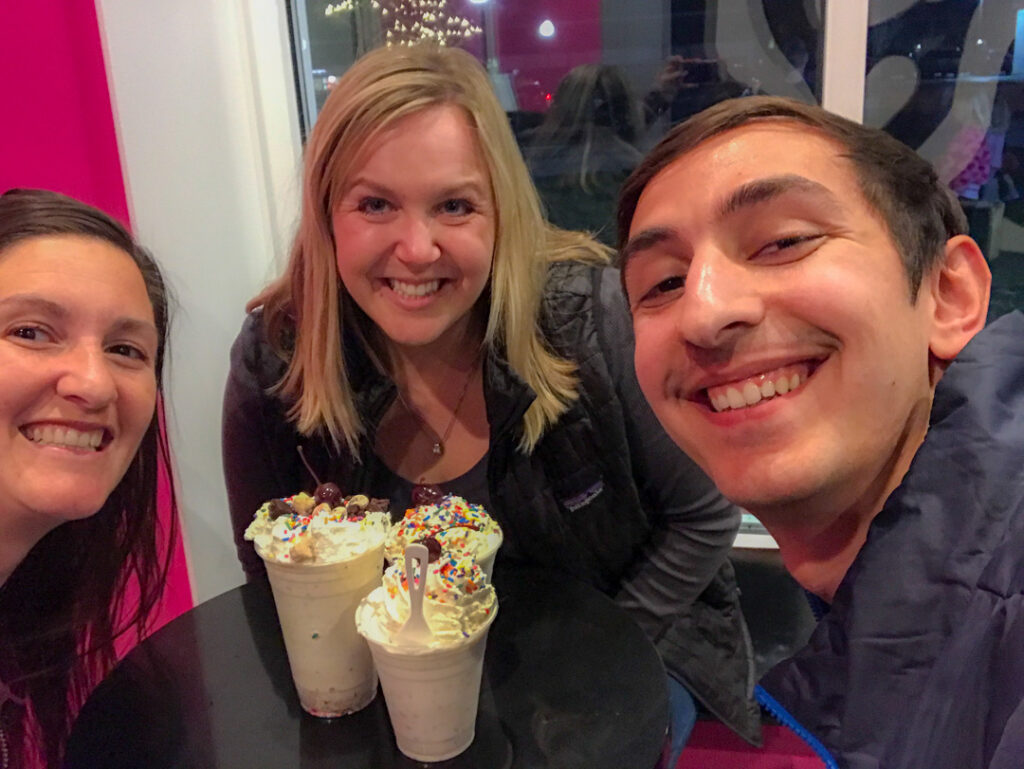 We pulled up to Denver and were greeted by one of our favorite driveways – excited for a smorgasbord of friends to arrive a few days later so we could all load into two cars and drive into the mountains for a weekend at Avalanche Ranch. Avalanche Ranch is a little slice of farm-style heaven where sheep mill about and hot springs empty into manicured stone pools.
This was our 3rd stay at 'the ranch'. Our core ranch crew – Holly, Ricky, Matt, Jake and I were all present. But this time, we were able to convince Tricia, Cam, Liss and two novel friends – a coworker of Jake's, Matt – and his partner Shay to come too. I think they are converts to the magical ways of the ranch now.
When we go to the ranch, we don't pack real clothes. The dress code is sweat pants, robes, bathing suits and crocs. Crocs are mandatory. Sometimes there are wigs. Sometimes there are group themed trucker hats. Always there is a lot of laughing, dancing, and general merriment. On occasion there is bickering. But there is always a shit ton of love. We lounge around, imbibe, eat like cows – if cows ate a diet of Doritos, donuts, freezer pizza, and candy – sit in the soothing hot waters of the hot springs, and occasionally walk about the property in search of farm animals. It's a really great place and although I don't want to share it with you because then I have to fight for reservations, I 100% recommend you visit too.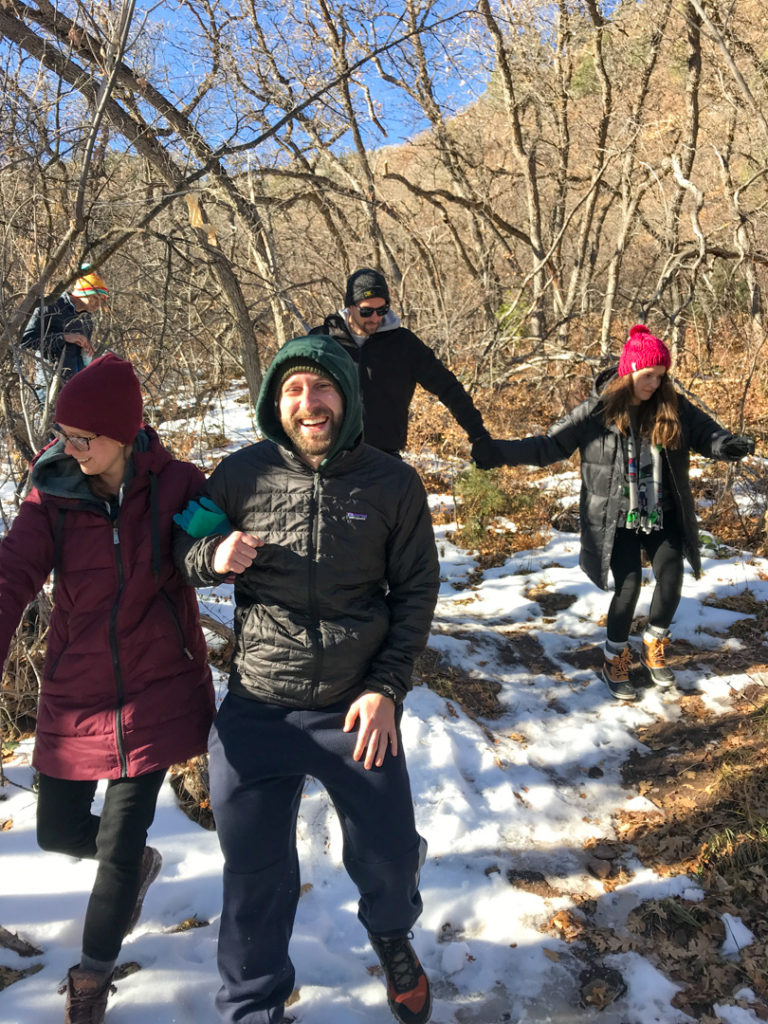 After spending about a week crying because all of the ranch friends had to fly home to their separate living quarters spread out across the U.S. – we finally summoned the energy to regroup and re-emerge and continue to enjoy Denver. We needed to stay until early December for some doctors appointments (the joys of medical care while traveling full time), but since we love Denver, this wasn't any sort of 'hardship'.
Jake and I took a Saturday to climb up and down 'The Incline' in Manitou Springs, then met up for lunch with my co-worker, Andy. The Incline was painful and lovely, and Andy was lovely and not painful.
We spent Thanksgiving skiing and boarding at Keystone Mountain with Holly. I think this is my new favorite way to celebrate Thanksgiving. We were granted a blue bird with some fluff on it day, and the mountain wasn't nearly as crowded as one might fear it could get.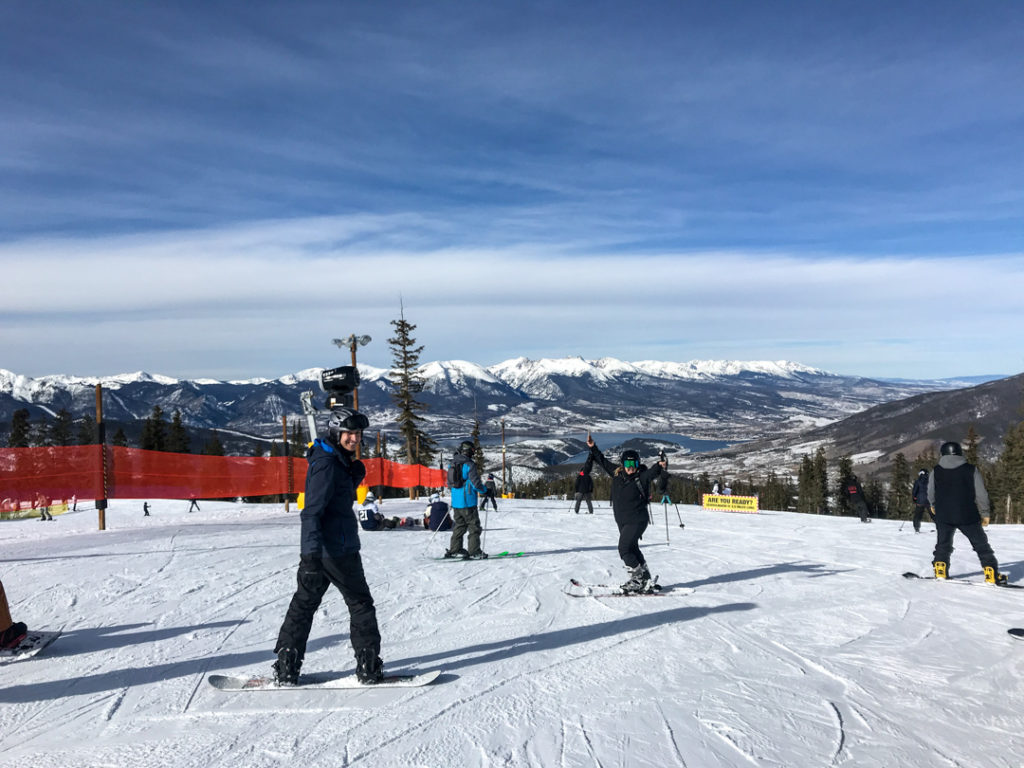 And then, it snowed. Because it's Denver. And Denver does what it wants when it wants. And at this time, in late November, 2019, Denver wanted to snow. So, she did. And we got pretty packed into our moochdocking spot.
We declared a snow day, and proceeded to do snow day stuff like walk to the local bar which really should have been shut down, but was not – so we enjoyed happy hour with half price drinks and appetizers. And we snuggled. Because that's also what you do on snowy days.
Before we left Denver, we spent an afternoon with Holly at a local Holiday craft bazaar. Except this was a Denver style holiday craft bazaar, so there were bars on every floor. Which, by the way, is reason #4 that I love Denver.