Ever just be driving a behemoth vehicle down a road, minding your own very large business and happen to look in your rear view camera, which happens to be circa 2001 and therefore provides very little in the way of actual rear-sight action? And through the grainy black and white graphics you spot an older couple riding their bikes? And then you damned near chit your pants because you know that the range of the camera on the rear of your huge rolling rectangle house is all of about 10 feet?
Ok, so just me?
#OKBOOMERS get it together and please don't pedal so close to my massive wheel house because I don't want you to die.
Thonotossa is one of those grundle type areas of Florida. You know, those heavy, humid, nearly always a bit fetid spots? If you don't know what the word grundle describes, don't bother looking it up. Think 'armpit', and thank me for my kindness.
We ended up in Thonotossa because the state park there, Hillsborough River State Park, has a campground, and that campground had a week's worth of cancellations that we were able to snag. We also read that the running situation there would be decent.
Turns out it was mediocre at best. The longer, wider trail was mostly flooded our entire stay. But, the shorter, loopier, rootier trails were decent most of the time – so we did get to traverse those at a slow lope. What can I say? Thonotossa is a grundle. We should have expected sloppy trails.
We utilized two campsites during our stay at Hillsborough, both of which were pretty decent. Some of the sites there are a bit cramped – but most have okay spacing for a Florida state park.
My favorite part of the campground was that there was an ice cream / snack bar within a short walk of the campground. We treated ourselves to some ice cream novelties after Saturday morning long runs and laundry. The treat was mostly earned because of the laundry. I had to fight off 2 #OKBOOMER ladies who were very displeased that I would dare use both of the open-when-started-my-loads dryers, and let me hear about their displeasure.
During our stay, Hillsborough State Park was completely full every night. And most of the residents were of a riper age than we are used to seeing en masse at state parks. For whatever reason, Hillsborough was pretty void of families or younger campers during our week there. Probably something to do with the appeal soggy trails and an unopened gigantic natural pool. Oh yeah! there was a gigantic in-ground pool behind the snack shop. But it was closed in February, so no water antics for us.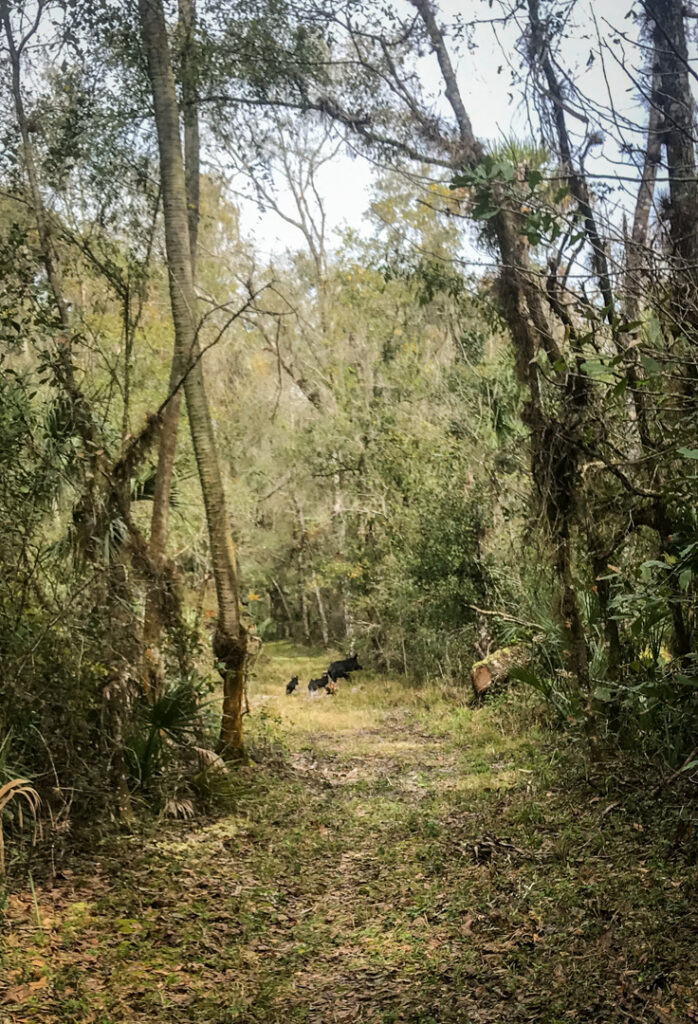 We were treated to some wild pig antics, however. I could argue that the wild pigs were friendlier than the wild boomers. But, I won't, because we did meet some nice #wildboomers during our stay. I never got to talk to any of the pigs. I did accidentally run (literally) into a wild pig family out on a (sloppy) trail one morning. There was a giant momma oink and then a whole slew of babies! It was very cute and they were rooting around and making a big fuss. When the momma saw me she shooed the family into the woods, where I soon noted a pack of coyotes ready to chow down. IT WAS AWFUL! I gasped, pivoted, and ran away from the impending massacre – irrationally blaming myself for the death of at least one tiny oinker. It was not a good morning.
Here are some nicer photos of our stay to cleanse your palate of the pig roast: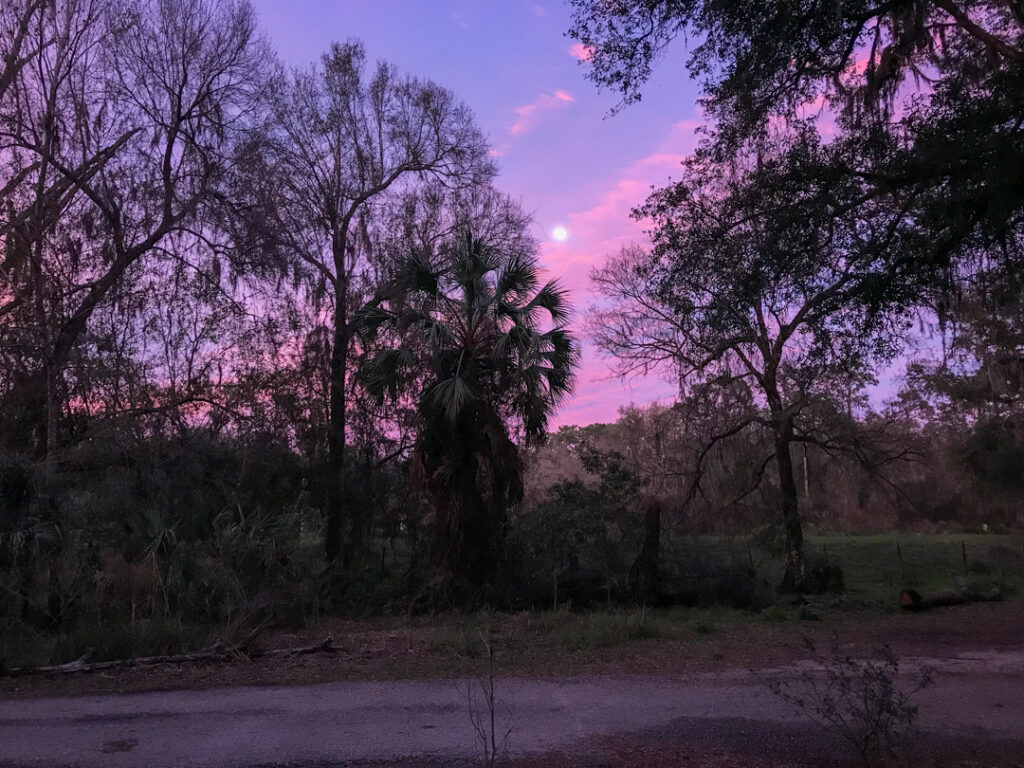 Overall, I thought Hillsborough was a grundle of an #OKBOOMER park – sprinkled with baby pig death.
Jake, however, felt that it was a nice park. He thoroughly enjoyed our stay. This must mean that Jake is a fan of grundles. Or, more likely, he is a fan of root-ridden trails. Also, he's not the doer of laundry, so he didn't have to endure the quiet, but very real, and very severe old-lady-laundry-battle. And, he did not witness the lead-up to baby pigs getting chowed down on by coyotes.
We'd stay at Hillsborough again. I would just have my expectations not be Fort De Soto level. Having Fort De Soto expectations is really just a set-up for disappointment, so honestly, I wasn't overly fair in my judgement of Hillsborough. Except for the baby pig thing. That was just rude, even if I had Fort De Soto dreams.