And another thing! About Florida!
Cam & Liss live here now. So that's another reason we decided to come to Florida. They used to live in Myrtle Beach, pretty near the only glory hole I've ever seen in real life and also near the world's greatest yoga teacher named Javier. We used to stay in Myrtle Beach because they were there. But now, they live in Florida. So now, we have to go to Florida to see them.
But here's the problem. Cam & Liss (we love them so much) are FREAKING IDIOTS. We specifically told them to only rent a house that either had a driveway that could accommodate our 40′ home – or – move somewhere with an RV park next door. I don't think this is asking too much?
Apparently, they have other priorities?
We ended up in Clermont, at Lake Louisa State Park. Because there are no RV parking spots very near Cam & Liss. Clermont is about 50 minutes and $10 worth of shitty Florida tolls away from Cam & Liss.
But – it was pretty. And had lots of orange groves and alligators and running trails. So, we accepted it.
Lake Louisa State Park is lovely. You have to drive a curvy 10 minutes to get from the park's entrance to the campground. The campground is still, impressively, near the highway. Even after your 10 minute windy road drive off of the main road. It's an impressive feat, really.
Once you're in, the campsites are decently spaced and pretty level. There are only a few with views of any form of a lake – you could glimpse the lake from our first site.
The running here was respectable. Lots of grassy trails, which are not my personal favorites due to a foot injury that's been lingering since 2011. There are also some road running options, allowing you to lope past orange groves if you get out far enough. It's Florida, so you're sweating before you change your gait into what could be dignified with the term 'run'.
While we were pretty far from Cam & Liss, we did make opportunities to hang out. We also gave in and bought a SunPass so that we could stop using all of our quarters on toll roads and instead use the quarters for laundry and gumballs.
On the date of our arrival at Lake Louisa, Cam made the trip from the other side of Orlando to meet us at a Wine Fest. By the time we arrived, the party was nearly over. We hung for a bit, then decided we needed to feed. We stumbled upon The Crooked Spoon, which turned out to be our go-to feeding trough for the rest of our time in Clermont. They have a lobster sandwich which was top notch in the "do you like American sliced cheese and carbs" department, which I basically manage.
The next weekend, we all met up at Cam & Liss's place over in Oviedo – then joined forces to caravan out to New Smyrna Beach. On the way, we made a steering wheel jerking pitstop at a roadside boiled peanut retailer. When we reached his stand, he told us to open our hands, which were immediately filled with a variety of chunked fruits. He then handed us a grocery bag full of boiled peanuts and proceeded to call a 'friend' out of the nearby forest? Liss and I were at least cognizant enough to NOT eat the 'hand fruit', but apparently Cam and Jake didn't think twice. No one ended up getting sick.
New Smyrna was as cute as a baby cow. It's a slightly beat down beach town with a flock of resident chickens who seemed pretty popular with the locals and tourists alike. We spent an afternoon traipsing about town. We splurged on Acai Bowls – a thing we tend to do whenever we're with Cam & Liss. We re-upped our energy stores via espresso on the front porch of a coffee shop while we watched the chickens cross the road, questioning why. We walked along the beach, which vehicles can drive on – not something I am overly used to, or find endearing. We attempted to finish our day in New Smyrna with a fine dining experience at The Garlic – which Cam & Liss report is very very delicious. However, after waiting for 2 hours, and then being told it would likely be another hour of waiting for crushed garlic and bread to smush in it – we ended up chowing down on the vegetarian delights at a Taco Bell. Yo quiero Taco Bell. NO REGRETS.
While we were at Lake Louisa, Jake and I ventured into Universal Studios. Not because we wanted to be amused. We didn't want to be amused. I'm not really an amusement park girl – although I wouldn't say I hate the places. But I don't beg to go to them.
You know where I do beg to go?
And Universal Studios Orlando is home to a Voodoo Doughnut.
We have now eaten Grape Ape donuts – the best donuts – at seven of the nine currently open VooDoo Doughnut shops across the U.S. We still need to hit up the new shop in Houston – and the shop at Universal Studios in California. Because, of course we made the rush-hour traffic plagued drive followed by about a mile walk from the parking lot to VooDoo Doughnut pilgrimage.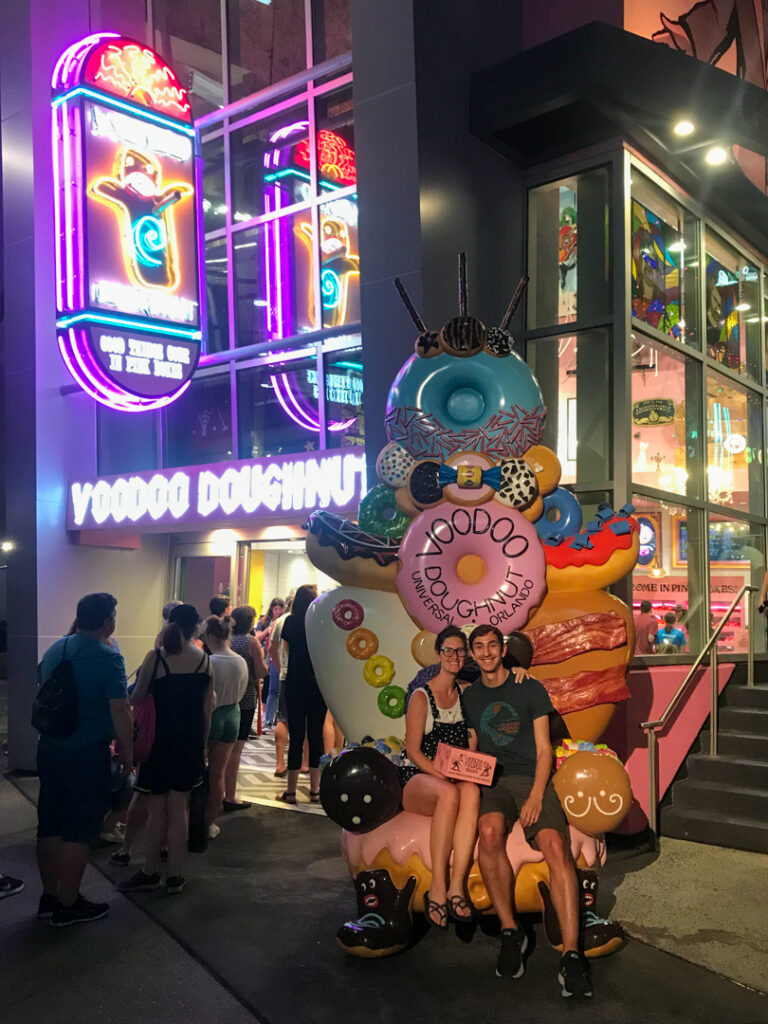 We also ventured out to see about a place I saw when driving Dyna into the campground at Lake Louisa called Showcase of Citrus . It sucked. But there was a baby alligator who was just chilling on the children's playground at Showcase of Citrus – which I found to be very Florida. There were not any oranges for sale at Showcase of Citrus. I hated that. Since the Showcase of Citrus sucked, we ventured up the road to get soft-serve ice cream from an ice cream shop shaped like an ice cream cone. I got extra sprinkles. The ice cream at the ice cream cone shaped place didn't appear to be served with poop-tainted hands. It could be reasonably assumed that poop hands were used to serve ice cream at Showcase of Citrus. Which sucked, by the way.
While at Lake Louisa, Jake decided it would be a great idea to extend our stay through the next week – even though we would be ditching Dyna for that week and boarding a cruise ship to celebrate Fred (one of our favorite people). Initially, we had planned to move Dyna into short-term storage, and drop Lucy off at Cam&Liss's for a little vacation of her own.
Now, technically, booking another campsite, which someone had last-minute cancelled at Lake Louisa was a good idea. It was about the same price as moving Dyna to storage – but would also allow us to keep her plugged in and therefore not have to clear out the fridge.
But, I was working on secret plans. Plans that you will find out about in the next blog I write. And Jake's tendency to try to make our routes and plans better can be a real pain-in-the-ass when you're doing secret shit that he doesn't know about.
But, since I didn't want him to know the secret, I rolled with the change of plans and we left Dyna at Lake Louisa – and Lucy with Cam & Liss – while we embarked on a, retrospectively, pretty idiotic cruise. (Coronavirus pandemic – even heard of it?)
The cruise was Fred's dream – he's 85 and has never been on, but always wanted to be on, a cruise. Also, he's apparently never left New York state in the winter. So, his family made it happen – with a bunch of us booking four days on the Carnival Victory with an itinerary that involved steaming around the waters south of the tip of Florida.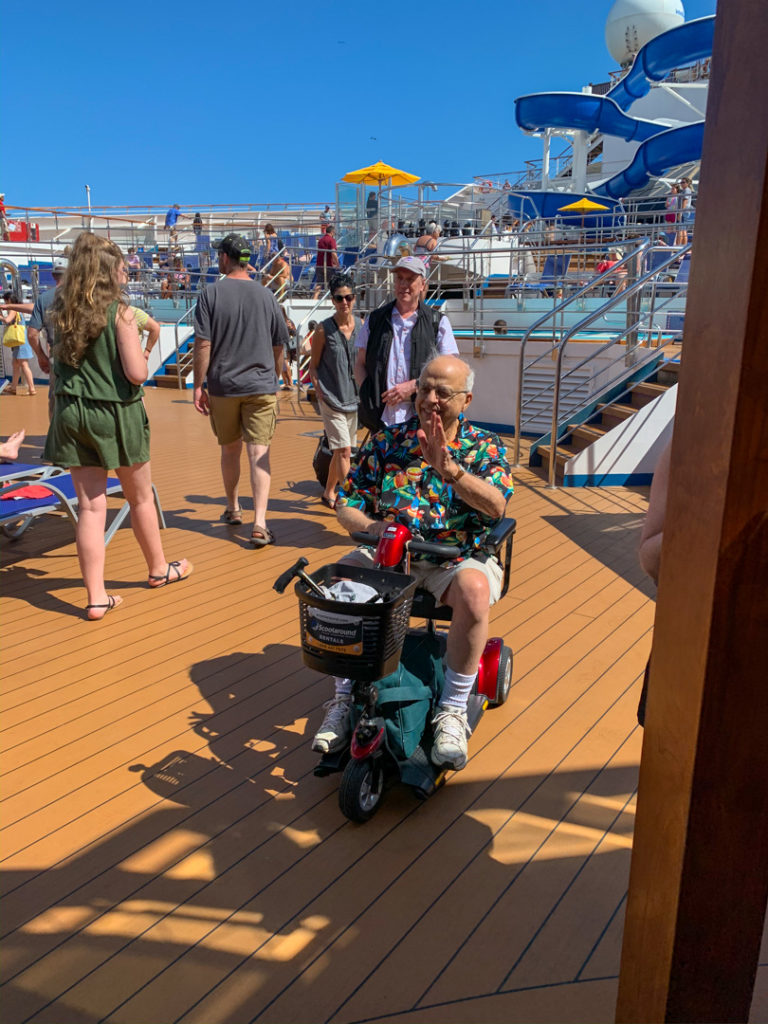 The cruise was actually really great – and no Coronavirus ended up being on board. When we left for the trip, governments were just starting to crack down on cruising, with the mandate that we had to write on a piece of paper that we weren't feeling sick before boarding. Safety never takes a holiday!
Fred – and the rest of us – had a great time. Great weather, enjoyable ports of call (Key West, Cozumel) – and lots of reading time in the sunshine. Also, the alcohol drinks on the cruise ship all came with straws made of literal sugar. This is an epic invention. Save the sea turtles – give me sugar straws!
When we arrived back in Miami, Jake had magically evolved into a level 30 human. Yep – 30 years of Jake.
So now, we're two 30 something year olds. And a cat. Who needs us to pick her up from her vacation chateau at Cam & Liss's, where she was apparently upset that Cam tried to plug in a nightlight so she didn't get scared.