Fayetteville, WV was an adventure.
A full half of that adventure was driving Dyna up and down and around the narrow, sketchy roads leading to the campground we booked just outside of town. Upon arrival at the campground, we were greeted with a closed-for-the-season ropes course and an empty row of RV campsites up a few switchbacks to an overlook. The six evenings of quiet this campsite provided us eventually allowed my nervous system to return blood flow to my white knuckles.
Our campsite at ACE Adventure Resort provided us access to an open Starlink cell, miles of dirt roads and trails that lead to places like the Concho Rim Overlook, and a safe place for Lucy to prowl (with supervision – always with supervision).
After a busy week working from the rig – with only one afternoon jaunt out to the small, quiet town of Fayetteville for pizza – we emerged on Saturday to hunt down a friend who was rumored to be in the area to do some rock climbing.
We snuck in a quick run on the Long Point Overlook Trail in New River Gorge National Park before popping over to Endless Wall to pursue one Laura Rekkerth.
Rekkerth is a friend from our past lives in the Rochester ultra running community. For anyone who knows Laura and is wondering if she is still buckwild in the best way – she is.
After descending a couple of long ladders down a rock face, we traipsed through dead vegetation for roughly a mile until we finally stumbled upon Laura and her partner Seamus, who were just wrapping up their first climb of the day. We spectated as they shimmed up another section of the wall.
Then Laura coerced me into her climbing shoes and diaper thing. The diaper thing was attached to a rope which was looped through some bolts many feet up the wall which I was promised were very secure bolts. The MOST secure bolts.
I groped around the wall face for a good 15 minutes, eventually heaving myself about 20 feet up the natural facade before I could no longer figure out where to put my aching fingers and very angry hip flexors for the purpose of higher movement. Rock climbing is no joke, my friends.
Thank you Rekkerth for the friendly bullying to test out the whole rock climbing situation. I didn't hate it. I may have even actually really enjoyed it. I might even want to do it again. Definitely.
After running and rock climbing and another little walk along the Endless Wall trail, we replenished our energy reserves with some burgers – a beet and a meat – and a couple of beers at Freefolk Brewery. Very good beer. Very good food. Very good atmosphere.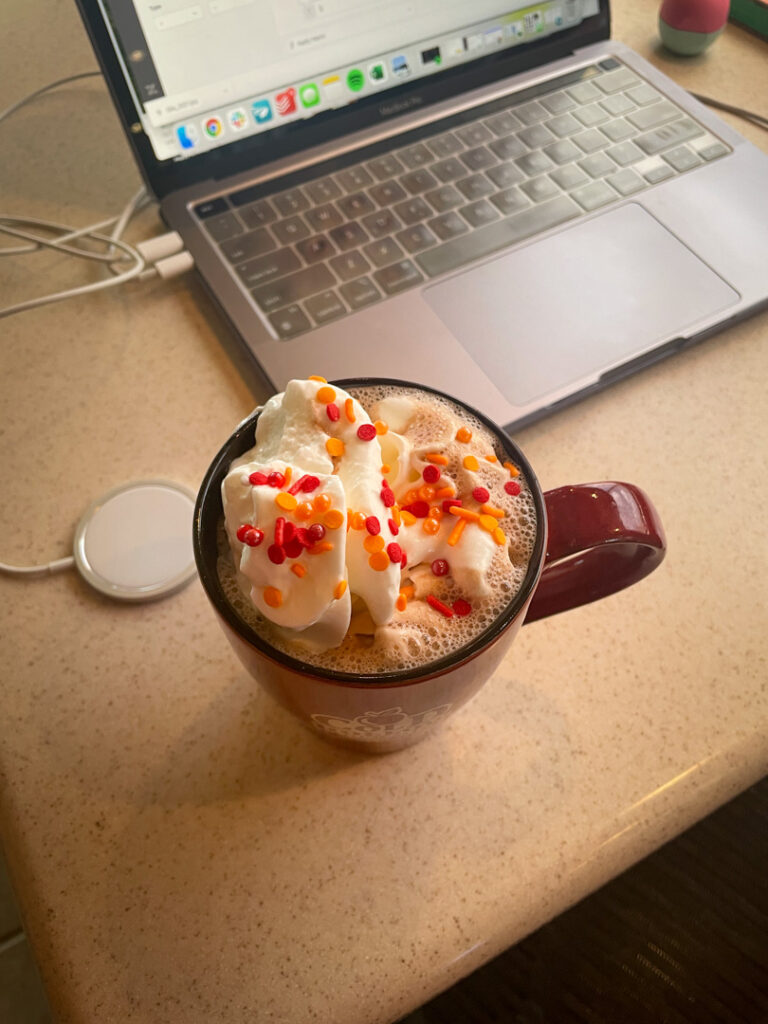 I woke up Sunday sore in places I forgot existed as part of my anatomy. We decided to hang around the campground, utilizing the trails accessible from our campsite (plentiful) and catching up on work – which currently seems never-ending. It's getting chilly in West Virginia, which means it's time for us to ramble on. And it also means that it's time for daily hot chocolate.
It'll be another white knuckle drive along Minden Road and back up to the highway, where we'll venture towards Kentucky.