We pulled into Tucson, AZ after a 10 hour day of driving. And then, we got stuck. As in, one of our rear drive wheels came off the ground, and since you need both drive wheels touching the ground to move, we weren't moving. So that wasn't good. Luckily, we had Bob just a few spaces down to teach us the ways of getting unstuck. These 'ways' involve levelers, blocks, and an audience of fellow RVers sitting in lawn chairs watching our debacle. I firmly believe that the audience which predictably forms around any 'RV idiot moment' is the most important part of remedying a situation. We eventually got unstuck, so that was good. And I swore that would be the last time we pulled into a place after dark. (This oath was quickly broken- literally the next time we drove the beast. Such is life.)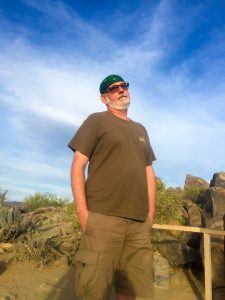 Our goals for Tucson were (1) to spend some time with Bob & Janice, (2) check out some Cacti without getting pricked (3) get Dyna up on some lifts so we could take care of some airbag/suspension issues and (4) not have to deal with the inevitable late season snow/ice storm that the NorthEast predictably gets. Some of these goals were half fulfilled, one was over-fulfilled, and one was perfectly fulfilled.
(1) We got to hang out with Bob quite a bit, but Janice was away on some family business. We missed her. I'd call this one 'half fulfilled'. Also, much to Bob's dismay (I don't think anyone who knows Bob would describe him as a lover of children), Dexter was obsessed with Bob. Dex forced himself onto Bob (i.e., digging Bob's hand out of his pocket so Dex could hold it, forced snuggling, climbing onto his lap) until Bob gave up. You could almost say that Dex tamed Bob (for a time). 4 year olds are persistent little beings.
(2) We got to see a lot of cacti, but we all got pricked. They are seriously sneaky creatures! A spine even penetrated David Moon's sneaker while we were out running. Right through the sole. I personally feel in love with the Saguaros; they are amazing beings. So, I'd say this one was half fulfilled too. We got the cacti, and the spines.
(3) We got Dyna some new air bags. And new shocks. And 6 new tires. So, this one was a bit 'over fulfilled'. And it under-filled our wallets. Also, just for fun (not), Jake replaced the coolant tank. One perk to getting work done on the rig was that we were invited to stay 'as long as we wanted' at the repair shop. They provided 50A hookups, so we took advantage of that invite and stayed a few nights. Realistically, this may have been the most expensive place we've stayed yet… but since marketing claims it was 'free', we went with that notion. Although it wasn't the 'prettiest' of spots, we were close to downtown Tucson. And also, the shop repaired firetrucks, so we got to see many firetrucks, and everyone loves firetrucks.
(4) Arizona. Where summer vacations for the winter. It was warm; some days in the 90s even. And that was glorious. Because it was March. And in NY, March likes to tease with a week of palatable weather… just to rip your hopes and dreams apart with a return to 20º with 40mph wind and a high probability of lake effect snow for a week. So, thank you, Tucson. For the endless sun. And the need to buy extra sunscreen. This goal was fully fulfilled.
When we weren't mooching off of the hookups at the repair shop (while basking in the glow of constant sunshine and warm weather), we stayed down at Justin's Diamond J RV park. While it was a well kept park with access to awesome trails, we happened to get 2 of the crappiest spots in the park, so that tainted our opinion a bit. The first had a grade so significant at the entrance of the site that we got stuck (as detailed previously). After returning from our foray at the repair shop, our second site had hookups so far from the designated space that we had to boondock for a night and then go buy an extension cord so we could reach the pedestal (and we've got a pretty long cord on board, if you know what I mean). Otherwise, it's friendly place with lots of activities and great scenery (although it's pretty far from any other conveniences). Dexter appreciated the paved loop in the back of the park where he could scooter to his heart's content and entrap any passersby into conversations re: said scootering. Highly engaging conversation I'm sure. Also, staying here provided us the opportunity to meet Wes & Michelle, 2 fellow millennial nomads. We enjoyed spending St.Patty's day afternoon drinking some beers at 1812 brewery and grabbing some tacos from a divey Mexican joint. We completely recommend stopping by 1812 for a beer or few; the beers were good and rotated enough that we got to try a few new offerings over the span of 2 visits. Also, the brewery has a 'child's play area' and also provides children with nerf guns (employees children) for your children or nephews to play with. Both the adults (myself, Wes, & Michelle) and the children (Bob, David, Jake, & Dexter) were pleased.
We also got to spend some time with Pat & Charlie, two friends whom Bob introduced us to at the Balloon Fiesta. Their homebase is in Tucson and we were lucky enough to be invited over for playdates and dinner, join them for dinner at a delightful little Italian restaurant downtown, and take a tour of the 'airplane boneyard' with them as well. Dex took to calling them 'Grandma Pat & Grandpa Charlie' and got to hang out with their grandkids- he was in his glory. Can't say enough nice things about these folks, although we never did get to see those backyard Javelinas they promised.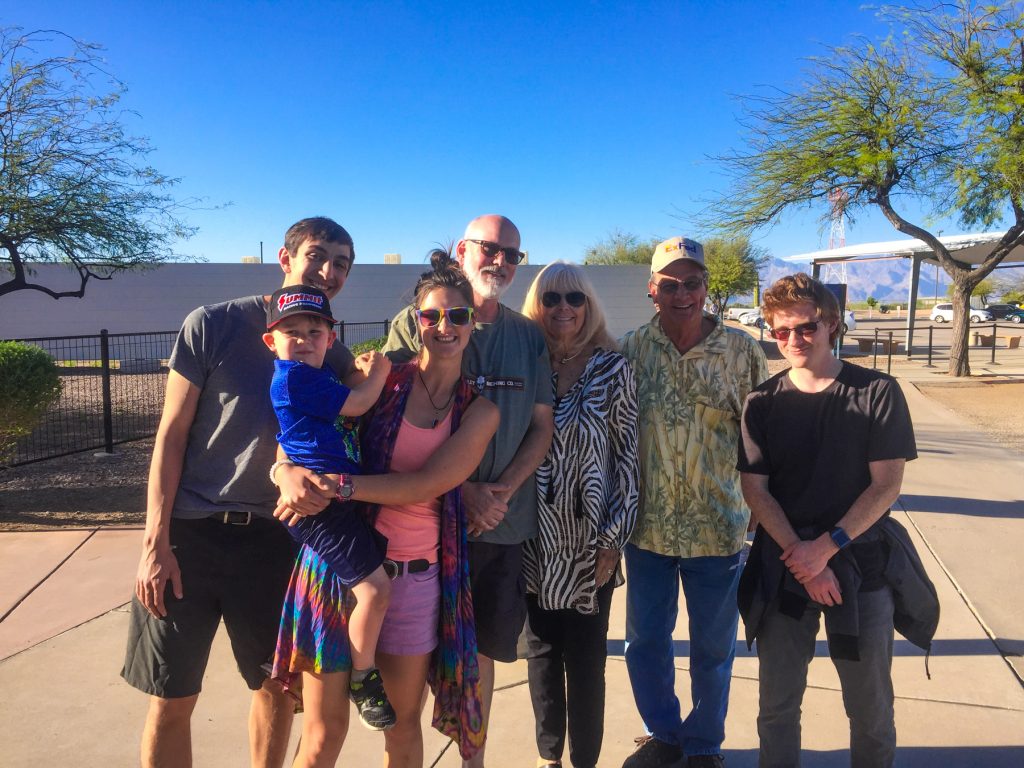 There is a ton of crap to do in Tucson. We did a lot of stuff, but I felt like we barely scratched the surface. Many breweries went untested. The biosphere when un-inspected. We did do some cool stuff though. We checked out Old Tucson Studios and the Desert Museum. Old Tucson Studios is basically an overpriced movie set which isn't used so much anymore. There are a bunch of old dudes and wanna be old dudes running around in cowboy costumes with fake guns having painfully poorly acted out gun fights. It's worth a stop if you can get discount coupons or go on a 'buy one get one' day, but I wouldn't say it's a 'must see' unless you're really into old western films. The Desert Museum is awesome. Tons of fun exhibits, knowledgable docents, animals, snakes and spiders (no, I don't like to group snakes and spiders in with 'animals'). We thoroughly enjoyed our stop there, and as an added bonus we ran into Cori & Greg (handle: The Restless Youngs) while driving to the museum and pleaded with them to stop for a hug break (we're convincing- they did). After an attempt to hike/train-ride around Sabino Canyon was derailed due to overcrowding (for future reference- hit this one early), we decided to head to Tubac, an artists town South of Tucson. I thoroughly enjoyed poking around all the shops and winding streets. I can't speak for the boys, but they were rewarded with beers and burritos for putting up with this foray. Jake, DavidMoon, and Bob also checked out the Titan Missile Museum and The Mirror Lab; all reports said both were interesting places.
When Dex wasn't hanging out with Bob or Grandma Pat & Grandpa Charlie, or when we weren't all checking out novel places together (with Jake & David) he was stuck with me (Liz). We spent our time in Tucson hunting down playgrounds, checking out the PIMA Air & Space Museum (which is super cool), checking out the International Wildlife Museum (which is mostly just a bunch of stuffed dead or completely fake animals- it wasn't as cool as the Air Museum), 'heading to town' (which in Dexter lingo means 'going to walk around downtown- Tucson in this instance). We also spent one day driving up to Phoenix to meet up with my aunt & cousin, which is always cool.
And sometimes, Jake and I broke away from the dictatorship which is living with a 4 year old and got to do Liz & Jake stuff. We went to see Jim Jeffries at Casino del Sol after feasting on Sonoran Dogs and splurging on fancy drinks. And we got in on our first 'HASH' with two fellow nomads, Maria & Brian, (handle: The Roaming Pint). HASHing is a subject all its own, and I wouldn't dare try to describe it here; you just have to try it. We had a blast and were super thankful that Brian & Maria took us under their HASHing wings. Or whatever HASHers have (not going there). Also, the rest of the jJavelina Hashers were pretty awesome to us too; drop by and see what they're up to if you're ever in town.
So, that was Tucson in the Spring. Where we got to enjoy salt on our pretzels, and not our sidewalks.