Houston was our 'home base' for a month. Although we didn't spend much of that month in Houston. You see, Houston had the cheapest airport in our 1,000mile vicinity for flying home for Christmas, so, Houston won.
While in Houston for a sorta-month, some pretty big things happened. One of the big things came in a small, energetic, dirt covered package. You've guessed correctly; Dexter came to live the RV nomad lifestyle with us (for a while, yet to be determined). Dexter is my 4 year old, truck loving, dirt digging, bug collecting nephew. The second package came with red hair. Our friend David Moon joined us to couch-surf for a few months after a brave decision to leave the chains of a job he didn't love. The third package has fur and purrs; her name is Lucy and she's Jake's much loved, aggressively affectionate cat. David Moon was foster parenting her in Jake's absence, but when he decided to ditch the status quo, Lucy got dragged along for the (big rig) ride.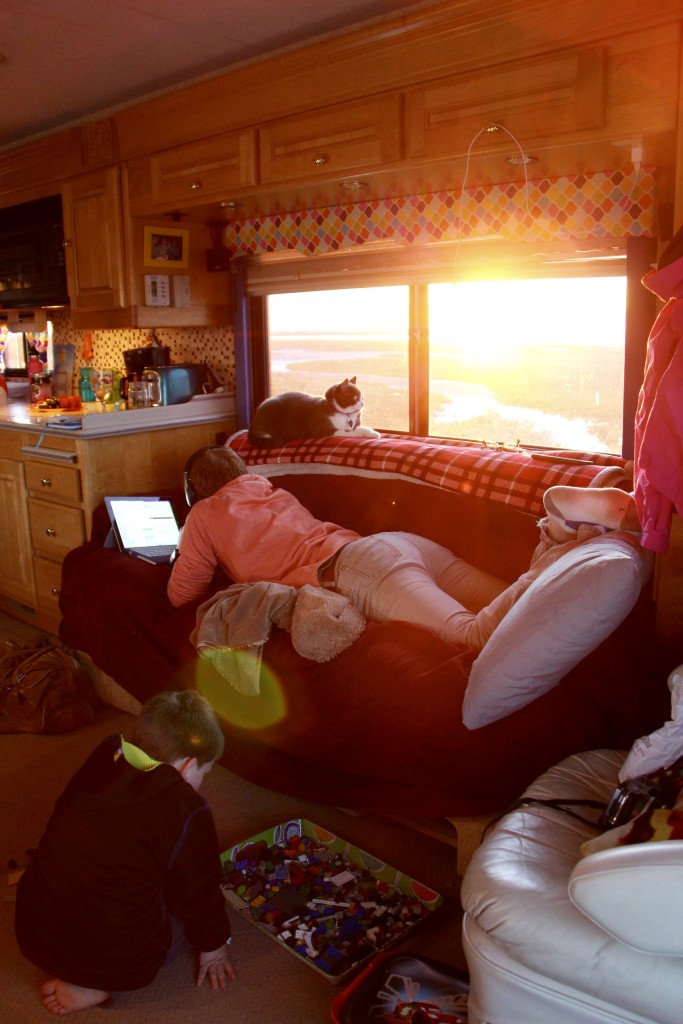 Before Dyna filled up with crazies in the form of a nephew, a friend, and a cat, Jake and I got to spend New Year's Eve together. We hit up a magical winter lights show, which was aptly named 'Magical Winter Lights'. It was a pretty sweet display, and the weather was cool, but enjoyable. Then we ate PIBs (aka, Pigs in a Blanket), which is a NYE tradition. It was a really nice first NYE with Dyna. I also had some 'alone time' with Dyna while Jake made a second flight back to Rochester (for a family event and retrieving Dexter). I used my free time for some leisurely runs, a little writing, and lots of eating the free popcorn that the RV park provided (we don't often stay in parks with such perks!!). Thanks to the tips of some 'local' friends (hey Marla!) I ended up running on some highly scenic and enjoyable loops in and around the city.
After Dexter's arrival, but before DavidMoon's, Dex and I spent some time exploring Houston's play spaces. We found some pretty awesome parks and an aquarium/amusement situation. Another perk of having a 4-year-old on board is the lure to actually use the RV park's pool. Which we did. Even when it was only 55º out.
We might not have gotten to explore Houston to the extent that our hearts desired, but we made some serious gains. We came to Houston as 2 and we leave as 5; for a little while at least.