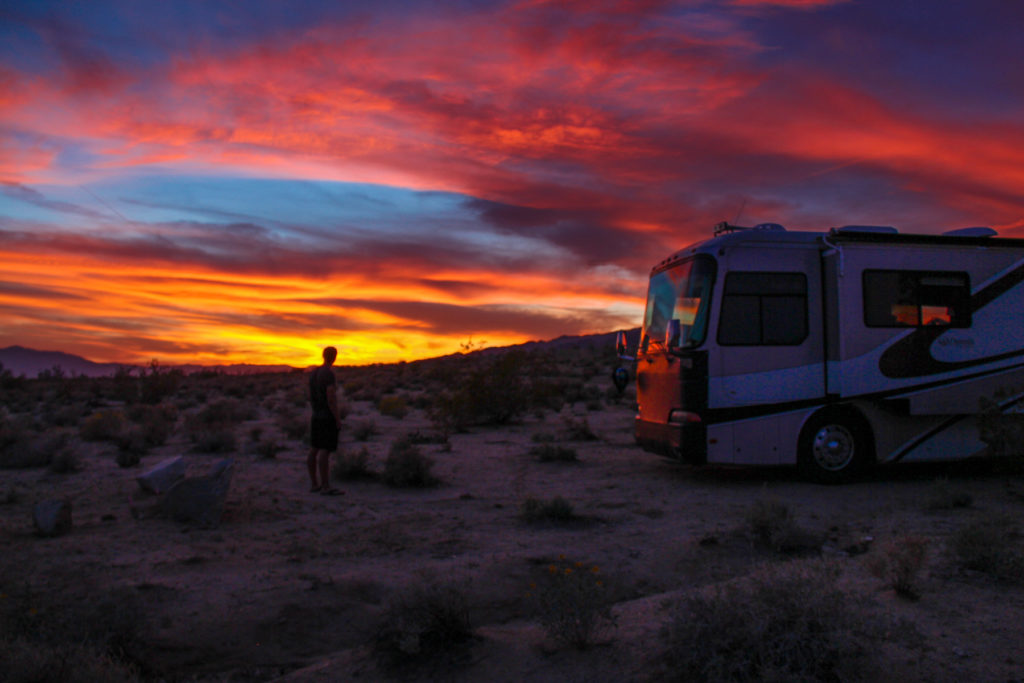 Once again we find ourselves in desert. Surrounded by gritty, dry earth, creatures which creep, and prickly plants tempting us to touch them. With all of it's sorcery, the desert has an ability to suck you in, dry you out, and spit you back out covered in dust and filled with thirst. And that's just what this new expanse of desert did to us on our first night in her grips; she sucked Dyna in, and after a struggle of some length, she spit her back out- covered in dust.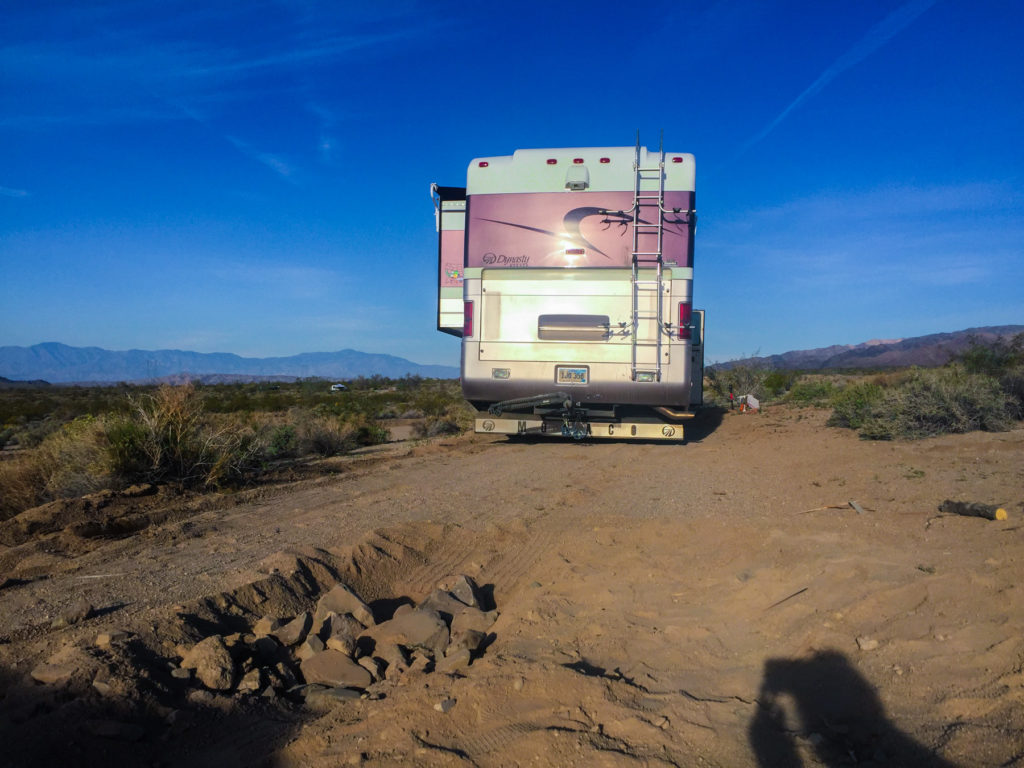 Yep. For the second stop in a row, we got poor Dyna stuck. We're kind of idiots. This time, it was nearing 'sunshine down' (a Dexter reference to night), and as we pulled into the wild-camping spot we had so carefully scouted out, leveled the beast out, and went to afix the magical twirly balloon (which is always the first thing we set up upon finding a new home) to our rearview mirror (which rarely provides much in the way of 'rear viewing'), we decided to move Dyna a bit to level her out. But she wouldn't move. Nope. Of course, this was after averting a crisis involving turning Dyna around on narrow dirt roads only minutes before. So, for the next few hours, the 6 of us (Jake, me, David, Dexter, Lucy, & Dyna, for those of you who are wondering) fought our way out of the cruel clutches of the BLM lands skirting Joshua Tree. We all played our parts; I sat behind the wheel and pushed levelers up and down, turned the wheel (which also doubles as a fancy little table), and pressed the gas to the specifications stated by Jake. Jake & David shouted commands (which were occasionally conflicting), collected and piled rocks under Dyna's drive axle tires (which were shiny and new, in case you were wondering), and thought up a variety of brilliant schemes which would allow Dyna to once again roam freely about the U.S. Dyna grunted and groaned. She moved very little. Dexter watched a few episodes of Blues Clues and frequently reminded us that 'he could help'. And Lucy hid in her 'travel box', which is a beat up build-a-bear box which she has claimed for her own. With the help of a large pile of rocks, a few bouts of yelling, and a little fairy dust, Dyna was released from the clutches of the arid temptress. And we proclaimed that we wouldn't move again until it was 'moving day' because we were just so damned exhausted from getting stuck. And then the next morning, just as we had loaded ourselves into the Rammer for a day full of adventures, a friendly 'security guard' stumbled upon us. He politely told us we'd need to move to the other side of the 'road' as the side we were one was being rented by an aqueduct company. We love us some BLM land, but we're beginning to see how tricky the rules and opportunities it provides can be. But it was all good (we've been reading a lot of Pete the Cat). And our new spot was sprinkle covered gummy bears in comparison to black licorice better than our 'got stuck spot' (which is to say, it was WAY better).
The day's adventures started and ended at the 'International Banana Museum.' It was fantastic. Fantastic in the way that people who like bananas and small, run down sorta-museums in the literal middle of nowhere categorize 'fantastic'. But before we could hit up this excellent contribution to the barren landscape of the Salton Sea area of America, we headed South. Because the sign on the door of the Banana Museum stated it doesn't open until noon. And apparently, noon is a 'flexible' time in California. That's cool though- we were willing to save homemade banana-mango ice cream and a few minutes of viewing a variety of banana related collectibles for post Salton Sea exploration.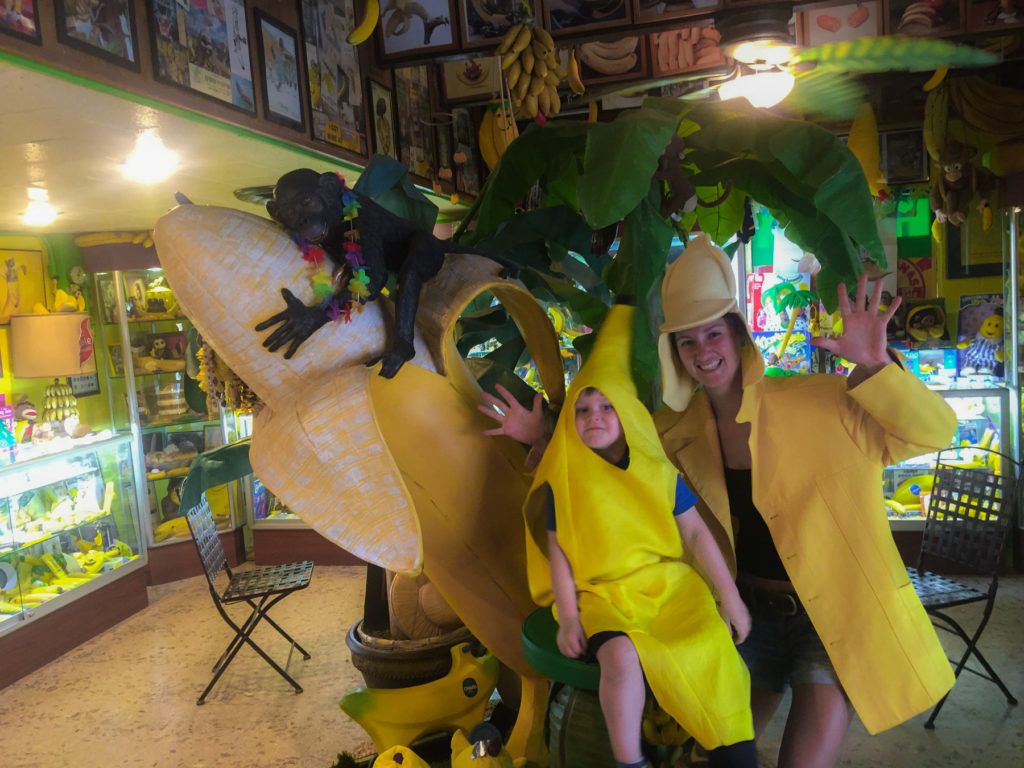 We headed down the East coast of the Salton Sea (in RedRammer- Dyna had clearly had her fair share of 'fun' for the week), taking in the views of the vast, but supposedly shallow saline lake. As we drove down highway 111, we were almost tricked into thinking that the rumors that this place was an ecological nightmare soup were false. But then the ripe odor of dead fish hit us. Followed by the smell of taking the dead fish and throwing them in a porta-john and letting them marinate together in 90 degree weather. And then opening the door. And smelling it. (I'm really trying to bring all of your senses into this adventure). Anyways, since it smelled so much, we though it would be a good idea to pull off the road to walk along the shores of the Salton's blue waters. Except it was a trick; we were greeted by a beach of bones. Dotted with decaying animals (birds, fish, aliens, etc.) And a sludgy, sewage seepage creeping up onto the land. I found the entire area, which is in California's Coachella Valley, infinitely interesting. And smelly. Both Jake and I have been fans of 'urban decay' for a while, and this is a fine example of some sort of decay. After getting our fill of the beach of bones, we headed to Bombay Beach, a ghost town where we saw more abandonment and decay. But we also saw people; and a sign which stated there were about 150 of them. And the people seemed happy. And that was cool. We stopped into the Ski Inn, because it is the only place to stop into in Bombay Beach. And we enjoyed flat beers while googling info on the fine example of what a post apocalyptic America might look like. And we found out that the Beach Boys used to hang out here. And other not so important famous people (be real, the Beach Boys rocked your pre-pubescent lives too). If you've got a few minutes/hours to kill and want to know how messed up our little slice of the world ('Merica) can be, I absolutely a quick google search of the Salton Sea.
After spending a while in the decaying paradise of Bombay Beach, we headed to another paradise of sorts- 'The Slabs'. An oasis of freedom set in the middle of the desert (and a few miles off of the stinky Salton Sea), there are no stop signs. No electricity. No running water. No sewage system. No governance. Old school buses, RVs, piles of wood, and mattresses have been lovingly transformed into homes. As noted by the old guard box which sits just outside of the settlement, it is 'the last free place on earth'. People of all types ambled about the different sections that we checked out; there were artist types, jesus types, fringe types, 'troubled' types, and types which can't be categorized by a 'type' (but, really, can any of us?). Some of these types and non-types form sub-communities within Slab City such as 'East Jesus', 'West Satan', or 'Salvation Mountain'. Other types and non-types just live. For the short time we were there, I kept attempting to come up with a word to describe the 'vibe' of the place. And once we got past Salvation Mountain, which for me, somehow didn't fit this word, the adjective that came to mind was 'authentic'. The folks we chatted with were friendly and unbothered by us as interlopers. For a place where the only 'justice' is trust and vigilante, it felt safe. And welcoming. And I would love to stay longer. It was an amazing, eye opening slice of the Sonoran Desert, and if you ever get a chance to stop in, you should.
Somehow, with all of the borderline outrageous places to explore nearby, the actual area of Joshua Tree did not feel inferior. Being left of nowhere has it's perks. We spent our days sucking up solar energy to run Jake's work station and the water pump. We used our water sparingly, which meant Dexter got away with fewer showers than normal (he didn't complain). We wandered freely about the arid land, chasing lizards, catching turtles, and climbing rock piles. We built a match-car race track in the sand and flew kites during the (often) windy days. We read and climbed and walked without the guidance of a trail. We dyed Easter eggs and stayed in our pajamas and ate junk food for dinner on the couch. Some nights we slept deeply surrounded by the quiet of the desert and the distant dance of headlights on the highway that produced no sound. Some nights we slept fitfully as wind rampaged against Dyna's outer shell, threatening to blow us into the abyss. It was a beautiful week of freedom from the allure of destination.
While the road calls us to move along, we know that the desert will call us back someday soon. Until then, here's timer photo that shows us all standing in Joshua Tree like real cool dudes.