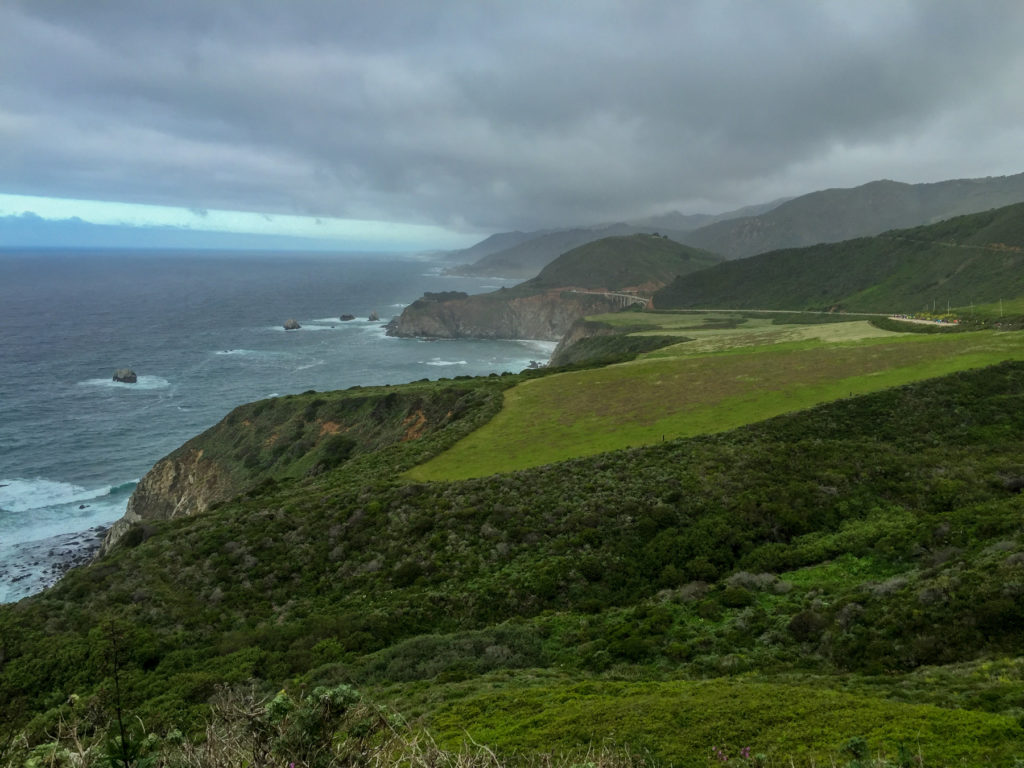 Spent a few weeks boppin' up and down the centralish Coast of Cali. Actually, I don't even know what the 'central' coast of would be considered. I'm sure Californians have their rules about what they deem central, but since I'm not a Californian I get to make stuff up and call it good. Anyways, this is a post about the time we spent in several places from Big Sur to Half Moon Bay with a few trips up into the city of San Francisco.
We've had our homing beacons set on movement towards Big Sur, CA for the past 6ish months. You see a small miracle happened and Jake, myself and our friend Jeffy were granted entry into the Big Sur Marathon. It's a lotto entry system, so don't be impressed. Except, go ahead, be impressed. Because my (Liz) luck is the pits when it comes to any 'games of chance'. I've never won on a scratch off. Or a 50/50 drawing. Heck, I couldn't even seem to pull out a 'win' in our weekly 'Lo Tengo' games in high school Spanish. Hey, we all have our talents. Mine is touching my tongue to my nose (feel free to be impressed again). For some reason, this talent doesn't seem to help with my luck in games of chance. But, 6ish months ago, a miracle second only to the birth of the sweet sweet baby jesus occurred. That's right, during the second chance loser's lotto (the one that happens after all real lotto winners win and then some of them decide they can't run 26.2 miles in Big Sur because they have it on their schedule to wash their hair that morning of the race) a miracle happened. My name was drawn and I got an email stating if I wanted to run this glorious marathon I owed the race directors some ridiculous amount of money. Clearly, I paid up. Since Jeffy had already gotten into the run during the first lotto, Jake, who's luck I must have stolen because he didn't get picked even in the loser's lotto, decided to run in a charity spot. Which basically means you pay way more money than the already exorbitant price that is charged for running this marathon. So, thanks to some loser's luck and the never ending need for $$ for Autism research- we had a hot date with 26.2 miles in Big Sur on April 24th.
We were pretty stoked for our friend Jeffy to come play with us in Dyna. We grabbed him up from SFO and drove South along Highway 1, hitting up the Highway 1 Brewery, a few roadside type shops, and several pullouts over looking the ocean on the way. I'm not a huge fan of the ocean (because it's scary as shit), but from atop the cliffs of Highway 1, even I felt a little love for the vast blue waters of probable death. Which is a good thing because we had Dyna parked at SeaCliff State Beach, which is oceanside, except at the bottom of those cliffs which I prefer to view the ocean from. It was cool though. Especially since we could view sea critters paddling themselves through the waves right from Dyna's windows. How did I not realize this was a possibility? And where did all these critters come from? And where were they going? And would they come onto the sand and try to eat us? So many questions to be answered when you live your first 28years of life in NY farm country. I liked the seals the best because I read that they aren't the type of sea creature that tries to nibble on you. I was also cool with the dolphins and sea lions, because I feel like I could out run a sea lion who got hungry. Dolphins don't have legs (newsflash!), and since there was no way on god's green earth that I was going to go into the salty waters of certain doom, I figured the dolphins were pretty chill too. Then there were the whales. Like the real life kind. We could see them from the shore doing their thing. From what I could tell, their 'thing' is blowing their blow holes and sometimes flipping their tales or entire bodies out of the water to show us how big they are and to remind us not to come out into the water because they could logically eat us. Or maybe they were having some sort of whale dance recital where they were showing their moves off to each other. Regardless, the sea life that roamed our front yard (the ocean) was pretty awesome, especially for a girl who's fondest memories of aquatic life involve catching crawdaddies in the creek near my house as a child.
Our introduction to ocean life didn't end in our temporary front yard. In between eating giant bread bowls of clam chowder, grabbing our race numbers from the marathon expo, and hitting up every candy shop in the Monterey, CA area to find the best price on Pop-Rocks, we followed some leads that took us to an overlook where we could admire baby and mama seals sunning themselves. So many baby seals accosting their mothers in an attempt to get fed! A few days later we happened onto some Sea Otters playing in the wharfs of Moss Landing, CA. I liked them a lot because they kept dunking each other under the water and it's funny when friends dunk each other under water (except it's never funny for ME to be dunked under water- remember that). And just for good measure, we made sure to hit up the tide pools just outside of Half Moon Bay during low tide. While more seals sunned themselves on distant rocks, we scoured the shallow pools until we found a sea star. In the process we found out that sea anemones spit water at you if you accidentally bump them. I liked that too.
And then there was that marathon that we have been glued to getting to for the past several months. It was completely worth it. The slight constrictions on our usual freedom of not having a destination. The money purged from our wallets to get starting numbers. The cruelty of the 2:45am alarm to catch a bus packed with smelly runners that would take us to the starting area where we would sit on the concrete and shiver for another 2.5 hours amongst a vast expanse of blue crappers. It was all negated by what I deem to be the most beautiful marathon I have ever run. And, for full disclosure, you're hearing this from a girl who has been jaded by relatively uncrowded, un-hyped, smorgasbord of junk food at aid station world of ultra running. So, if you ever get a chance, and are at all into that sorta thing, put your name in for the Big Sur Marathon.
Post marathon we revisited Phil's Fish Market for some tasty tasty (that's 2 tastys!) seafood. I had to state 'revisit' because we had hit up Phil's with our road friends Eric & Brittany of RVWanderlust just before Jeffy's arrival. These folks have a secret talent for finding good food. Which is way cooler than my secret nose touching talent. Phil's was good enough to eat there twice (which we haven't done since finding Torchy's Tacos in Austin, TX). The day after the marathon, we moved Dyna up the coast to Half Moon Bay, parking her at the state park (it was freaking beautiful). It put us a bit closer to the city of San Francisco so that we could do what we do best and play professional tourists. We walked up the streets of San Francisco (because 'up' seems to be a popular/the only direction for the streets to go in San Francisco), ate fresh fortune cookies in a back alley of China Town, introduced Jeffy to the 'eclectic' shopping experiences available in the Castro district, perused the Embarcadero and Piers of the city, and repeatedly entered and exited Ghirardelli to score a few extra samples of chocolate. We walked amongst the Redwoods at Henry Cowell SP. And we watched the world premiere of Beyonce's Lemonade. So clearly, we enjoyed Jeffy's visit.
While parked in Half Moon Bay, I also got the pleasure of hanging out with a long lost high school friend, Melissa, who I affectionately think of as 'Midge'. That name is really a badge of honor from our high school running days. In short, she was really short back then. She's gotten taller, and somehow, even cooler than she was back then. Midge lives, works, and frolics in the Bay Area. She invited me to run with her 'she-wolves', which is what she calls the ladies of her running club. I really liked these 'she-wolves'. It's been almost a year since I've run with a posse; I've always been a solitary runner, but it felt good feel the pull of a group again. We had a solid run, and then ate a solid brunch. Then we did some rooftop yoga, on Dyna. Catching up with Melissa contented my soul; nomadic life is amazing, but sometimes it is nice to connect with a person who shares a past with you. No need to explain background details; they are known. It's a comfort that I took for granted prior to life on the road. I hope that we cross the path of the 'Midge' along our travels again soon; I look forward to falling into intimate conversation between gasping for breaths while rolling along the hills of the California coast.

Did you know Silicon Valley is only a 40minute drive from Half Moon Bay? Did you know that inside my handsome stud of an adventure partner lies a computer geek who's ear perk at the musicality of words such as 'dependency injection', 'transpiling', and 'NoSQL' (yeah, those are apparently real terms)? Did you know that the Facebook campus hosts a farmer's market on Saturdays (thanks for the tip Midge)? We spent an afternoon visiting the campuses of Facebook and Google. I spent an afternoon giggling as Jake randomly shrieked 'Hey, look it's ___ (insert tech company here)' as we drove around the Silicon Valley.
The central California coast is beautiful. There are ample opportunities to run on pavement or trails. Opportunities for eating good food are copious. Cute coffee shops abound. Jake's excitement for the tech community in the area could barely be contained. A few times, we bantered around phrases such as "this would be a nice place to live." But, probably, no. Mostly, it comes back to those damned sea creatures. Before I started working as 'big rig driver extraordinaire', I was a pediatric Speech-Language Pathologist. And I would expect to return to that calling in some part if we decided to stop caravanning around the country and seeing shit. Pediatric SLP is a cool job title, but it really mostly just consisted of I bribing little people into communicating by singing them annoying animal songs. So, yes, I have a master's degree in barn, household, and zoo animal animal songs. Go ahead, test me; you're darn right I can imitate the sound the elephant makes. Sea creatures… well, I didn't learn about those in my master's program. (Yes, you need a master's degree to speak in barn animal to 2 year old). So, if we moved here, I wouldn't be qualified to be an SLP. I'd probably have to go out and find a job that might actually pay the bills. And since I'd much prefer being drooled on, speaking in squeaks, squawks and moos, and giving hugs all day as a profession, living here just wouldn't work out. Also, it's mad expensive here, yo'. I went to buy a bag of Santita's, which are clearly one of the best tortilla chip brands ever (Ricky A. Hesseldaddy taught me this in college). They taste okay, but more importantly, they are always $2 a bag. That's a thing. Except when you're in California. They are suddenly $2.99. Yeah, I've caught onto your little tortilla chip games, Cali.
Not that we're even thinking about settling down yet. The more we see, the more we need to see. From here, we're making a short hop up to Pacifica, which will plant us just outside of San Francisco for a week. Until then, remember: the ocean is for looking, not touching. Don't trust anything that houses animals with unsayable sounds. Stay dry my friends, stay dry.
Locations/Dates: Aptos, CA (Seacliff State Beach) April 20th-April 23rd, 2016; Marina, CA (Marina Dunes RV Park) April 23rd-April25th, 2016; Half Moon Bay, CA (Half Moon Bay State Beach) April 25th-May 3rd, 2016