After reluctantly dragging ourselves away from Goat Island, we decided to make a pitstop in Mobile, AL before landing in New Orleans for Mardi Gras. We figured Mobile would be a nice warm up for New Orleans, seeing as it is home to the first established Mardi Gras celebration in the U.S.. Also, I had heard mention of Mobile, AL in the Forest Gump movie, and they made it sound good in that movie.
And it was good! For the one full day and two evenings we spent there. Which is inarguably not enough time to spend in Mobile. We caught a wiff of it being a pretty decent little city, so we'll need to come back to spend more time exploring its offerings.
We stayed at Shady Acres RV Park, which is a pretty regular place. They let you wash your rig there, so we liked that. Well, kind of. Washing your rig sucks, but it also needed to be done.
We noted that Mobile sets up a few different 'RV Cities' downtown during Carnival season – and many of the downtown parking lots seem to have special rates for RV parking any time of year. No hook-ups, but very close city or parade access. We would likely partake in parking Dyna in one of these lots if we returned to Mobile during Carnival season.
After I spent our one full day in Mobile washing Dyna's exterior while Jake worked, we spent the evening checking out a brewery and then attending a Carnival parade. Both were excellent. We chatted with a young couple who lived in Mobile while stationed at a local National Guard base while we sipped decent beer. Then we walked down the street to find a decent parade viewing area, and found a place to pick up some boiled peanuts while we waited for the parade to roll past. I have garnered a slight boiled peanut obsession since we began traveling in the South Eastern states. The rest of the U.S. really needs to get on the boiled peanuts thing. They are delightful, cheap, and messy. You can buy them at gas stations or from roadside stands. They make you feel like an elephant at a circus. I love them.
The Order of Venus parade was great too – mostly because the ratio of Moon Pie throws to non-Moon Pie was very good. Aka, mostly Moon Pie throws. We also caught a bag of Ramen Noodles. After my first Mardi Gras experience I have learned to judge all parades based on their throws. And this was a very good one.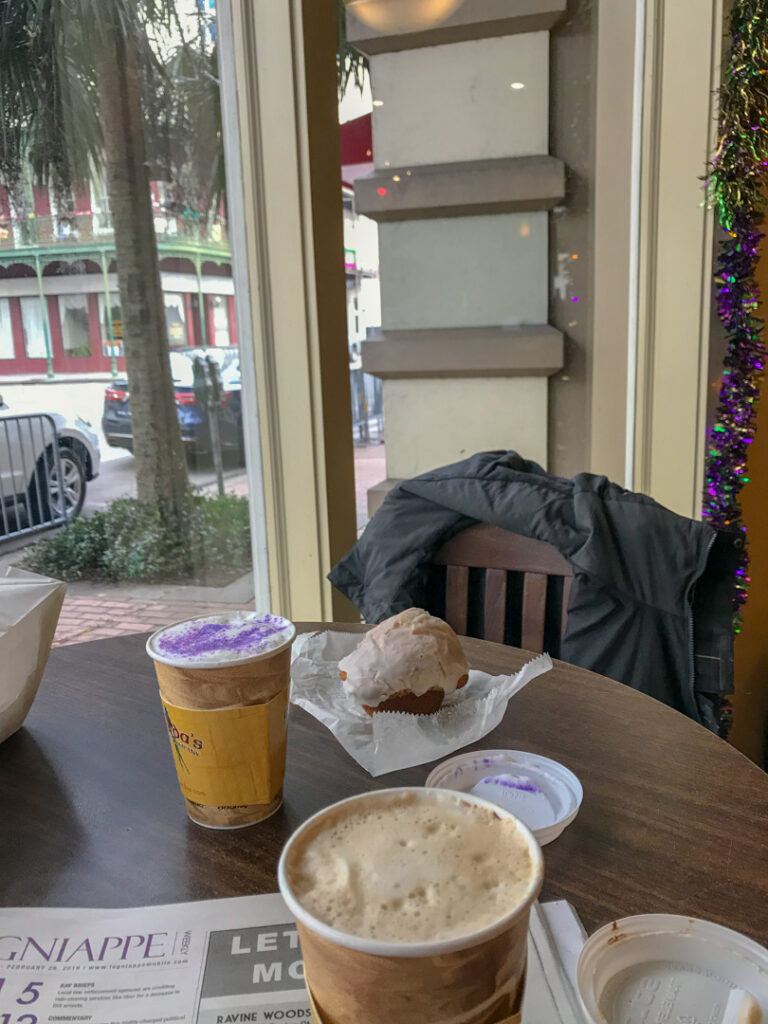 In the morning before we headed out, we popped downtown to run around (literally) and grab some breakfast/coffee. The coffee and breakfast, which turned out to be muffins, happened to be Carnival themed, which is one of the best themes.
And now we're headed to NOLA, to join in on the grand daddy of Mardi Gras celebrations. We lucked into a spot at the French Quarter RV Resort downtown – and our friends Scott & Nicky are coming down to join us. Wish us luck and many Moon Pies!