With our stockpile of MoonPies from Mobile dwindling, we pulled into the French Quarter RV Resort in New Orleans. And no, it's not shameful to eat 3 to 5 MoonPies per person, per day during Mardi Gras season. Or ever. But especially during Carnival/Mardi Gras season. So go on and dismount your MoonPie consumption high horse if you had mounted it. Or stay there. I'm actually jealous that you're riding a horse and I'm not.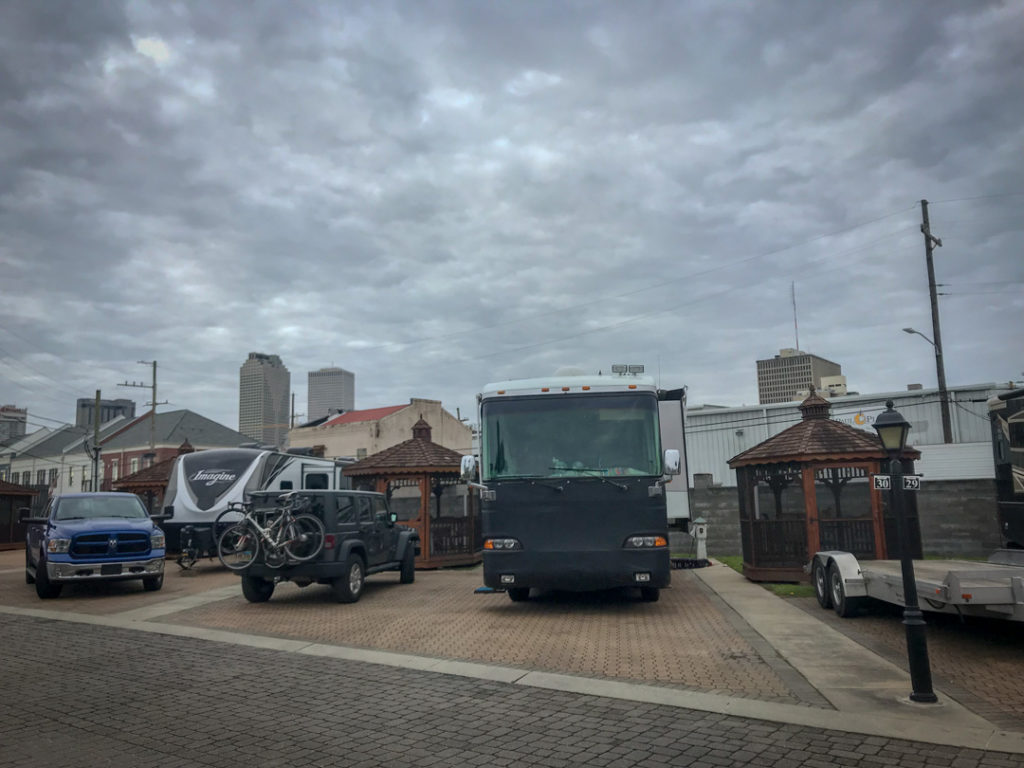 French Quarter RV Resort (FQRV) is a swanky little place surrounded by high brick walls on the backside of the French Quarter. It's clean, maintained, ready for big rigs, and expensive. We called them back in December 98% expecting to be told that 'hell, no, we don't have any spaces left for the week of Fat Tuesday'. And that is what they told us. Because what idiots call the RV park that is closest to downtown NOLA and asks for a spot during Mardi Gras – 3 months before Mardi Gras? (Us.) We had hoped to grab a spot in Bayou Segnette State Park, where we stayed duringour previous (2016) Mardi Gras foray, but everything was already full there. We used to be much better earlier planners. Now we pretty much just wing everything. Which isn't very conducive to attending popular events. But just this once… the gods of dumping your own tanks smiled down on us…
…and the FQRV Resort called us a few minutes after initially telling us that they did not have any sites left to inform us that they magically now did have a site! And we said yes. We were now engaged to FQRV Resort. My father now owes FQRV a dowery of goats. Which is a pretty good deal, because for whatever reason FQRV billed us at their non-Mardi Gras rate. Not cheap, but not eye-ball-bleed inducing either.
So we're in New Orleans, and we're ready to go beg strangers on floats for more MoonPies.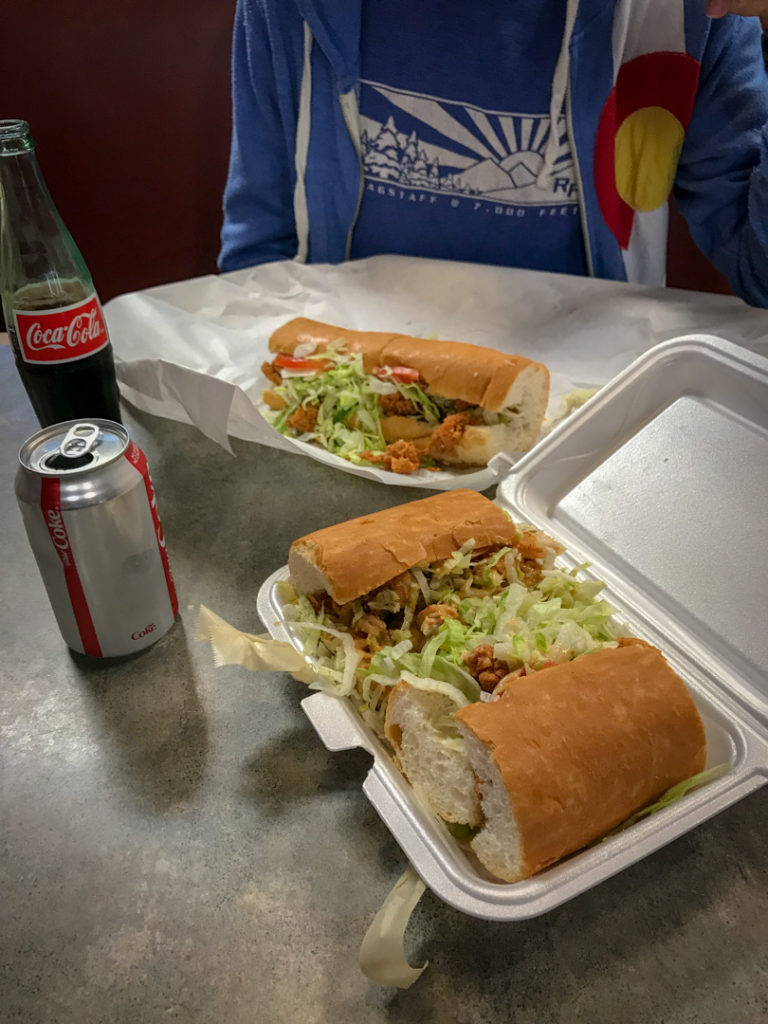 On our first evening in town we decided to walk down to the French Quarter and find us some Po'Boys. And we did find some Po'Boys. And everything was really nice, just Jake and I walking about the French Quarter wearing a Super Mario backpack and holding hands like two grown people who like each other might. And then… it struck. It could have been new stomach destroyers from the Po'Boys or maybe lingering hitchhikers of stomach doom from our trip to the Dominican Republic a few weeks back. Who knows. It struck. And for the rest of our stay in NOLA I pretty much existed off of sweet tea (thank you deep South for your sweet tea) and late night post parade nutella-banana-tortilla wraps. And if you're reading this and you know how much I love talking about the inner workings of our digestive systems you should be really proud of the language I used to describe this circumstance and the fact that I won't mention it again for the rest of this blog. YOU'RE WELCOME.
Jake and Lucy and I spent Tuesday through Saturday walking about the french Quarter and downtown NOLA, attending parades and begging masked people riding on floats to throw useless trinkets at our faces. And then we would arrive back home and have no clue what the hell we were going to do with all of these trinkets that we so proudly caught, sometimes solely to stop them from impaling us in the face, and other times because it seemed very important in that moment that a roll of purple toilet paper should be ours.
We spent the rest of our time working, researching and hunting down the 'top rated' King Cakes in NOLA, deep cleaning Lucy's stray fur from Dyna's interior, displaying in Dyna's windshield our 'best' beads from our weekday evening at nightly parade escapades, and waiting for the arrival of Scott & Nicky – who joined us in NOLA on Saturday evening.
So Scott & Nicky showed up, and the four of us spent the next three days going to parades together. Because when you're in NOLA and it is Mardi Gras season, that's what you do. You go to parades. You dance with the 610 Stompers. You cheer for the high school and college marching bands – and make sure you don't get butted in the face by one of their parents who march alongside them. You scream at the those all powerful Krewe members sitting atop their rolling palaces, pleading with them for a coconut or a shoe or a purse or a light-up sword. You make friends with a man named Spider, who is part of a motorcycle club and has been standing along a swath of the parade route for hours protecting a spot for his family who will later bring a barbecue pit. Spider will invite you to join in his family's barbecue happenings because Spider is interested in Scott and Scott's future endeavors.
Which, by the way, are really freaking cool. Because, guys. Scott. Yes, 'our' Scott, Scott Baron of Baron's Boneriffic Brewing ambitions is setting out to hike 2,000+ miles along the Appalachian Trail (AT) after he leaves NOLA. He sold a bunch of his shit, quit his job, and bought himself a new tent, some trekking poles and a water filter and he is doing it. And, if you're interested in following him, or checking in on him and his progress, today's modern technology allows for it! You can check out where he is on the trail (and other things like the weather on the trail at his location), here: Scott's AT NoBo Hike
So yeah, we paraded. We tracked the parades on our parade tracker apps to make sure we were at our favorite viewing spot in time for the parade to roll by. We refueled with Beignets. We cheered on large Krewe parades. We walked with walking Krewe parades. We paraded in the day – and we paraded in the evening. One night I had to dip out and lay in bed while Jake & Scott & Nicky paraded, because parade fatigue is real. And so is that stomach situation that I said I wouldn't talk about again but here I am talking about it again.
Our time in NOLA culminated on Fat Tuesday – a day with parades starting at 8am, and streets full of people drinking and eating and enjoying themselves before the impending repenting of Lent. In the morning, Jake and I sipped on mimosas while the four of us joined the masses congregating in hopes of persuading the Krewe of Zulu to award us coconut (Jake got one!) Nicky & Scott weren't so into imbibing, so we split off from each other for a bit – with Nicky & Scott heading off to visit with her (very pregnant, and very cool!) cousin. Jake & I decided to forgo more parades (there is such a thing as parade overload) and ventured down to the French Quarter to seek out a Hurricane. We spent a while soaking up the sunshine in the courtyard at Pat OBrien's and chatting with some folks who really really love Donald Trump (gag). Then we headed out to see where else our feet would take us. Jake worked on his dance skills with a group of random folks in the street, and we eventually found ourselves refueling with real-meat and not-real-meat hotdogs at Dat Dog. Then we re-convened with Nicky & Scott, and decided to end the day early – they had a long drive the next day.
We spent one more day in NOLA, gawking at the city's ability to delouse itself from the debacles of another Mardi Gras season. They deploy mass quantities of disinfectant via tanker trucks and ash crosses on foreheads. We enjoyed the quieter vibe of the city as it recovered from its self-inflicted wounds. We ventured out to get PoBoys one more time – this time from a different locale, one tested by the Obamas – and this time the PoBoys didn't turn my stomach into mush.
Mardi Gras is a blast, guys. If you have the opportunity to attend the festivities of Carnival season in NOLA, do it. The season lasts over a month, so don't be tricked into arriving just for Fat Tuesday. And don't be tricked into thinking you have to be drunk the entire time. We decided (ok, my stomach decided) to hold off on our inebriations until Fat Tuesday itself – and we had a blast every day we were there.