After being non-physically forcefully ejected from Jonathan Dickinson State Park due to Coronavirus induced closures of all Florida State Parks, we ended up at a private RV park in Vero Beach, Florida.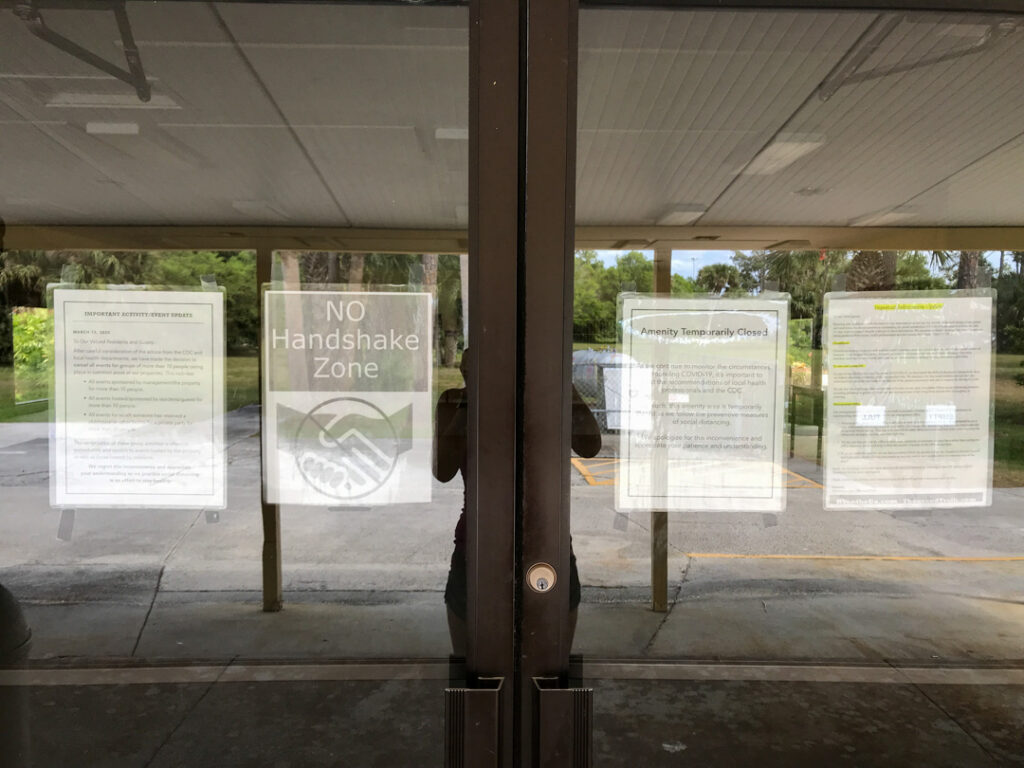 We were able to snag a spot at the RV park due to the plight of Canadian snowbirds, most of whom had to end their trysts in warmer weather in order to get back across the Canadian border for fear of further border restrictions. When we called, we were quoted a $60/night price point, and guaranteed a campsite for the weekend at least.
When we arrived at Sunshine Travel RV Resort, I was immediately reminded that we weren't bouncing around in state parks anymore. This place was crammed butt-to-butt, side-to-side. A really reassuring layout to roll-up to during a time where the entire nation was confused, and scared, about how contagious or dangerous the Coronavirus was, or would come to be.
In my head, it made no sense that we were just evicted from a lovely, spacious campsite to a sardine can possible contagion cesspool amongst mostly silver-haired, snow-fearing folk. I also understood the plethora of reasons it was best to close a non-essential service such as a public campground (i.e. – public space cleaning, staffing concerns, budgetary re-assessments). But, rolling into Sunshine Travel Resort felt like anything but 'sunshine'. And it was $60/night. For a campsite. With no use (or desire on our part to use) amenities.
The good news was that Sunshine Travel Resort, despite its immediate proximity to a major highway, was not overly noisy. And it was close enough to a safe running path. And also, close to a Speedway Gas Station which, while limited in services, did provide fountain Diet Colas for $0.99. Trust me when I tell you that while we may have been running low on plastic gloves and hand sanitizer, my desire for fresh, crushed ice garnished diet cola overwhelmed fears of a deadly virus. I gloved up, got that cola, and sanitized like a surgical unit afterwards.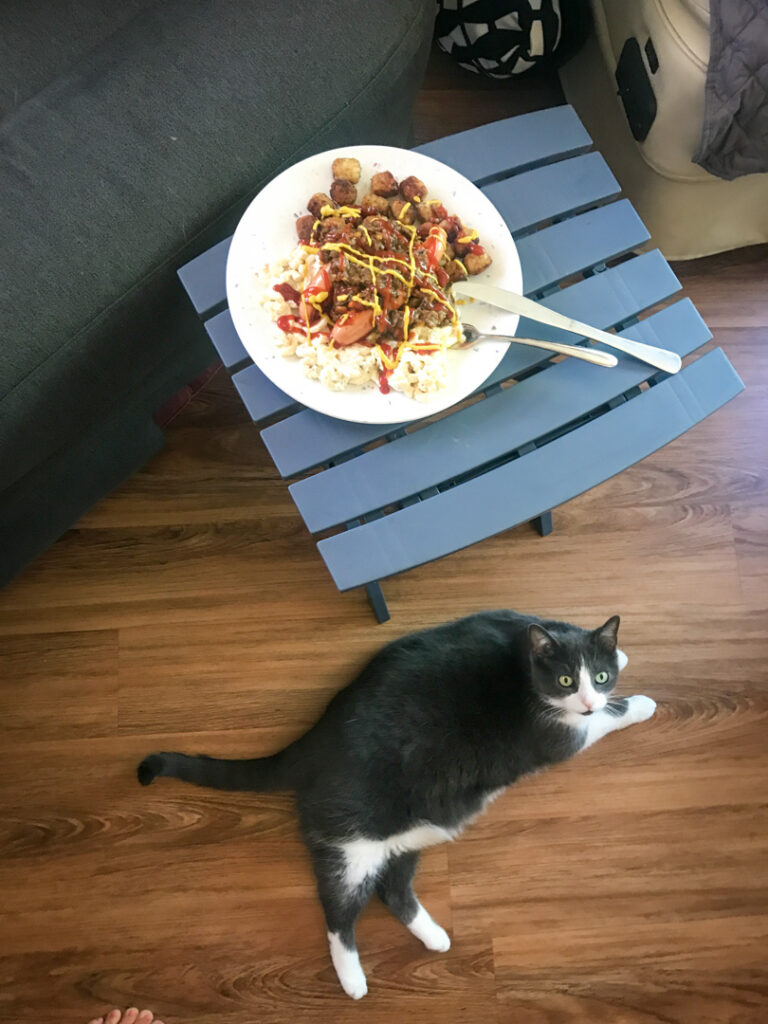 While at Sunshine Travel Resort, we had to decide what we would do next. One of the many universalities of the Coronavirus Pandemic of 2020, is that it is a petri dish of uncertainty. And it was especially so in the U.S. in mid-March of 2020.
While we watched cascading campground closures limit our house parking opportunities, we became increasingly aware that we needed to get somewhere, and stay there. Coronavirus pandemics are apparently not great times to travel from community to community. You know, virus vectoring and such.
We were a bit torn. We didn't love the Sunshine Travel Resort, or feel it was a good fit for us financially. Or virus safety wise. Or mental stability during a pandemic wise. Except for the diet cola access… that may have kept me mentally stable in the sardine can, one path to run on RV park…
But, we were also warned, that if we left Sunshine, we may not be welcomed back. RV parks were closing to new arrivals – and closing fast.
But, one of the few counties in Florida that was not fully closing their county managed campgrounds happened to manage the campground we had reservations for starting that Monday. We went back-and-forth, up-and-down: do we leave? Stay?
We left. And arrived at Wickham Park campground just in time for them to tell us that they would not be permitting new reservations – or extensions of current reservations – but would be permitting those with reservations to arrive. So we arrived. And commenced planning our next move, because we would need to leave in a week.
And our reservations at parks in April – which we wouldn't typically make, except this is Florida, land of the wintering RVer – had either been cancelled, or were highly likely to be cancelled.
Although much of our stay at Wickham Park was dominated by me tracking campground closures for Campendium, and Jake trying to find us a place that was suitable and comfortable to stay for at least the next month – we did spend some time exploring Wickham Park.
Which is full of turtles.
And children who had been banished from school. Due to the virus, not indiscretions. I assume.
Being at Wickham, being able to walk or run about the park, being able to let Lucy roam as I sat outside and cloud-watched; it brought on strange, contradictory feelings and emotions. I felt a disconnect between the internal angst and fear of this unknown, invisible virus that was sneaking around the country, terrorizing not just the world population – but the U.S. population. The population of Melbourne. Of Rochester. Of Owego and Vestal and Newark Valley. Of my friends and family. Then there was my current reality. The picturesque, 75º sunny weather park acting as our current front lawn. Not a sick person in sight. It was jarring.
But then, we needed venture off of our semi-bucolic short-term residence to obtain groceries. Because I shit you not, we were running low on toilet paper and paper towels. Because we were the idiots who did not stockpile. Because apparently when everyone else starts hoarding, it's a good time for you to do that too.
And that's when it would hit me: things were changing. Fast. Especially the need to keep a distance from the stranger who also desperately desires poop paper. And the need to wash our hands until they were flaking. And the need to not touch my damned face. How the hell do I stop touching my damned face?
It took several attempts, and a semi-creepy bout of stalking a delivery truck, but Jake procured a few rolls of each – and felt very victorious. We also found out that the Peeps factory was shutting down due to Coronavirus. We learned our lesson from the shit-ticket and hand-wipe-paper crisis, and stockpiled several boxes of chick and bunny sugar coated marshmallow delights. Fool me once…
There also happened to be a SpaceX satelittle launch occuring while we were in the area. We ventured out to view it. All of the parking lots to Florida's beaches had been closed by this time, being that Spring Break was officially over, so now was a good time to close them. (sarcasm). So, we parked at a grocery store, with intention to top-off our Peeps pile upon our return from the viewing. We were running a bit late to get parked and get to a beach – the launch time had been changed a few times, which isn't abnormal, but made it tricky to time getting to a place to watch, as Florida's beaches were closed to anyone not exercising on them. We found ourselves hustling towards the beach, without an access point in sight. We did see an inlet that provided a beach view from a parking area near some condo type housing. So, we gathered as a party of two into the parking area, and listened as the launch team counted down. Then came the shouting. A verbal shooing being broadcasted from a gaggle of silver hairs piled into a small private pool. They had spotted us, and they wanted us out of their community's parking area. I attempted to rationalize with them – we just wanted to watch the launch – 2 minutes and we'd evacuate.
Not acceptable. We had once again been evicted.
As we were walking away, me nearly in tears, with our hypothetical tails between our legs, we heard the braying of silver haired individuals coming from the pool: "turn around! You'll miss it!" NO SHIT, BOOMERS. That's why we were standing in your stupid special parking lot in the first place. Like we told you.
But we were quickly taken aback by the sheer awesomeness which is a launch. Fire zipping through the sky – and the very delayed, earth shaking boom that follows when you almost can't even see the actual visual vestiges of the launch any longer.
We thanked the territorial silver hairs in the pool for their 'kindness', and moseyed back to the campground which we would also soon be asked to leave.
Lucky for me, Jake employed his super sleuth skills and located a campground which was willing to host us for a month or more, had great access to many many miles of running path, and was in a rural area. We settled on booking a month stay at Fries New River Trail RV Park in Virginia based on the afore mentioned attributes, and the location putting us within a day's drive of family in NY – should the need to be with them arise.
While we intended to utilize our entire reservation at Wickham Park, we ended up leaving a few days early. Suddenly, states were closing rest areas, and rumors of state border closures were circulating. Not to mention that it was likely that the state of Virginia could implement closures or restrictions on campgrounds. The trend of other state, county or city based closures being that those already residing in a park could usually stay – but no new arrivals may be permitted. Some jurisdictions went so far as to evacuate current residents from parks – those seemed to be mostly in heavy tourist areas, so we hoped the out of the way location in Fries would prevent that type of outcome.
Also, the place is in Fries. Which apparently is pronounced 'Freeze'. But we don't have to call it that. We can call it fries. Because fries are delicious.
We loaded up Dyna early on a Saturday morning in late March, and drove through the day and into the evening, pulling into a rest area at the Virginia border as the sun tucked himself in for the night.
And while we were nearly assured a night of light sleep interrupted with the inconsistent hum of refridgeration trucks, we finally had a plan. And that was nice.
To read more about our travels, travel interruptions, and some thoughts about being a nomad in the U.S. during the beginning of the Coronavirus Pandemic: Hitting the Brakes: Life with Dyna in the Time of COVID-19