We made the 7 hour by Dyna drive from Apopka, Florida to Marathon in the Florida Keys in a single day – we were so excited. We don't usually like to haul more than 5 hours in a typical day, unless we're doing a long haul rest area overnight situation. But when you're headed to the Keys, you make the drive.
We took a break at Jake's favorite place to eat – True Food. Because he's Jake and since its his favorite place to eat, he has researched where every location of the restaurant exists in the country. And if the parking area nearby is big enough for a large house on wheels.
The True Food was good, as per usual.
As we rolled in to Curry Hammock State Park with Scott behind the wheel, I was inundated with a feeling of gratefulness that I married a knight behind a shining keyboard.
And also with extreme fear as Scott warily pulled our home through the guard gate and into one of the loveliest parks we've camped at in our nearly five years on the road.
I don't know why we let Scott drive – even if it was only from the entrance of the park and into our campsite. Hell, we even let him back our baby up. Regardless of not knowing 'why' we let him do it, we didn't have to think too hard on it, as he didn't crash Dyna. He did fine.
We set-up house, snagged some beers, and walked the 50 meters to the beach where we were greeted by our first Florida Keys sunset. And our first rendition of what we would soon learn was a nightly Conch blowing jamboree. This involved a group of silver haired twisty shell aficionados expelling large amounts of breath to produce a noise that sounds similar to a horny moose. I was entertained.
We spent the next few days exploring the running options – really just one option. A paved path extending throughout the Keys, although not consistently, provided us with safe trespass alongside Hwy 1 for as many miles as we wished to endure.
And exploring the lounging options. The lounging options were elite. Cream of the crop. A-list. Curry Hammock really knows how to offer you a place to hang your hammocks.
Jake and Scott kept insisting that they named Curry Hammock State Park 'Curry Hammock' because it was meant for hammocks. And once, when I arrived to lay in my hammock, Scott had placed a jar of curry in it. And while Jake and Scott are the opposite of funny, I couldn't really argue with their assessment of Curry Hammock: it is made for a hammock.
Okay, hammock montage! Because honestly, much of our two weeks at Curry Hammock, we just hung out in hammocks. (Get it?)
We also peeped nearly every sunset and sunrise offered during our two week stay. Sometimes with beers in hand. Once while filling our faces with homemade veg garbage plates.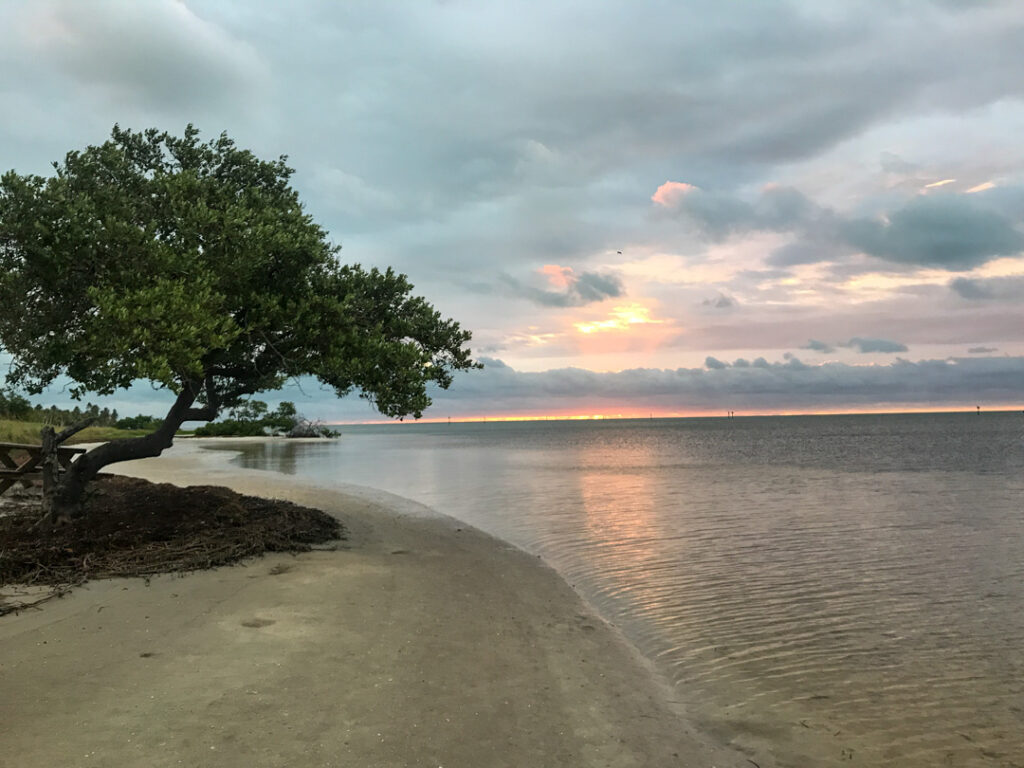 Scott spent some time working on Lucy's leash walking skills. Which suck.
Scott is an animal human. Animals love Scott. I don't know why, because he's a huge loser. It probably has to do with how bad he smells. Lucy loves things that smell horrible.
And she loves Scott. A lot.
She snuggled up to Scott every opportunity she got – forsaking her oath to snuggle with me. It was wrong and I hope he never comes back because I was personally offended. Again.
After a few days of lounging about Curry Hammock as a party of 3+feline, Cam & Liss drove through the evening to join us for a weekend. And it was all just really excellent.
We kicked Scott out of his pull-out couch bed and made him sleep on an air mattress shoved under our kitchen table. Jake & I claimed the pull-out couch, because we're bougie like that. Lucy spent two nights trying to spread her sleep between the three sleeping arrangements. It must have been very exhausting for her to spread her love amongst 5 humans whom she considers 'part of her pack'.
We initially ventured out on the Saturday morning of Liss & Cam to explore the Marathon area of the Keys, but after the experience of seeing restaurant patrons arrive by helicopter for brunch, a round of morning drinks at an oceanside eatery, and an attempt to visit the Turtle Hospital, we all realized we just wanted to hang out in hammocks back at Curry Hammock.
We picked up a Key Lime Pie from Sweet Savannah's and headed back to hang some hammocks along the shore.
The boys set out on a kayaking adventure, because apparently they don't enjoy luxury relaxation. Liss and I read and lounged on the beach with copious amount of snacks. We caught the sunset, then Scott cooked up vegan Big Macs, which we chased down with a really nice Coconut KeyLime Ale (No Wake Zone) out of the neighboring town of Islamorada. Then we all blasted through slices of the most delicious Key Lime Pie of our Key's experience and settled in for an evening of watching Lonely Island videos because, what else would a group of five 30-something-year–old buddies crammed into a 10×40 house do?
Cam and Liss had to leave in the morning to make the 6+ hour trek back up to Oviedo and their sweet boy cats. It was a brief, excellent visit.
We weren't able to visit the Turtle Hospital when Cam & Liss were with us, but we did make a point to do so before we left Marathon. And I 10/10 recommend. It's a super interesting operation. And also they do operations. On sea turtles. And they have a special sea turtle ambulance to get the ailing turtles from the ocean to rehab them at the hospital. We learned a lot about bubble butt, which is a real life sea turtle ailment. And a real life ailment Scott is diagnosed with also.
We also spent a day down in Key West, doing Key West stuff. Like drinking Cuban Coffee. And eating cuban food.
And seeing a freaking manatee.
We saw him, you guys! A real life, no shitting you, manatee! Just chilling in a marina near where we sat to drink cuban coffee and eat cuban sandwiches.
He was amazing.
After peeping the manatee for awhile, we walked about, looking at Key West stuff. Like large birds that steal fish scraps from the intended consumers of said fish scraps which are, apparently, other fish? I don't really get it – but throwing fish scraps to other fish, only to be intercepted by large sea birds, is a spectacle that a local restaurant puts on everyday at 4pm. We found the local brewery – and drank some beers, which were disappointingly not able to be enjoyed with a view of the ocean, even though the name of this brewery was Waterfront Brewery. Deception. We bought matching shirts anyways.
We finished out our day in Key West with some burritos, Key Lime Pie ice cream, and an actual Key Lime Pie packed away in the car for later consumption and comparison to Sweet Savannah's Key Lime Pie.
Sweet Savannah's was the favorite in 3/3 tallied votes.
After a few more days spent hammocking oceanside, Scott, Jake and I ate our last meal together as an LLC of three at Burdine's Waterfront, which was recommended by our friends Chris & Cherie – and unlike the afore mentioned Key West brewery, was actually waterfront.
The hushpuppies. This is me writing home about them.
The service was fun. And we were seated waterside which I found delightful. We had to load up on (provided) bug spray – but it was completely worth the ill health affects that Scott insists said bug spray will cause me.
We shared a final sunset, and a plate of fried Key Lime Pie.
And then, Scott had to hop on a plane and fly home to the frozen tundras of NY. It was sad. Because even though Scott is my biggest frenemy, he is also really great at cooking. And cleaning. And laughing at Jakes dumb jokes. And telling equally bad, if not definitely worse dumb jokes. Also, Lucy loves him.
After Scott left, Jake and I enjoyed Curry Hammock State Park for two more days before we were forcefully ejected. Aka, our reservation ended.
The campground at Curry Hammock garnered top ratings from us. While not as spaciously laid out as some state parks, the sites provided decent room between them. If our neighbor didn't partake in illegal release of his grey water several times during our stay, we probably wouldn't have noted him much. But, GROSS.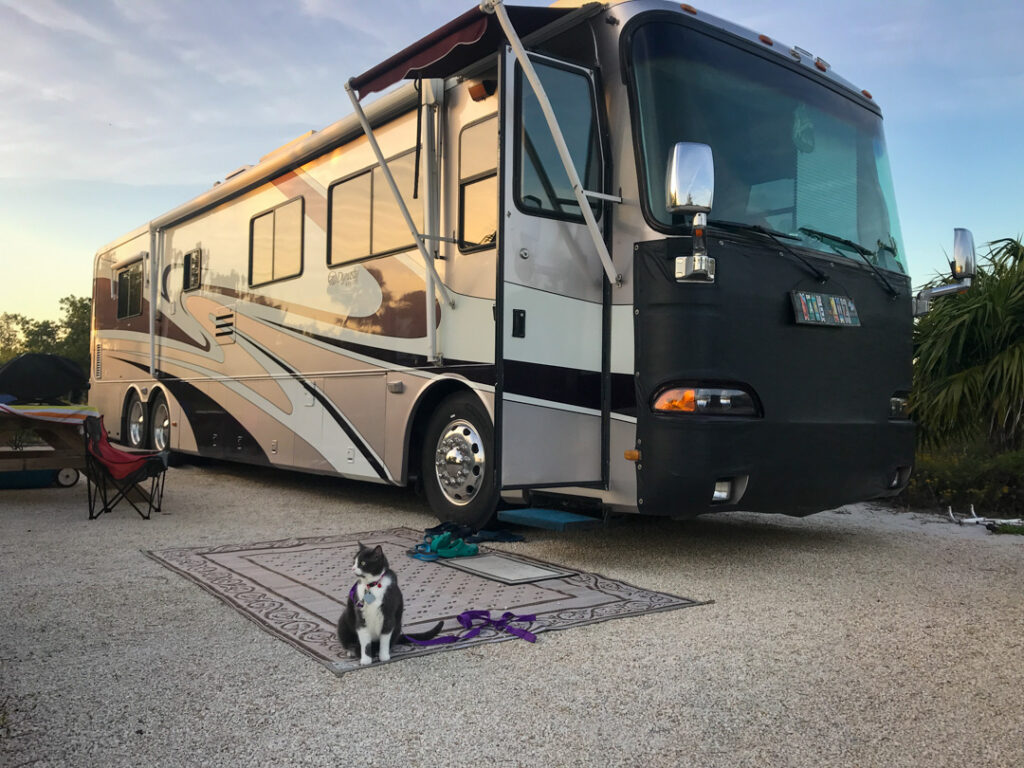 The bathrooms were pristine – which was nice because there is no sewer hook-up at Curry Hammock (hence our neighbor being a dotard and emptying their tanks onto the ground). My biggest complaint was that Curry Hammock didn't offer laundry machines, as many Florida State Parks do. So I did have to drive into Marathon and fight the masses of fellow tourists trying to cleanse their clothes in order to cleanse ours.
But the proximity to the ocean that Curry Hammock provided – and the previously expounded upon hammock hanging opportunities, was magic. And I can't wait to come back to Curry Hammock.
We're headed back up the Keys, with a brief stop in Key Largo next.