Scott was the surprise.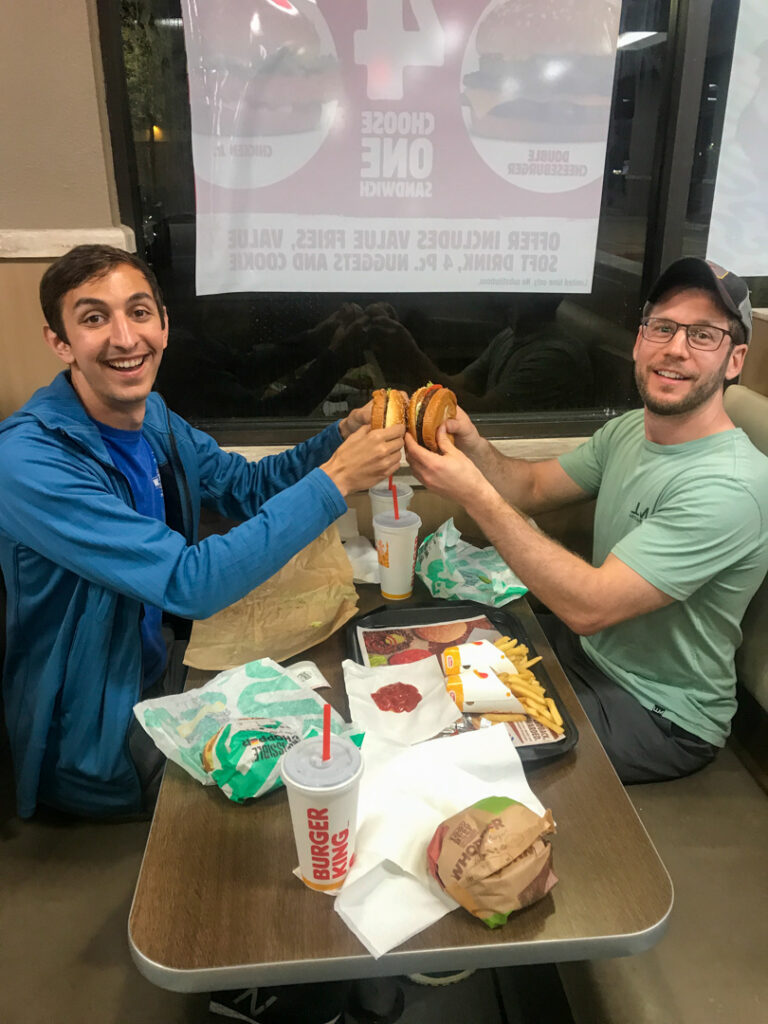 For those of you who read the blog that is previous to this blog, chronologically, and also in the order I expect and recommend you read these blogs while you sit atop your porcelain thrones – I mentioned a surprise. A surprise that Jake, with his 'always striving for better' tendency, kept jacking up because he kept changing our Dyna plans and my secret plan was dependent on where we would be and what we would be doing in Dyna.
The surprise was Scott. Jake's best friend, and my greatest frenemy.
Jake leveled up to thirty this year, and that's pretty special. To honor that amount of special, we – Scott, the frenemy, and I – came up with a plan that was literally just Scott's presence being the present.
While Jake tried, unknowingly, to ruin our surprise – we prevailed. After disembarking the cruise ship in Miami, I rushed us back to Clermont Florida, where Scott was hanging out at Dyna. It was a good surprise.
And so now Scott is with us in Florida for the next two-and-a-half weeks. Because, if you're gonna do a surprise – you might as well do a surprise.
After the 'holy shit, Scott's here!' surprise on the afternoon we were ejected from the Carnival not-a-coronavirus-yet cruise, we had to pack Dyna up right quick like. We had left her at Lake Louisa State Park, but had reservations starting that evening at Magnolia Park Campground. We needed to get Dyna in at Magnolia before they locked the gates for the night. We made it in time – although we did get a call from the park manager to make sure we were still coming, and then we proceeded to enter the wrong gate, which turned out to make things a bit jankier than necessary.
Magnolia Park is lovely – and affordable, for Florida. The park has awesome access to an alligator infested running trail. There is a family of peacocks that reign over the park. There are well-spaced hammocking trees.
The alligator infested running path begins across the street from the park and routes for miles and miles along the lakes of the area. There were so many alligators. Big ones. Little ones. Swimming ones. Lounging ones. They were delightfully distracting and also a little scary. No alligators moved when I looked at them. They are apparently, pretty lazy. Or they just don't move while you're looking at them.
In further celebration of Jake's evolution to level thirty, after parking Dyna at Magnolia Park, we headed out Oviedo to pick up Lucy and feed on Turkish foodstuffs at Bosphorous with Cam, Liss and Scott. Cat care and Turkish foodstuffs were both a 10/10 rating.
The next day, which happened to be Saturday, and was therefore free from the tethers of needing to work, we re-grouped with Cam & Liss – forming an army of five. We spent the morning satiating the need for calories with Acai Bowls (because is there any other type of food to eat mid-morning between breakfast and lunch?), then popped over to Wekiwa Springs Park to hike around. I really wanted to see some freaking manatees, but it was Jake's birthday so my desires only counted a little. I saw no manatees.
We topped off our manatee-less hike with a trip to a local brewery -Hourglass Brewing – where they refused to serve beer to Jake. His license, which indicates he is now 30, had expired on his birthday. For whatever reason, we decided to stay at said brewery, regardless of the no Jake service ordinance which was apparently in place. We relived freshman year of college and snuck him beers. The beers were pretty good. Even if they were sneaked. We ordered some vegetarian nachos, which were delightful, and enjoyed each other's company for a bit.
We then made the mistake of ordering 'fish' tacos.
'Fish' apparently being a subjective term. I don't know what they gave us. Or why we thought it was a good idea to order three portions of it. Whatever it was – it was not 'fish tacos'. The situation that we were served involved something gray, and highly fishy smelling – topped with canned mandarin oranges. It was a sloppy, sad, mess. It was not fish tacos. Scott ate a whole one. He's gross, and I was personally offended.
The 'fish tacos' situation led us to call it an evening – but we planned to reconvene for one last day of celebrating Jake in the morning.
We all met at Universal Citywalk, with plans to not only eat Voodoo doughnuts, but also to enter one of the Universal themeparks. But also, yes to eat Voodoo doughnuts. (#GrapeApeforlife). But also, to actually enter a Universal themepark.
We ate doughnuts while we whittled out which park we should pay an exorbitant amount of money to enter, finally settling on the classic, Universal Studios.
The day was fun. We did the stuff you do at Universal Studios Orlando. And by the time we were through, we were tired.
Back at Magnolia Park, we had some plans to finally meet-up with a couple of people who are near and dear to me: Chris & Cherie.
In January of 2016, Cherie & Chris hired me to work with them on their project, The Mobile Internet Resource Center. I do not know why the hired me. My 'resume' was an email that asked them to pay me "one billion dollars" and assured them that I knew how to use Facebook.
I'm so glad they did hire me though – and that they have fostered me to grow from basic management of their business related Facebook group, to a researching, writing, mobile internet semi-knowledgable partner in connectivity. I love working with Cherie & Chris – and now a small gang of co-workers who all focus on keeping fellow nomads connected on during their travels.
For four years I worked with Chris & Cherie, never having met them in the flesh. But, when our separate travel routes were finally within a proximity that could constitute a meet-up, Cherie made it happen. They snagged a campsite a few down from us for two night at Magnolia Park.
I finally got to meet Kiki, a feline who reigns supreme in their household. And she gave me a high-five. Oh, yes, and I finally met Chris & Cherie too.
We spent time doing work stuff, but mostly spent time hanging out and sharing liquid refreshment. We ventured out for a meal and drinks on our second evening together – with Dyna's recently detached ladder to the roof jangling around the back of the Jeep while we all crammed inside. I regret that the ladder tried to maim Cherie a few times. I'm not sure why, but she keeps me around.
Before we left Magnolia Park, we made Scott wash Dyna.
She's not gonna wash herself.
And then, after a friend crammed four days of glory, it was time for us to leave. And while this would usually make me cry a lot, due to all the friends being left in the our wake – we are headed to the Florida Keys. I don't know about you, but I am not a person who cries about heading to live for a few weeks in the Florida Keys. Oh, and Scott is coming with us.