After spending many weird summer months in my hometown area of Owego, NY, we decided to join the rest of the country in ignoring best practice of 'keeping it local' and put our wheels on the road.
With COVID-19 now present in every community in the U.S., we realized we were no longer the viral vectors we had feared we would be; that title had been claimed early in the summer by flocks of folks who 'just need(ed) to get away from these COVID-19 lockdowns for a bit!'
One of my employment endeavors includes participating in customer service type activities. Responding to emails with the 'I just need a break… (so let me possibly spread this virus to somewhere new because my need to go on vacation is greater than keeping another community safe)' was… trying.
I guess the fact that the safety net of staying within your own community to help fight the spread of the virus being shredded by others has made our strong desire to eventually get South to some more temperate winter weather in the coming months less guilt-inducing.
Ok, that went hard tangent real quick. Anyways, we decided to head up to the Lake George area to spend a few weeks enjoying the area's outdoor offerings: hiking, running.. running, hiking. A little leaf-peeping.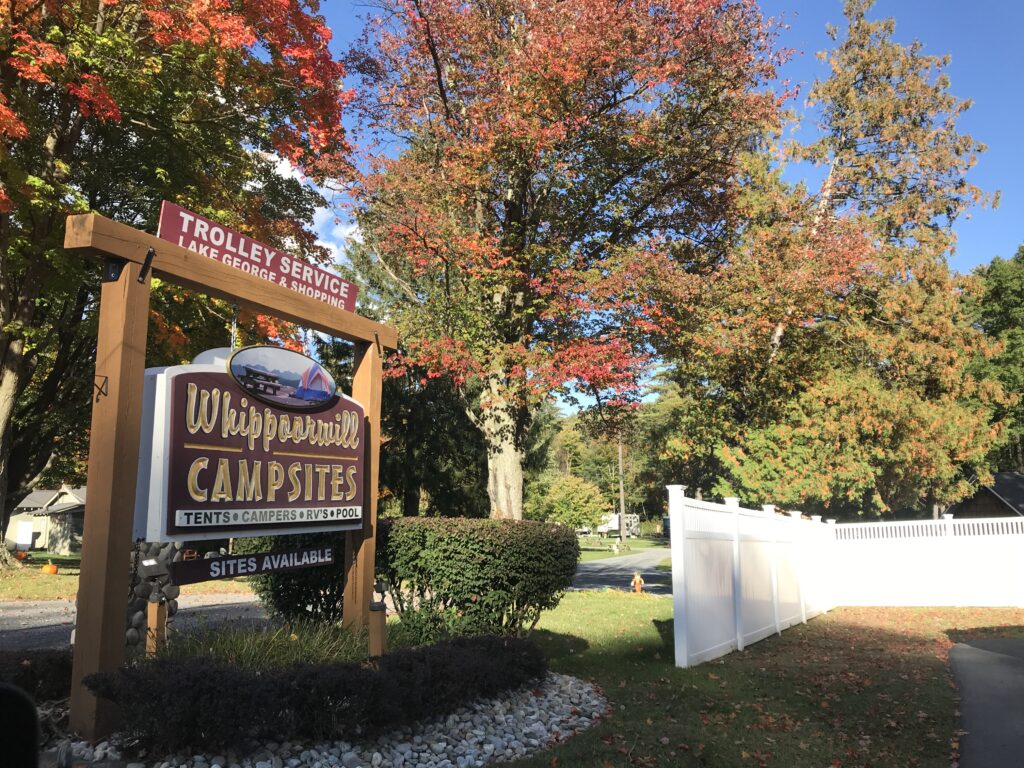 We secured a site (well, two sites, being as the rest of the world apparently also wanted to be in Lake George for the long weekend that happens every October, and no single site was available through two-weeks) at Whippoorwill Campsites, which is an interesting little RV park/campground snuggled behind a cute little motel. It provided fine accommodations on weekdays, but weekends were a ruckus. We were able to escape the ruckus on foot via a long paved running path that runs directly behind the campground, terminating on one end in Lake George, and on the other end in Glens Falls.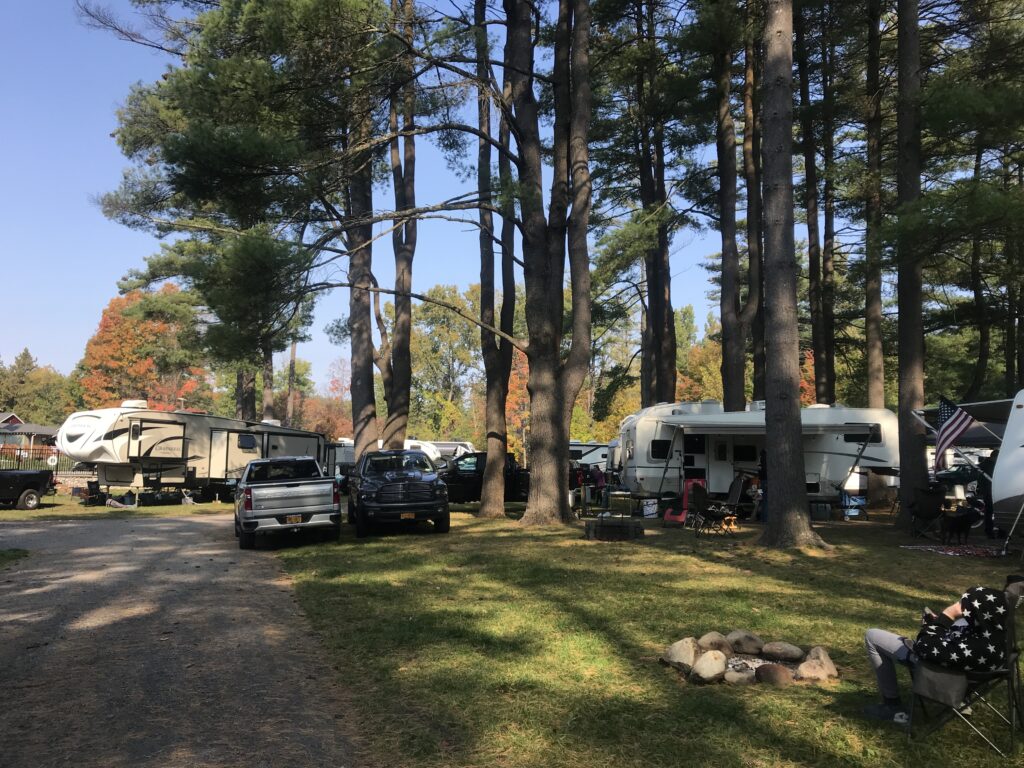 I'm going to talk about Glens Falls first, because Glens Falls, the town (city?) neighboring Lake George provided us a most enjoyable place for feeding our food holes, which is supremely important to us.
On our first Saturday in the area, while visited by the ghost of Scott – Jake's best friend and my best frenemy – we were walking pretty aimlessly around the town (city?) of Glens Falls because what else is there to do in a town during Coronavirus. Suddenly, out of nowhere, a sign indicating the presence of nourishment of the donut species popped up on the sidewalk. Lured by its promise, we masked up and entered what turned out to be a full-blown vegan comfort food restaurant. While we first only ordered some donuts, which we ate while sitting on a random bench down the street, we decided to return and order food. It was the best decision we made during our stay in the area. I am salivating over the memories of a vegan cheesesteak, or a vegan chick'n parm sandwich, or that vegan chik'n garlic pizza, or those french fries as I type this.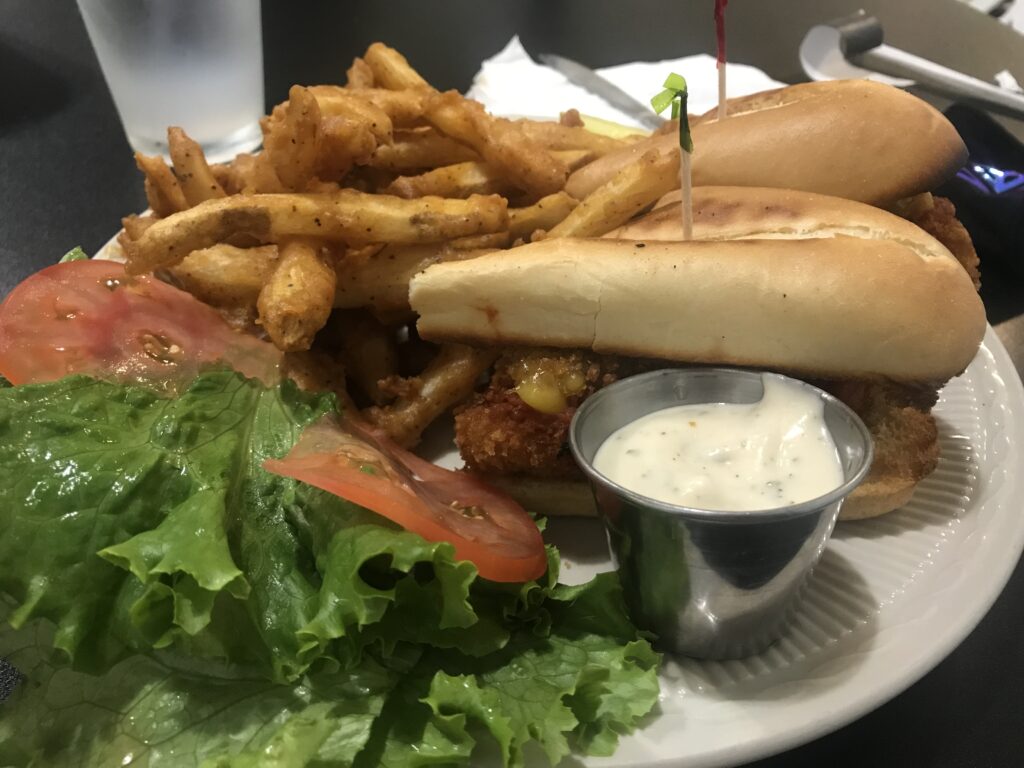 The only negative to Birch Bark Eatery was that they taught me that diet cola is not vegan, which means that I am never going to be able to be vegan because #dietcola4life. My veg game is otherwise strong, however.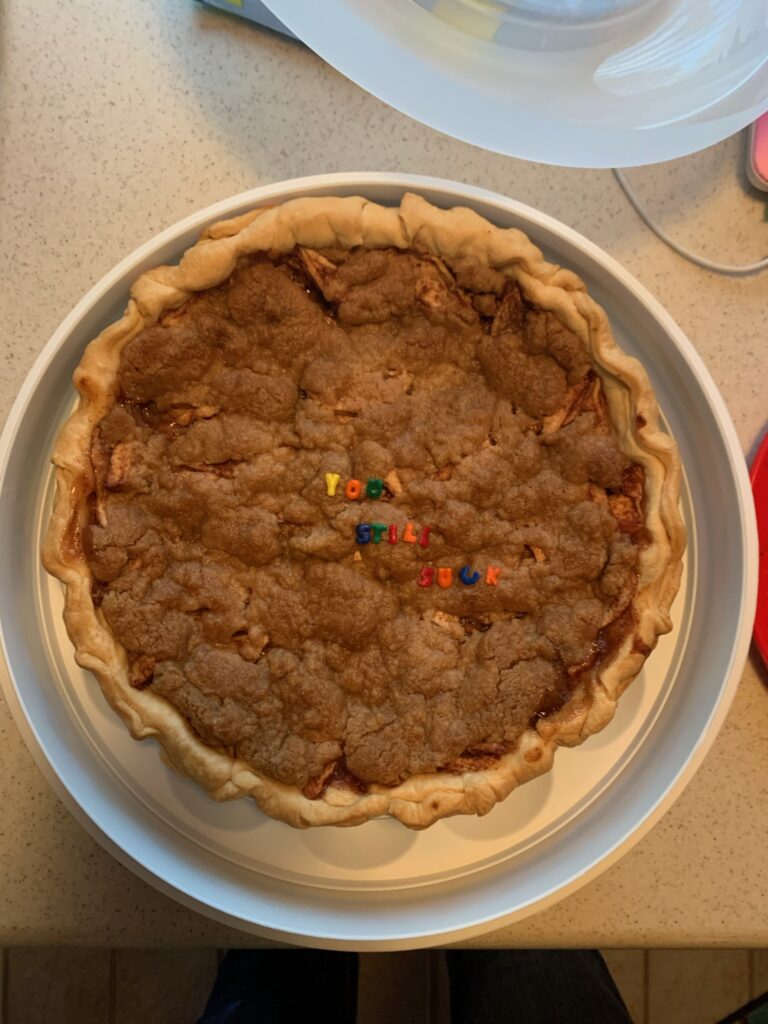 I mentioned above that Scott joined us for a weekend. Lucy loves things and people that smell awful, so, Lucy loves Scott, and therefore I have to permit his presence. We spent our time with him running into the village of Lake George from the campground and then spending an hour waiting for an outdoor table at a breakfast place where we indulged in spiked OJ creations, walking around Glens Falls, hiking a trail accessible from the campground, and watching shitty streamed TV shows. Pretty typical Scott visit, honestly.
After Scott left, Jake & I continued to eat food from Birch Bark Eatery and also celebrated our marriage anniversary by long-running to and from Glens Falls… and eating food from Birch Bark Eatery. On another day, after a morning spent hunting down a USPS package (the joys of getting mail while mobile), we went and hiked Hurricane Mountain. We found it to be an aptly named mountain, with winds that were frightening on the peak. But, if you want to enjoy the peak of an Adirondack mountain without any other people around, hiking on a stormy day is one way to do it. A day later we ran to the base of Prospect Mountain from our campground, then hiked up to the top before grabbing fall-themed drinks and baked goods at a shop in town and enjoying them on a patio.
The foliage was PEAK. I caught myself stopping, sniffing in the air deeply, and letting the colors permeate my eyeballs multiple times a day. At night, I insisted we keep the window open, which is definitely one of Jake's favorite habits of mine, so that my nasal cavities could fill with the scents of summer's death each time I slipped out of REM sleep.
The theme of Lake George, for us, was lots of time spent outside: moving our bodies up and down and across swaths of land, eating, or drinking beer near firepits. For a tourist town that is showing its age, we found the area compatible with our interests.