Promises of weirdness. Promises of amazing food. Promises of unparalleled people watching. Promises of… disappointment? Austin gave us a rough start. Although, to be honest, it wasn't exactly Austin's fault.
Our first 2 days in the greater Austin area:
#1: we chose a subpar RV park* in Dripping Springs that was a full 50minutes outside of Austin. This park, which will now be known as 'the situation' had no reviews online; it is 'brand new'. The owner sounded nice over the phone. 'The situation' has a really nice website, especially for an RV park. We paid for a month sight unseen. Rookie mistake. After cruising (as much as a 40x10ft box on 8 wheels can 'cruise') through beautiful Texas Hill Country, we pulled into a sardine can of 5th wheels parked on un-level, dirt spaces ('the situation'). A chorus of barking dogs greeted us from within the slew of permanent resident's rigs. FAIL.
#2: we decided to ditch Dyna and scout out possible options for moving out of 'the situation.' We took off in RedRammer towards the city of Austin. BAM. Flat tire. No worries! We have a full sized spare. Awesome! Except we left the key to the bike rack which rides on the spare back in Dyna. FAIL. Can't remove spare. Called AAA. They sent us Henry (cue angelic music). Henry got Rammer to the tire shop for a patch and told us about the wonders of a place called 'Whattaburger.' So I guess rough patch #2 had some serious silver linings. Because, Whattaburger. And its deliciousness. You can order anything on Texas toast. Also pretty thankful the tire blew when we were driving Rammer and not when we were towing Rammer. Silver linings.
#3: an incident occurred during the 2nd day of our short stay at 'the situation'. It involved 6 straight hours of dogs barking from inside the rig neighboring us (poor pups). It ended with a dead cat. It sucked.
Wow, I just went a little 'negative nancy' on you all. Apologies. While this RV adventure life is amazing, it is also real life. We love staying in new places every few weeks, but that has its pitfalls too. Like not knowing what a park will be like before we roll up. Or not knowing where the candy section is in the local grocery store. Or if the grocery store even has a candy section. Also, we're first time homeowners; so we're still getting used to not having a landlord to call when our toilet gets clogged. And yes, the toilet does get clogged. (More on that later- I know you're super interested in that). So yeah, life still happens in between all the other adventures. And yes, more life happened even after ditching 'the situation.' But first, I'm going to document some fun stuff Jake and I stumbled upon during our first little bit in Austin.
We had a rough start; but don't all good love affairs? We left 'the situation', willingly eating the money we paid for a month there. Completely worth the monetary loss. As I drove Dyna towards our new 'home' at McKinney Falls State Park, Jake headed over to the airport to pick up our buddy Scott! Yes, Scott came back even after we attempted to kill him with friendship and altitude in Colorado Springs. Although Jake had a busy week at work, we still managed to fit in some good Austining while Scott was in town. We did a 'Sunday Funday' on Rainy St. We hit up Mt. Bonnell and Hamilton Pool. We checked out the most extravagant State Capitol building I've ever witnessed. We ate as much country friend steak and barbecue as our bellies could accommodate. We drank beer. We bonfired. We cooked Thanksgiving in the rig. We had a three-muskateer-tastic time.
We celebrated Scott's departure with a parade. Ok, actually Jake and I spent the afternoon crying. But then we went to the Chuy's Parade in downtown Austin. And shopped at all the local craft fairs we could find. Because we like to drown our sorrows in crafts.
And then we met some new friends. Or, should I clarify, some new friends met us. We are a bit behind the times in terms of networking in the 'RV world' and only recently joined
RVillage
. RVillage is basically facebook for RVers. You can indicate where you are parked at any given time, and if there are other folks in your park or city, RVillage will let you know! Brittany and Eric of
RVwanderlust
contacted us via RVillage and soon we were joining them for their morning walks around the park and tagging along as they showed us the wonders of Austin (which is their home base). They took us to eat some freaking amazing pizza. And gave us a tour of
'Dirty 6th'.
And introduced us to an amazing human being named Peppy who is essentially all that is good about Austin in human form. And they let us drag them into Austin's VooDoo donut shop – because VooDoo donuts are great donuts. And then a few nights later, they took us to
'Highball'
for some dancing lessons, which while very good, couldn't improve our lackluster skills. Eric & Brittany founded a blog called
The Austinot
, which is the best damned virtual tour guide for anyone who is visiting Austin. For real. I used it before I even met Brittany and Eric. And then used it even more after meeting them because they are some seriously awesome people. We truly enjoyed getting to know them and getting follow them around their city.
We took Brittany & Eric's lead and introduced forced ourselves upon a couple of RV solar gods who we found on RVillage named Greg & Cori. They are also known as The Restless Youngs. (Disclaimer: Eric & Brittany did not force themselves upon us, we just that we chose that route of making friends with Greg & Cori.) After Dyna had another 'episode' (to be detailed later) I decided that rather than dealing with said 'episode', it would be best to go down the road and bang on Greg & Cori's door. Because I'm extremely tactful, I pretty much demanded that they come assess our solar panels, which have not worked since we bought Dyna. And guess what? These crazy nice people got their tools and came on down to check out Dyna's solar system. Which eventually turned into Greg and Jake spending an hour trouble shooting the more pressing issue of Dyna refusing to start. I kept busy with the important task of petting Greg & Cori's sleepy, yet playful pup Hobie. In short, RVers are good people. Later, during a glamp fire, we met another fun couple named Mary & Paul. We invited ourselves over to their rig to meet their cat Mickey a few nights later, because thats how we roll. Sadly, Mary & Paul don't have an alias or a website, so you'll just have to know that they are Mary & Paul and they are pretty cool.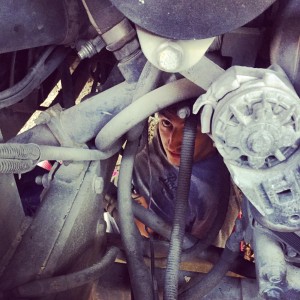 When we aren't using our newfound RVillage tool to make new friends, we use one of the biggest constants in our life of constant change. We've found that one of the only things that attracts RVers faster than a free dump station is the sight of someone doing any type of RV repair work. Because they've been there. And probably because they either want to help with 'the suck' or be reminded that we all have to deal with 'the suck.' Either way, we're grateful.
Jake did a lot of RV repair work over the past month. Which is how we met another neighbor, John. He lent us his RV repair book and moral support. And boy did Jake need some moral support. I'm pretty much useless beyond holding a flashlight, providing refreshments, and asking when the power will be back on so I can bake more cookies.
So, here are some details on our latest rounds with cranky Dyna. It started after a long, arduous battle with the contents of our black tank at the communal dump station. We won 'the battle'; we'll keep you updated on 'the war.' We had decided to go drop some $$$ at the fuel station being that we were unhooked and low on fuel. Dyna decided it would be cool to not start back up after we filled her tanks. Not cool Dyna, not cool. We shunted her house batteries, got her turned over, and headed back to our site at McKinney SP. And then we pretended that we didn't have a problem. Which relates back to how we met forced ourselves upon Greg & Cori. Anyways, we soon decided it was a good idea to address Dyna's lack of wanting to start, which was easily traced to her chassis battery being in the throws of death. However, figuring out the reasoning behind the chassis battery being drained was not so easy. Things soon got even more fun when her her dash/dummy lights started playing a fun game called 'not lighting up.' After playing around under her rump and dash for two days, multiple calls to the techs at Monaco, and fruitless internet searches, Jake pinpointed Dyna's latest issue to be a dead battery isolater and several blown relays. Which then morphed into him cleaning up much of the wiring running through her underbelly. You may be asking: Is Jake a mechanic? No. But he may just be the most thorough, patient, curious, self-dependent person you will meet. Yes, I'm bragging a little bit. But seriously, thank gosh for Jake. These are the times I can forgive him for not enabling me to get a bunny that can live with us in the rig.
Being that we started this post on a 'rough' note, I'll end it on a 'smooth' note- Dyna was up and running in time for us to haul out towards Houston. And so we roll on into a new town.
Thanks for the new friends and for the awesome, Austin.
*I REALLY dislike being a 'public complainer' or giving straight negative reviews, but being that this particular park is new and has no reviews, I felt it was my duty as a member of the RV adventure community to throw our experience out there. I will try not to make it a habit. Please feel free to message/comment for our full assessment of anywhere we've stayed; we'll be honest.