So, I guess it snows in Asheville. And by "I guess" I mean, yes, it definitely snows.
We have proof.
But, now we can state: 'We survived our first real snow in Dyna!'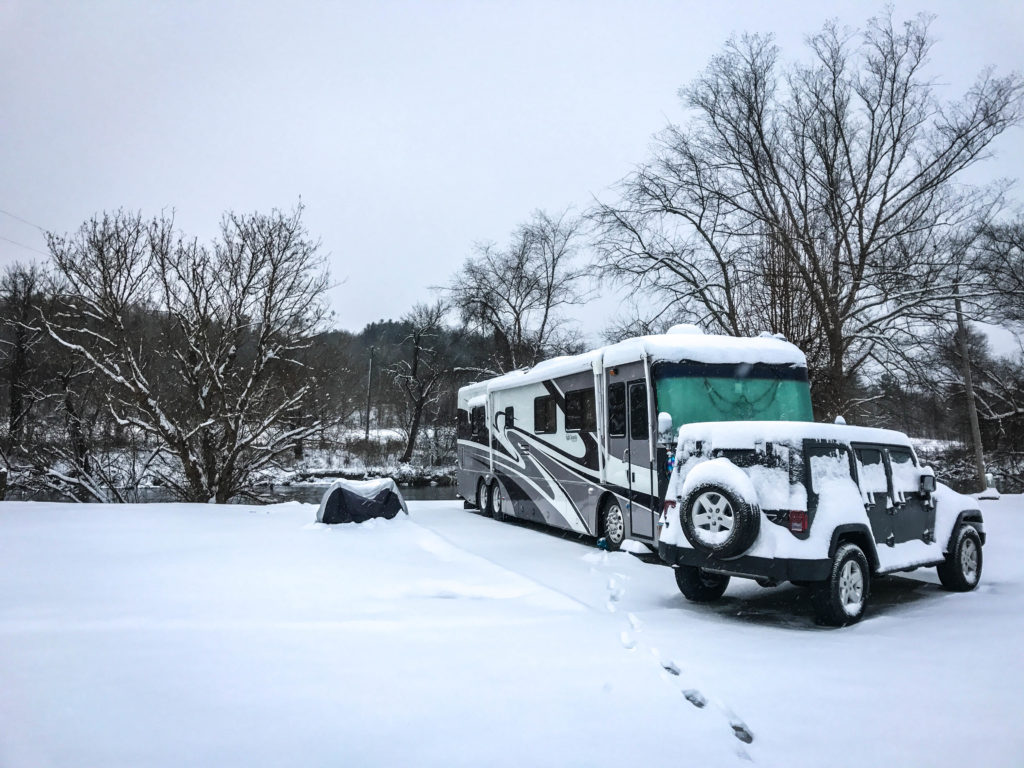 It wasn't bad at all. Probably because we're from NY and are snow professionals. But mostly because Dyna's previous owner (hey Edward!) kindly left a portable heater in a bay (aka, our basement) when he passed Dyna along to us. Thank goodness for that little electric heater. With our blinds and curtains drawn and that little heater pumping we were plenty toasty. And since we were present with Dyna at the time of this freezing episode, we kept the AquaHot pumping – no frozen pipes this time around!
A day before the snow started, we rolled into Wilson's Riverfront Park. We made a beer run. We heard that they would shut down Asheville if it snowed. A beer-less shutdown was not a risk we were willing to take.
And yep, Asheville shuts down on account of snow.
Luckily for Jake, we had cable hook-ups during this shutdown. And Freeform happened to be playing The Notebook on repeat. Suffice to say, we weathered the storm 6 inches of snow just fine.
Eventually we got bored of watching the Notebook (by 'eventually' I mean we made it through about 45minutes) and decided to venture out to Biltmore. Snow day Biltmore is a good choice – an uncrowded choice. I think everyone else in Asheville was probably at home watching the Notebook on Freeform. As an added bonus the house and grounds were all snowy – a friendly docent insisted that snowy Biltmore is the best Biltmore. It was beautiful. We spent hours admiring the mansion's intricacies. It's beyond huge. We figured we could have fit at least 10 Dynas in the smoking parlor, and at least 20 in the dining ballroom situation. Those Vanderbilts sure knew how to build 'em! We ate some food in an old horse stall before leaving. The fact that they feed guests in horse stalls is a pretty good description of the 'luxury' of Biltmore. It was a very nice horse stall…
After a few days all of the snow melted and temperatures returned to the 50s. Freeform returned to their regularly scheduled programming of made for TV movies. We utilized this warming period and lack of pressure to watch The Notebook to emerge from our dungeon on wheels. Our RV neighbor suggested The Oyster House's happy hour oysters and beer, so we made sure to hit that up. We met some very interesting local folks who taught us all about CBD and fluoride in water supplies. We dropped in for some yoga at Asheville Yoga center (I think we could all use a little more yoga when attempting to deal with today's political environment). We walked around downtown stopping at various fried food, sugar food, and beer holes. Asheville is cool.
Since our house has wheels, we would typically re-route if we saw snow in the forecast. But: Scott. He was planning to come visit drink with us in Asheville, so re-routing would have to wait for another snow storm. Also, he promised to bring his new-to-us lady friend with him. And finally introduce us. I guess they had bonded enough that he figured their relationship was strong enough to withstand the incredibleness (see: awkwardness) of us. Also, he must have thought she was ready to pass the test of spraying your poop with the toilet hose to get it to flush an RV toilet. (She passed the toilet flushing test.)
One of my personal favorite things about Scott is his love for breakfast. This dude seriously loves breakfast. I think his entire day revolves around deciding what he will be eating for breakfast the next day. So, as per usual when Scott is with us, we ate some pretty amazing breakfasts. All of them included biscuits, which is my new favorite thing about being in the South. (Hey, NorthEast – you should really consider getting on the biscuit train). I liked the biscuits at 'Biscuit Head' best. Jake liked the biscuits at Tupelo Honey best. We both disliked Tupelo Honey's habit of replacing all cheese with goat cheese.
Spoiler alert: goat cheese tastes like goats smell. I know this because I grew up around goats. And they don't smell good. They smell like goats. Which is what goat cheese tastes like.
Next to Tupelo Honey in downtown Asheville is a place called Mayfel's. They don't put goat cheese in your food, so I appreciated that. And I also appreciated their sausage gravy and biscuits. (Good thing we walked 6 miles round trip to eat there).
Scott also loves beer. And Jake and I love beer too (can you believe it?!) Beer is kind of like our friendship bracelet, except we don't wear it because it's beer and it is meant for drinking. Conveniently, Nicky also likes beer (and breakfast), so our weekend as a gang of 4 in Asheville worked out really well. One day we rode our bikes to the beer. One day we rode a tour bus around town pretending to observe all of the historical landmarks of Asheville, but mostly just drinking beer. One day we walked to beer. It didn't really matter how we got to the beer – it was all really good beer. My favorite stop was New Belgium. We had been to their mothership brewery out in Fort Collins, CO (hey Colorado!), and were impressed by that. But their Asheville Brewery is down-right awesome-sauce. We were able to jump on a tour last minute, and our tour-guide loved his job (he also owns a piece of the company – it's employee owned). Beyond the community oriented, sustainable business model that new Belgium practices, they also have a twisty slide for their employees to skid down at the end of each day – and on Fridays, they get to grab two 6-packs of beer for the weekend. And they produce delicious beer. Like a Ben & Jerry's Chocolate Chip collaboration (which I enjoyed, maybe too thoroughly). We left with matching sunglasses and a positive outlook on drinking New Belgium beer.
We also hit up Green Man, Burial, Wicked Weed, Wedge, Catawba, Hi-Wire, and One World. We drank a lot of beer. Most of it was delicious.
We had such blast with Scott and Nicky hanging out drinking beer in Asheville that we decided we would follow them towards Charlotte (they live in a suburb area of Charlotte). I hope we don't embarrass them too much by blasting Petey Pablo's North Carolina song through Dyna's speaker while we follow them down the highway…