My childhood memories of Spring are a jumble of things like fresh, Lilac scented air blowing in through open windows. Frolicking around the yard as my mom toiled for hours planting the plethora of flower type plants that she picked out from the local greenhouse earlier in the day. The smell of swing set on my hands. Reminders from my father that I would go blind from standing 3 inches from the TV to watch Kentucky Derby coverage from noon til the last horse crossed the finish line. (Told you I wouldn't go blind, dad!) Brushing my own shaggy pony for hours, picking his stall to perfection, organizing my selection of 2nd 4th hand tack repeatedly – preparation for a future I was certain would include riding a horse into starting gate and across a finish line. Or maybe into perfectly dragged arena dotted with poles hoisted upon standards just waiting to be jumped – in the Olympics. (Hey, my dad didn't spend *all* of his time warning me about the permanent damage I was doing to my eyes – dreams were important too).
Somehow, my own shaggy pony – my heart horse – was always with me in these very vivid fantasies of my youth. Nevermind that he was a few (100) pounds over weight, cantankerous, and had no papers. To me, he was the most beautiful thing that has ever loped around a 4H arena.
Well, Brandy (his name was Brandy) never made it to the gate of the Kentucky Derby. I, however, did finally make it the the Derby. Maybe not on horseback (I'm 5'7" – that dream was physically out-grown in the 11th grade). But I made it.
And it was glorious.
It was also much muddier than my 11 year old brains would have thought. And alcoholic. Much more alcoholic.
We rolled into Louisville Kentucky the Tuesday before Derby in hopes of getting a decent spot in the parking lot of the Kentucky Expo Center to plop Dyna's fat rear. That fat rear just happened to be spewing oil all up her back and all over the front of the Jeep (just another perk of towing – unexpected oil baths -poor Geodude). We noticed some oil spewage back in Hotlanta too, were we decided that Jake should tighten some seals (we did just have that oil change back in Florida) and that would probably fix it. Pulling into the Expo Center was a new level of oil vomit. Not fixed. Crap. After a brief discussion of options, we decided our best course of action was to buy a few extra quarts of oil and a few extra rations of alcohol and pretend nothing was happening back there. It was Derby week after all. Problem solved.
While our decision making in terms of engine care may not have been incredibly wise, I'm gonna go ahead and toot our own horns about showing up at the Expo Center 4 days before Derby. While we did have a reservation, it became pretty apparent upon our arrival that the word 'reservation' at the Kentucky Expo Center is actually a just a ticket to enter into an RV royal rumble for a plot of parking lot near enough to a spigot and sewage hole to possibly not have to go dry and use the Port-o-Poopers for the week. We were expecting first time guests. We try to break new guests in slowly. Introducing them to the 3×3 sized bathroom with the poop-squirter (its a tiny shower head that you spray your matter with to help it go down the poop hole) is easier to sell if you don't have to insist they also limit their water and TP usage due to lack of hook-ups.
We entered the rumble.
And we came out victorious.
The whole having hook-ups thing came in extra handy when we were introduced to the party crowd nature of The Kentucky Expo Center parking lot during Derby week. Folks rolled up in RVs with sound systems that rivaled AC-DC 's. Having the ability to run the fan once 1am ticked onto the clock was really nice. I won't pretend that I didn't dream of metal butt rock bands most nights, but the fan was helpful.
Not that I'm trying to complain about the overpriced parking at The Expo Center. It provided walkability (only a side-walked mile from The Downs), a place to park within city limits (that can be hard to find when you're 40'), and the option of endless partying (who doesn't love to sit on their couch and watch middle-aged women twerk to Party Rock Anthem in the rain?)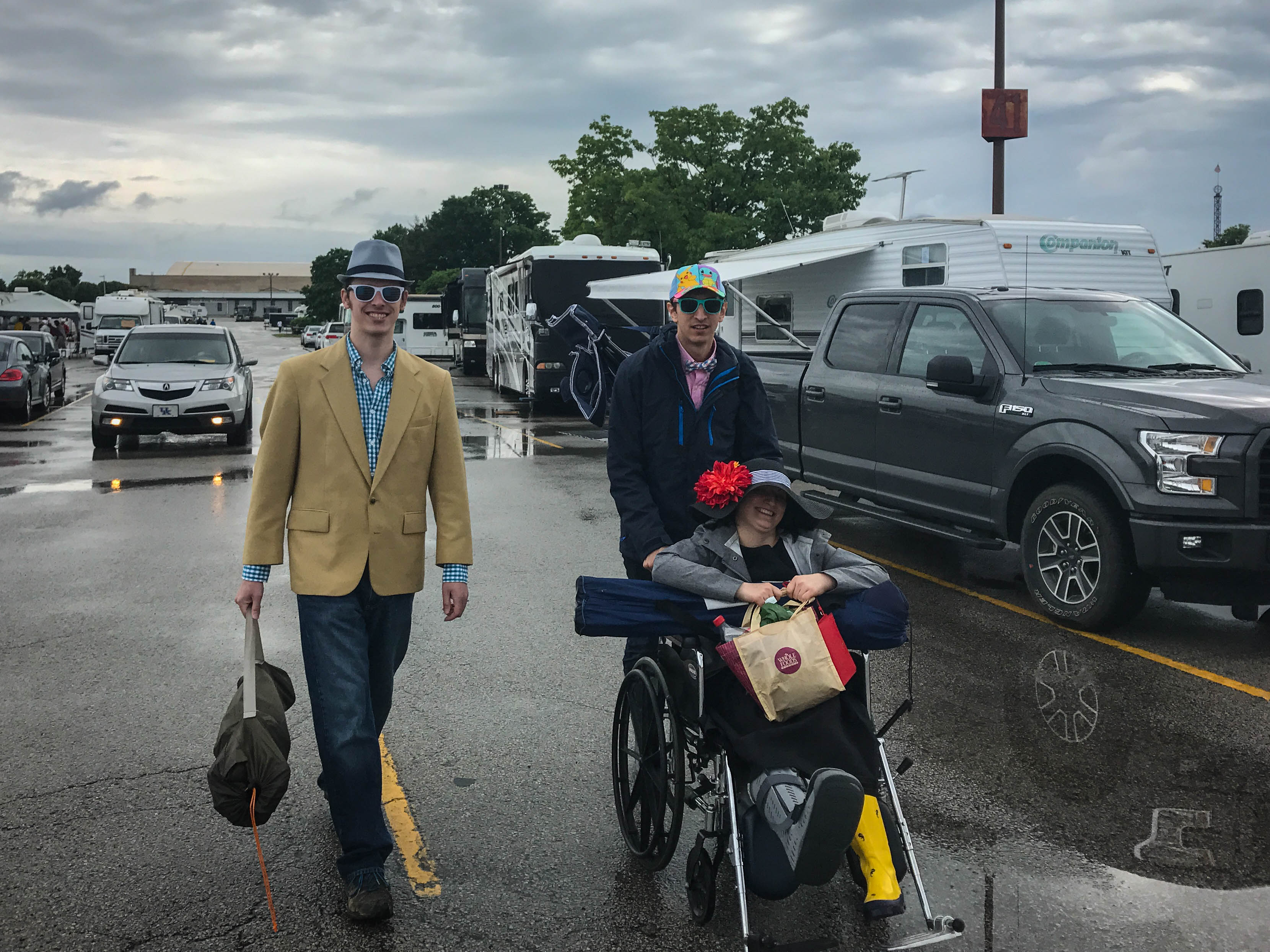 We came for ponies. We got ponies.
And a party. And mud. And plenty of rain to wash the mud off.
We were expecting some party – we intentionally choose infield tickets at The Downs rather than seats in the stands. We heard rumor that the infield is where the most fun happened.
We didn't think too much about the weather – I always just imagined Derby was sunny. Wrong. Our first Derby was balmy and wet. Really wet. We haven't had rain of the proportions that Derby week dumped on us since we first put tires to asphalt and spent our cash on diesel bills.
So, while I didn't get to wear my 'Derby outfit' as intended (think layers, rainboots and ponchos rather than heels and dresses), the rain did act as some pretty decent crowd control. Which was a great. We got to see the ponies power past us in real life, rather than just on the jumbotron. Because a limited number of people felt the urge to swamp through the mud of the infield, we were able to walk right up to and press our faces against the chainlink when we heard the call to the gate. We didn't have to wait in line to pay $12 for a Lily or Mint Julep. Mint Juleps taste of rank feet, in case you're wondering. We had room to dance our faces off at The Bacardi Party, which we only found because it was pouring rain and we decided to seek some shelter. The 'Bacardi Party' is code word for tiny, dingy club full of soppy drunk folks who are really too old to be raging (18 – 70+) but don't care because it's cold and rainy and there is an hour+ to kill between races by Derby time.
In case you didn't grow up catalyzing your own blindness (hey Dad, I'm still not blind! ha!) on Derby Days past, I should probably at least let you know the 'schedule' of events.
Louisville celebrates Derby for almost 3 weeks. They host balls, marathons, and balloon rallies. The main events take place during the first Thursday, Friday, and Saturday of May. Thurby (Thursday) is a full day of racing and is historically the 'locals' day at the track. Oaks Day (Friday) is a day for the ladies; a full schedule of racing culminates with the running of the Kentucky Oaks, which is kind of like the Derby for girl horses (fillies). Derby Day (Saturday) is touted as "The most exciting two minutes in sports". Races on Derby Day (yes, there are races other than the Kentucky Derby on Derby Day) begins at 10:30am, with races going off at longer and longer intervals all day. For The Kentucky Derby the call of "Riders Up" is announced around 6:30pm, and the horses are usually out of the gate about 15 minutes later.
Before any of the infield club banging of Oaks and Derby day began, Jake and I ran (literally) down to The Downs on Thurby morning (Thurby = Thursday before Derby. Yes, that's what they really call it) to watch the ponies stretch their long, glorious pony legs. It was quiet (and rainy). It felt normal. No pomp. Just horses and riders who love to run putting in one last breeze before the big show.
We decided to forgo hanging out for the races on Thurby – it was just too chilly and wet. Looking at the forecast for Friday and Saturday, we figured we would be dealing with plenty of 'chilly and wet'. So, we grabbed some post run hot chocolate and worked until our buddy from Rochester, Chris, pulled into the party lot around 11pm.
On Friday, Chris and I walked over to The Downs to spend the day with 'the ladies' at the Oaks. Jake decided to stay with Dyna and get some work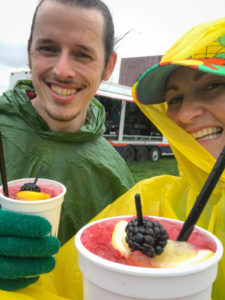 done (he did just spend a week off from work in Disney World). I would love to tell you that we picnicked in the sunshine while listening to thundering hooves gallop by, but that would be a lie. Instead, we spent all of our cash in a failing attempt to stay warm by imbibing in liquor. Eventually we wandered into a shanty labeled 'Bacardi Party' on the in field, and discovered endless entertainment in the form of vodka fueled dancing fits between calls to post (races). After watching the pretty fillies of The Oaks fly by, we made a mud covered trek back to Dyna, ordered a pizza (which Jake gallantly hunted down through temporarily closed roads) and waited for Janel, another Rochester friend, to arrive. And arrive she did; with a dapper little outfit for Jake to rock the next day at Derby. Thank god for Janel – fashion isn't something Jake or I can put on our resumes.
By Derby day we had learned that it's best to smuggle your own liquor onto the infield. Chris and I had witnessed an abundance of folks doing this on Oaks Day, and since we like to assimilate with the locals, we came prepared for Derby. We are also cheap. We still purchased a few liquid souvenirs before we broke into our own stash, but, I would estimate we saved enough $$ that day through our covert smuggling techniques (ok, not so covert – we put water bottles filled with clear stuff in the bottom of our bag) to pay for our next diesel fill-up. Derby Day Tip: bring your own liquor.
So I know I mentioned the mud. The ponies ran in it. We traversed through it to watch them, then to bet on them, then to watch them again – over and over. Mud also makes for an excellent prop for novel dance moves (i.e. the 'slide'). And it makes for a great opportunity to bet on who will/won't fall in it while walking through. Derby Day Tip: If it rains, wear rain boots. Also, pack your rain boots from home. Because if it rains, every store within a 50 mile radius of Nashville will be sold out of rain boots and you will not have any rain boots. We learned first hand.
We made many new friends on derby Day – the kind we won't ever meet again, but will probably think of in the future at an inconvenient time, and smile broadly reminiscing about. We danced with a variety of characters at the Bacardi Party (there it is again!), and then shuffled as quickly as a group of young adults can shuffle when one of them is lassoed by a boot (Janel is a heck of a woman!) through the mud to watch the ponies zoom by, only to return to dancing with new strangers friends again. We met the 'Mayor of the Infield', who has been coming to Derby for 50+ years and has a special badge (homemade I believe) denoting his status. We were ushered to the 'best view' in the infield by a group of Derby goers who show up every year at 2am to wait by the gates to be the first inside in order to get said 'best view' from the infield. This group insisted we utilized their view for the main event on the basis that this was out first Derby- how cool is that?! Pretty cool. What wasn't cool? When all of our new friends / strangers leave tons of valuable items behind on the infield after Always Dreaming (Derby winner) crossed the finish line. Luckily I was there to make sure many of the items found a worth home – in my stomach. Derby Day Tip: Make friends. All of the friends. But don't trust that these new friends won't leave behind valuable items, which means that they can never be 'trusted' friends, because who does that?
By mid day the clouds had started a clearing pattern and rain showers became inconsistent, and then non-existent. Great luck! Which clearly meant that it was time to bet some money on some ponies. Well, our luck didn't hold out much beyond the rain clouds (which was good enough for us!) Janel did win some $$ though! Enough to buy an Arby's roast beef sandwich on the walk home. Jake bet some $$, and then found a $10 bill chilling on the ground without a soul to stake claim, so technically he was a winner too! Chris and I just lost. Good thing I spent most of my $$ on booze before I could bother to bet it. Derby Day Tip: Bet a few bucks on the ponies. You'll probably have more luck finding $$ on the ground than winning on a pony.
Kentucky Derby was a pony party that will be hard to top. We had an awesome time and fully recommend attending Derby if you ever get the chance. And if you don't get the chance, we recommend making the chance.
---
Fueled by Arby's sandwiches we sniped on our walk home, we spent our post Derby evening playing monopoly while a final evening of Expo Center party parking lot escapades died down outside. Yes, we're those kind of friends. Also the kind that would never waste candy. Those are the best kind of friend if you ask me.
In the morning we headed to downtown Louisville to scavenge some breakfast type food, eventually settling on a coffee shop called Please & Thank You that served everything bagels with sprinkles on top. Definite win on that one. Janel departed for a long drive back to Rochester, NY. I decided on a nap, and Jake & Chris went out to explore a bit of Louisville. They brought me back White Castle, another childhood love of mine. Thanks dad – he protected my eyes, but apparently wasn't too worried about the arteries. White Castle is a great way to wake up from a post Derby Day nap.
We didn't spend much time exploring Louisville, but what we did happen upon got a 'thumbs up, we'll be back' rating. After Chris left for his drive home on Monday morning, I ran down to the river. Later in the afternoon Jake and I spent a few hours at the Kentucky Derby Museum (definitely worth a visit).
I have high hopes that we'll be back to explore Louisville a bit longer in the future – anywhere that threatens to launch illegally parked cars is ok by me.