After spending two and a half months in Rochester, NY, ditching Dyna and hanging with friends and getting ourselves married, we pried ourselves away from our sweet little short term lease apartment and plopped ourselves (and Lucy) back into our box on wheels.
Things start getting a little unpredictable weather wise in Western, NY come October. And, while Dyna is really good at a lot of things, like providing a familiar bed to rest our bodies in while we travel the U.S., one thing she is not very good at is providing for climate control. In short – when it threatens to get cold, we try and move along. I hate being cold. Good lord – I HATE being cold.
We decided to do a 'warm-up' jaunt before putting our 12 wheels to a more serious stretch of road, and booked a few nights at a campground in Corning, NY.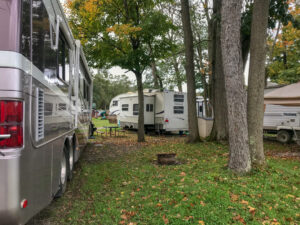 The campground was a little sketchy for a big rig such as ourselves, but the management was helpful and kind. The spaces were tightly packed – and we got pretty cozy with our neighbors rig (who weren't there while we were). The place worked for a few nights.
I grew up near Corning, NY, so it wasn't a new destination. But, it's a cute town, and neither of us had been to the Museum of Glass in a long time. Also, we were both exhausted.
I found a new way to get to experience the 'post ultra distance race' exhaustion: host a wedding. Holy shit – I could have spent a week on the couch. And I didn't even run 50+ miles.
We didn't do too much in Corning.
We went for a nice, slow, 10ish mile run together through the back hills near town together. The foliage was starting to do that thing where it seems to shift more brilliantly by the hour.  And we got chased by a dog down a road while the dog's owner yelled at us for running down the road near her property. That's apparently a thing people do in Corning.
We napped.
We popped into The Soulful Cup for a latte and a hot chocolate, then headed over to Poppleton's Bakery and grabbed a scone and a cupcake, which would be eaten later while lounging in bed.
We visited the Museum of Glass, wandering aimlessly through the large collection of glass related facts and examples that neither of us quite had the energy to really appreciate.
We ate at an adorable bar/eatery called Hand + Foot – which I personally think has a horrible name – but served a tofu hoagie situation that I still think about from time to time.
And we napped.
And then we left. Because that's what we do. We come. We chill for a couple of days or weeks or months – and then we leave. We almost forgot how to do that while we were in Rochester – but Corning helped us remember. (Thanks mean dogs and too tightly spaced RV park).