Home to a BBQ restaurant and the Main Street that was in the movie Sweet Home Alabama. Home of Alexander H. Stephens, Vice President of the Confederate States of America. Home of Chuck the Duck.
Ok, so definitely most importantly is that Crawfordville, GA is home to Chuck the Duck. He is the best duck we have ever met. Also, the bossiest duck. But also the best.
Feed me, bitch.

Feed me, other bitch.

FEED ME.

Chuck, the duck.
Upon arrival at A.H. Stephens State Park we were greeted by a large, pull through full-hook-up camping site, the most friendly camphost we've ever experienced, and a duck named Chuck. Chuck doesn't live in the campground – he lives down by the main office pond where he has a duck house. We never saw him actually use the duck house, probably because it is not worthy of Chuck. But he has it. He mostly just hung out by the pond or under the awning of the main office waiting for people to come by and feed him. As soon as Chuck spots you, Chuck walks towards you doing his Chuck noises demanding that you feed him. "Bitch you got my food?"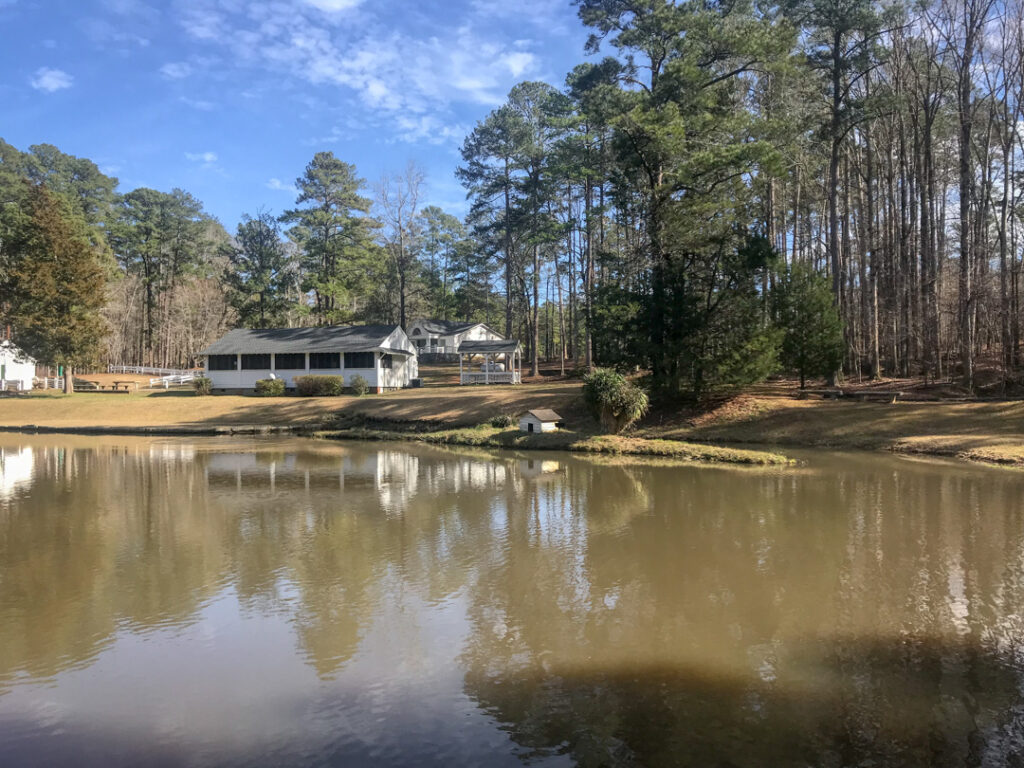 I fell in love with Chuck. We walked down to Chuck's pond every afternoon, always with snacks in our pockets. He greeted us everyday.
I believe that Chuck is Crawfordville, GA's biggest attraction. But they are also home to the original and only VP of the Confederate States of America. Because the Confederacy was a bust (thank god), so he was the only. Crawfordville is very proud of him. I'm proud of Chuck.
We have noted a marked increase in the questions and comments regarding our "accent". We've officially crossed into "you're a damned yankee" country.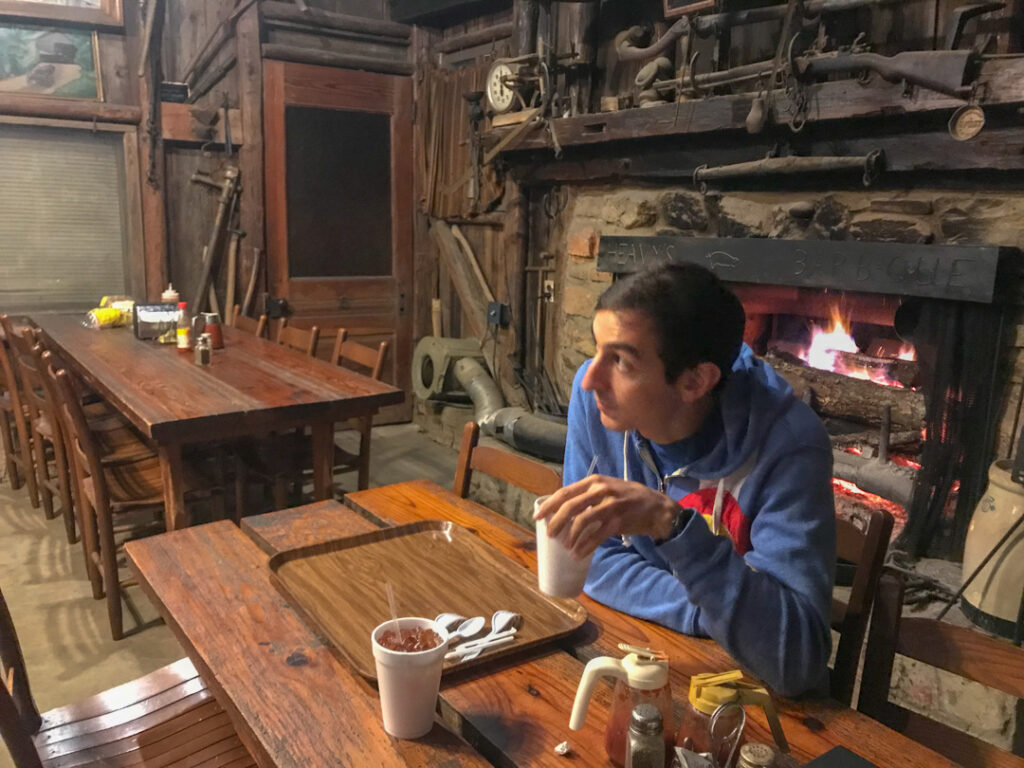 Crawfordville is the kind of place where there isn't much going on – and there isn't much money to pass around if there was something going on. We checked out Heavy's BBQ restaurant, which was featured in the film Sweet Home Alabama. That was a treat the of the most special, "how the hell did this place pass a food inspection" variety. Upon entering the dark recess of the restaurant (??) we were greeted by a very cranky old woman standing behind a dust laden counter covered in ancient receipts. She offered us "pork or beef", and when I asked about fish she yelled back into the kitchen area asking if they could make us some fish. She then informed us she'd be bringing us some sweet tea and we could go sit down. After slurping ourselves into a near diabetic coma for 25 minutes, she plopped a pork plate and a fried fish plate in front of us, grunted, and walked away. The food wasn't good. I would still recommend stopping. It's the experience. And also the risk. Will you contract a food born illness? Is your body strong enough to digest this food? Do you have enough toilet paper to respond to any scenarios which may arise from eating here? Challenge yourself.
Crawford Sunset

These Confederates got jokes.

Aimless drive abandonment.
We caught some really nice sunsets in Crawfordville. Mostly because we entertained ourselves by driving without destination down backroads in the evening.
Washington, GA

We fit in really well down in the South.

"Come and take it"
We spent a Saturday over in the nearest 'big town' – Washington, GA. They are also very proud of their Confederate roots here. We enjoyed giving ourselves a walking tour of the town, admiring all of the old houses while we made up revisionist history stories. There aren't many food options in the swath of area surrounding Crawfordsville and Washington, but we did find a decent latte and a few baked goods hidden in a cafe in the town of Washington.
A.H. Stephens hiking

A.H. Stephens hiking

A.H. Stephens play things.

A.H. Stephens hiking

A.H. Stephens hiking

A.H. Stephens hiking
Otherwise, we just hung out with Chuck. Hiked on the trails meandering about A.H. Stephens State Park. Let Lucy roam. Hung around in the hammock. Got some work done inside. Got some work done outside. And generally just absorbed the quiet of the area – and enjoyed the lack of enticement to do much of anything at all.
Liz' outside office. Please knock.

Inside office.


Lucy & Dyna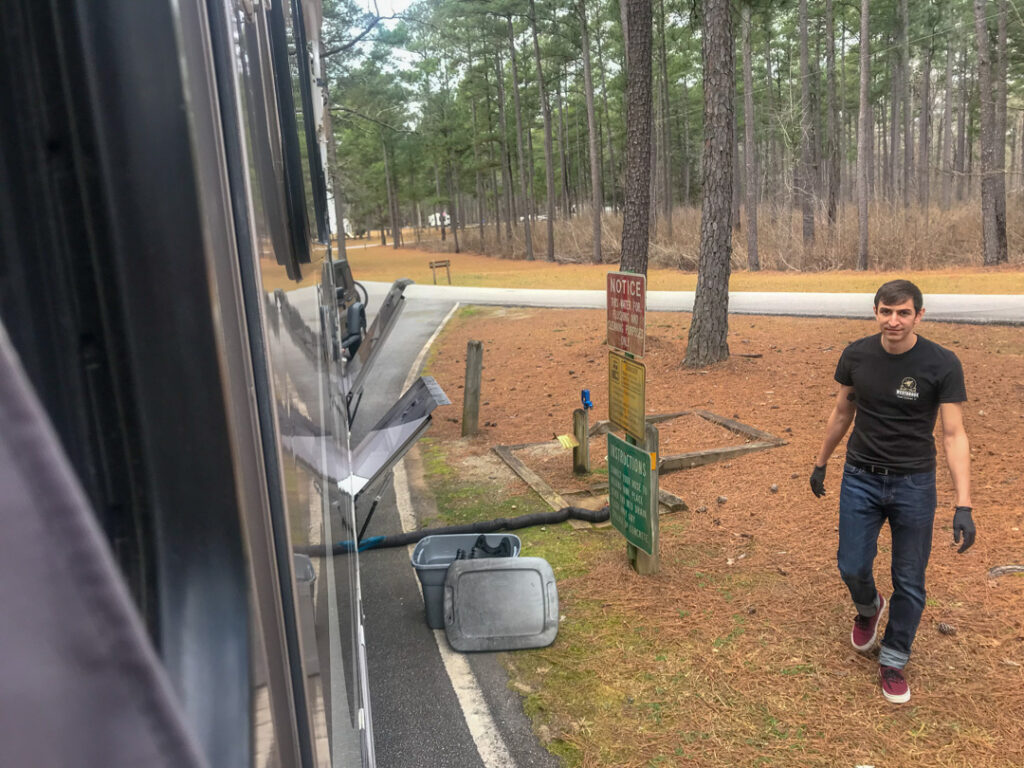 We spent a week and a half in Crawfordville at A.H. Stephens. It was a little hard to pull up our levelers and roll out – quiet can be addicting. And also, I'm gonna miss Chuck. He's my favorite duck that I've ever met so far. But, Atlanta's airport calls. And the Confederate worship down here is a bit, uh, old? That's the nicest word I can think of. So, dump and go, bro.