I have a difficult time thinking of Chattanooga without the Chattanooga ChooChoo song invading my mind and then hanging around for hours on repeat. If you do not know this song, then I'm not going to recommend clicking that link. If you do, I am sorry that it is now on loop in your brain too.
I know this song because I grew up with parents who dabbled in the world of antiques. Throughout my childhood years, I spent many many hours in antique stores. Some, my parents owned and operated. Others, they rented space to sell their treasures in. This song seemed to be on every antique shop playlist. It is likely a subliminal messaging technique of the antique store cabal to improve the chances of customers buying old, smelly, used goods at kind of dumb prices.
I am a bit biased against antiques after growing up immersed in their midst.
I introduced Jake to the joys of the Chattanooga ChooChoo song as we rolled into the area, and parked in the first of two campgrounds we stayed at while exploring Chattanooga. Chester Frost Park turned out to be a local camping area, chock-a-block with kids and happy families enjoying themselves on a swatch of pinched off Chattanooga River. We scored one of the best campsites (31) in the park without any knowledge of having done this until arrival.
Sadly, for a variety of reasons most of which had nothing to do with getting to spend very little time at this campsite or park, we did not, in fact, get to spend nearly any time at this campsite or park.
The morning after we arrived at Chester Frost, we received a phone call that let us know that my father had decided to end dialysis treatment. Dialysis treatment is necessary in keeping my father alive, and as such, he had made the difficult decision to leave his Earthly body, which had been failing him in drastic ways for years.
While shocking in the punch in the gut, tsunami of sadness type of way, the actual act of my dad no longer participating in dialysis treatment was not a surprise. He had conversed with all of his kids (me, my brother, my sister, and Jake) and many of his friends about it for a few years. He never wanted to live a non-independent life, and recently, health setbacks had pushed him into needing a large amount of assistance to survive. He fought for years though pain and decreased quality of life. I feel incredibly grateful to my father and his healthcare providers for giving us extra years with him.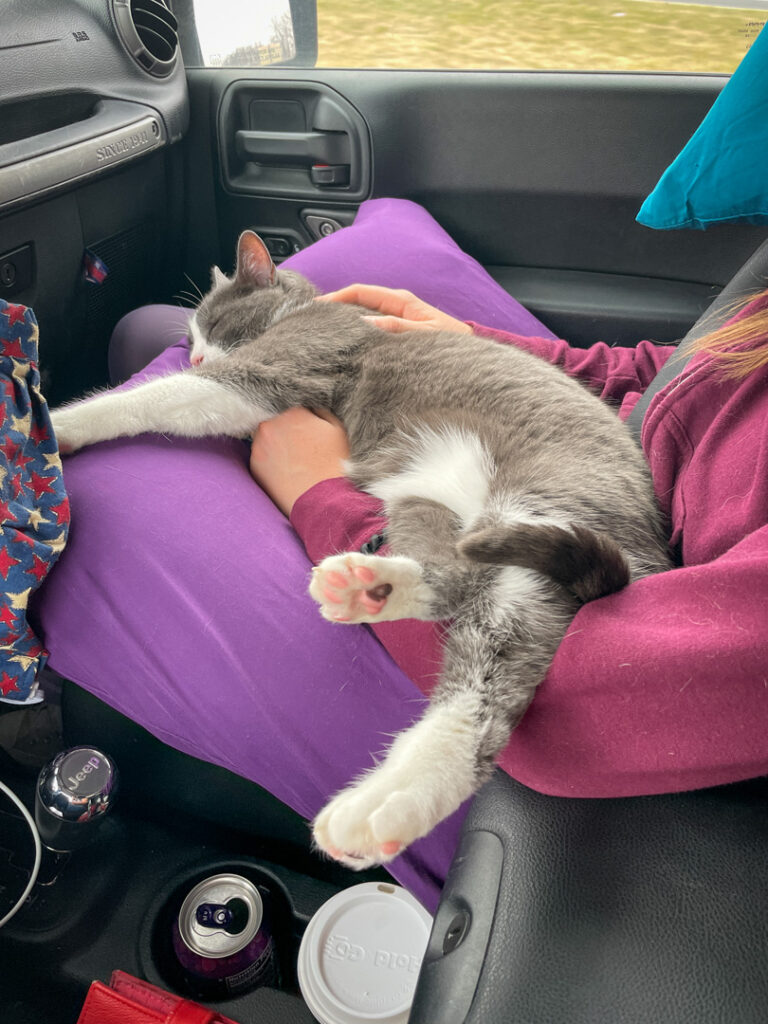 But on March 13th, it was time to go home. We threw some clothes, the cat, and my dad's childhood teddy bear, Peter, into the Jeep. We locked Dyna's doors and drove 14 hours (sleeping in the back of the Jeep at a rest area on the way – not recommended) to NY. My sister, brother, Jake, and I set up shop at the nursing home that my dad had recently entered, and my mom (his ex-wife) and nephew were able to pop in for visits too. The nursing home allowed two of us at a time to be present with dad 24/7 once he entered hospice. They were also kind in providing spaces to hang out when we weren't one of the two in the room with dad.
Dad's was a beautiful death. He was impressively good at dying. My dad was in Hospice for five days. They were beautiful, painful, hilarious, love-filled days. We sang along to his favorite songs, played trivia together, retrieved whatever food item he was craving in a given moment, and planned my sister's wedding. When he became too weak to speak or eat, we held him, sang to him, popped pieces of popsicle into his mouth, and read to him. My brother even created a fantasy world where Eli Manning returned to the Giants as a quarterback coach.
My dad was never one to dance around the words "I love you". He reminded us frequently. Regardless of whether we had just spent an hour gossiping about his neighbors or venomously debating politics, we always ended our conversations with those words. I love you. As he worked to move on from the tethers of his body, he continued to look towards us with his mostly blind eyes. A deep, imploring: know. Know how much I love you. Know how much I believe in you. He managed to utter a few things on his last day – specifically, a joke about hotdogs and relish, and variations on the words "I love you" to all each of us separately – my mother, myself, my brother, my sister, and Jake.
Dad died on March 19th.
My first love. The person who poured nearly all of the energy of the majority of his years of life into creating, supporting, and shaping me and my siblings.
I am heartbroken. Frustrated. Working through the fact that his ringtone will never again alert me to answer his frequent, multi-hour phone calls.
But I feel so lucky to have had a father that loved me and my siblings so well. He created, then fostered a camaraderie amongst his children that allowed us all to support him and each other.
After handling the in-person tasks that coincide with the death of a dad, Jake, Lucy, and I drove the 14 hours back to Dyna outside of Chattanooga. It sucked.
Thanks to Jake's ability to get shit done, we were able to get our first COVID shots pumped into our broken hearts through our arms shortly after hitting hour 11 of the drive and crossing into Tennessee. So that was a happy thing.
By the time we arrived in Chattanooga, our two weeks at Chester Frost Park were nearly up. We spent a day regrouping (mostly laying in bed with the blinds drawn), then had to move out of our campsite due to a two-week stay limit on our campsite. We moved Dyna to Hawkins Point RV Park, which turned out to be an overpriced, ugly place with a motor speedway next door. And nowhere to run from the park – not even the roads, because in Tennessee roads don't have shoulders.
But, Chattanooga has a few neat things to check out that we hoped could provide some distraction and moments of joy. So we stayed put.
Jake not only began working through the vast amounts of paperwork that death entails, but simultaneously wrapped me in his love, made sure I didn't fail to feed myself (even if it was mostly an ice cream diet), and dragged me out of the RV to go make moments of joy.
At this point, I am nearly certain the man could walk on water if he put his mind to it.
We visited the International Towing Museum, which was a highlight for me. Tow trucks are some of the coolest trucks and if you don't already know about how they can work together to flip a semi-truck in mid-air then you may consider watching more Heavy Rescue: 401
We drove up Lookout Mountain to Rock City Gardens and spent some time enjoying rocks, moss, cheesy old dioramas, and piped in mood music. There is no sarcasm in that statement.
On two other (and separate) days, we just walked around Chattanooga proper. We traversed the Walnut Street pedestrian bridge and popped off on some shaved ice (score!). We wandered around until we found MoonPie treats at the MoonPie shop. We spent an afternoon drinking hot chocolate and checking out the old Chattanooga train depot. We enjoyed a Friday evening beer and dinner food at Naked River Brewing. We spent Easter Sunday taking a long walk around the city, then having a beer at Wanderlinger Brewing.
We enjoyed a Saturday morning 10-mile run up the Guild-Hardy trail to Lookout Mountain Battlefield Park, then enjoyed a late morning round of hot drinks and bakery nutrition at Mean Mug Coffee.
And some days, we just used Chattanooga to rest. And mourn. And reminisce. And then we inevitably would end up laughing. Because my dad was hilarious. Which was a gift when he was alive, and has been a gift now that he is gone.
Pro-tip: It's good to have a snuggle bug cat when you're mourning. It's an incredible stroke of luck if you also happen to have a Jake.