Knoxville is a smelly, unmuffled, scrappy city with good ice cream.
We parked Dyna on the top of a parking garage at the convention center downtown for 2 weeks and were treated to a (sometimes barf-inducing) bouquet of aromas for the entirety of our stay. Overall, I reflect on Knoxville fondly. Mostly because it is one of the few cities in the U.S. that provides RVers a place to live pro tem within walking distance of its fun stuff. My heart hosts a (currently mostly vacant) spot that can only be filled by downtown overnight RV parking. It's in the cardiac fat near the right aorta if you're wondering. It's where the St. Louis RV Park (RIP), Downtown Riverside RV Park, and French Quarter RV Resort all live. I would like to fill that empty space with more nestled-in-the-action RV parks, so if every interesting city and town in the U.S. could get on that, I'd appreciate it.
We spent our time in Knoxville traipsing around on foot, setting out from our front door in search of meals cooked by other people and ice cream. We found both most evenings after work. Our favorite restaurant to procure food from was Yassin's Falafel House. This place changed my entire perspective on falafel, a food which is sometimes the only vegetarian option on a menu, but in my history of eating it is dry and tasteless. Not at Yassin's. At Yassin's the falafel is moist and savory. The babaganoush is notable as well. We ate a lot of falafel and a lot of babaganoush during our 16 days in Knoxville.
We also ate a lot of Cruze Farms ice cream. It was perfectly distanced from Dyna so that if I ordered a regular sized Honey Lavender ice cream cone (which I did) with sprinkles (which I did), I would only acquire the sticky hands that accompany the terrible design of the modern waffle cone at the very end of our walk. Elon is landing starship rockets (it didn't even explode this time!) and I'm still burdened with leaky ice cream cones and sticky fingers. Do more, ice cream cone venture capitalists.
From our space downtown, we experienced several enjoyable runs and walks along the riverway path, up through the sidewalks of the University of Tennessee, and across the city on various other greenway trails. Sometimes we even popped into a stumbled upon coffee shop where I would grab a latte and Jake would scour the menu and eventually decide nothing appealed to him and leave empty-handed. I appreciated Knoxville's fixation on floral flavored lattes – lavender and rose – but did not appreciate their fixation with creating drinks so milky and under espresso'd that Jake was able to sip on them (Jake hates coffee). Both the floral flavor pattern and the weak-assness were weirdly consistent throughout all 4 different coffee shops I visited during our time in Knoxville.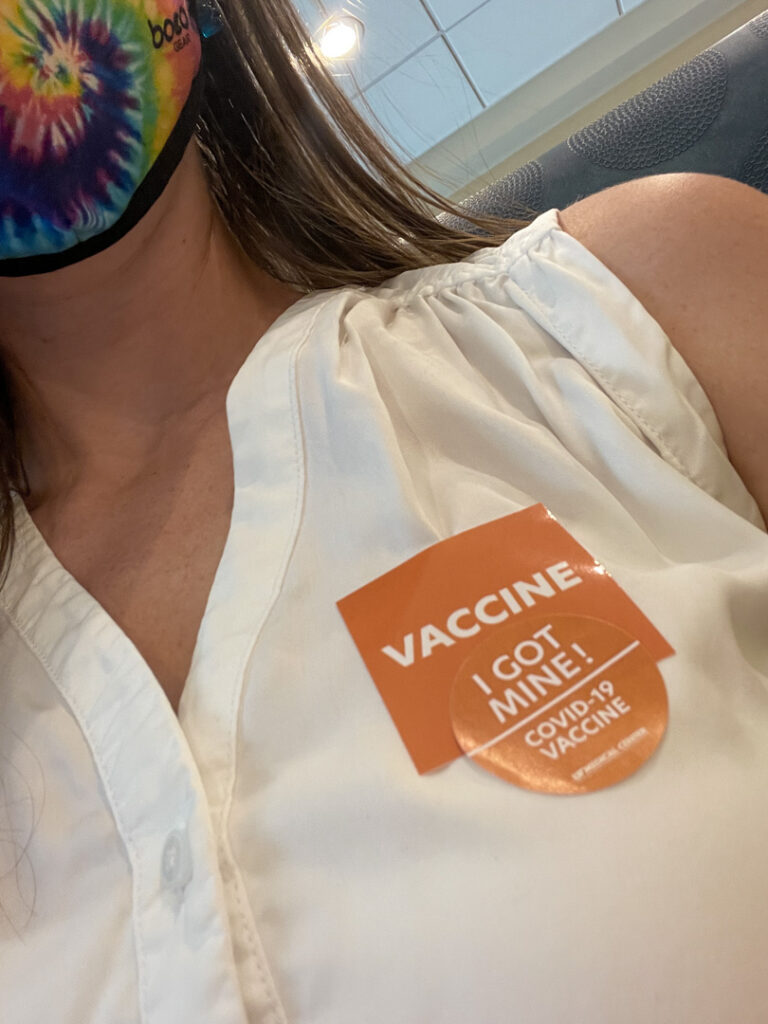 We also popped off on our second COVID shot while in Knoxville, joining the herd and dialing in our 5G signals for future nonverbal communication abilities. After a few hours of fatigue, achey shoulders, and light fevers, Jake and I are stoked to be well on our way to rejoining the rest of vaccinated society. #jointheherd
While we waited for our immune systems to fully marinate in Pfizer's tricks, we did venture up to Asheville on a sunny Sunday afternoon to meet up with my coworker buddy Jen and her husband Deas for a few beers at Wedge Brewing's outdoor patio. The beers were tasty, the company highly enjoyable, and Jen's dog Finn pee'd on her shoe. White Duck taco then happened before we made the 2-hour drive back to Knoxville. Successful meet-up.
During our final few days in Knoxville, Scott drove down from New York via a 'state' that doesn't exist, which some conspiracy theorists are calling 'Ohio'. We spent the Saturday afternoon that he arrived frolicking about Nashville's food and beer scene, and the Sunday attached to that day hiking Mount Cammerer via the AT (which Scott hiked in full in 2019; toot-toot). We then spent a few work/weekdays crammed three people and six monitors (three for Jake, two for Scott, and one for me) to two desks. Yassin's and yoga lunch breaks, followed by walks to a few more evening eating places made the whole crammed in a fartbox all day tolerable. On one special evening, we all bathed, dressed respectably, and imbibed in cocktails and two scallops split three ways at the Peter Kern Library.
While we didn't fall head-over-butts-we're-moving-here-right-now in love with Knoxville, we solidly appreciated the opportunity we had to explore it by foot from our front door. And we would most certainly spend time parked atop the convention center parking garage again to enjoy what the city has to offer us. Yes, even its weak-ass floral lattes.