After several weeks spent in Owego, NY (my hometown area), we plopped down in a campground nestled up to a former landfill-now-VIB (very important bird)-area; Croton Point Park in Croton-on-Hudson, NY. Being an hour train ride into the city, we were not expecting too much solitude. And we didn't get that much either. But not due to human or infrastructure noise.
It was the birds.
The birds, who are VIB… were loud. All day. All night. Loud birds making loud bird noises.
I like birds. They do funny things and they excite Lucy. Like when they eat from our trash bag when I hang it from the back of our tire rack before walking it over to the dumpsters. I surmise that these particular birds were likely driven by ancestral desire to consume trash being that their forefathers flew the skies above the landfill before (and after) it was covered.
These VIBs also excited local birders, who are a group of people with a hobby that I constantly consider getting involved in, but then never do. We met a birder out on a walk and he told us about a bird playing catch with its own feather, which I thought was a really cool thing for that bird to do (and so did he!)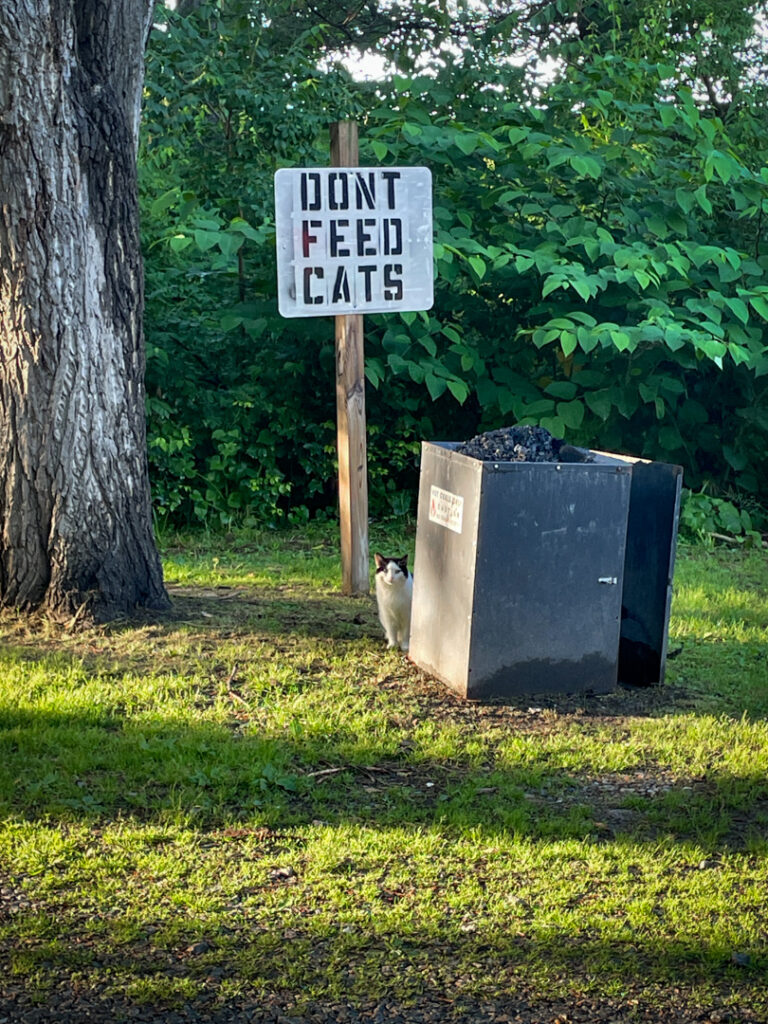 But also, the birds being so VIB at this location meant that cats were shunned here. Lucy was barricaded indoors. Rule #13 on our campground welcome sheet simply stated "NO CATS ALLOWED."
But let me tell you… cats don't care about no cats allowed.
While Lucy was relegated inside to taunt VIBs from behind her glass barricades, a resident cat gang roamed the campground. They were noted to scurry away when they heard the park ranger's gator mobile but did not hesitate to beg for food beneath the DO NOT FEED CATS sign near the active dumpster that they had clearly claimed as their turf.
I love cats.
Other than appreciating the cat gang, our 6 days at Croton-on-Hudson were pretty chill. My aunt and uncle brought their camper to the park and we spent most evenings sharing happy hour and dinner with them. We walked and ran along the landfill VIB area trails. We made a pilgrimage to the last Wegmans we'll likely see for a few months. We employed various tactics in attempts to maintain a normal body temperature while the outdoor air attacked us with highs in the upper 90s and 60%+ humidity. (Aka, we spent much of our late morning through afternoon hours inside with AC running.)
We only made it into the city once, on a mission of homage for my late father. He grew up in Glendale, Queens, NY. He gathered up his kids (that includes me!) to visit our grandparents there multiple times a year throughout my childhood, immersing us in his places and sharing his stories of them. I wanted to make sure that Jake got to experience some of the spots from the stories dad regaled him with too. I wanted to make sure a bit of dad would stay in those places.
We sought out his childhood home. We grabbed a bagel and a hero (that's a sub/hoagie in Queens diction) at a deli down the street from his home. We drove out to Rockaway Beach where he spent summer days with friends or family during his youth. We ate at Lenny's Clam bar, his ultimate spot for calamari.
It was an immense day. The emotional hang-over was brutal. I'm so grateful that we were able to spend a Sunday vicariously through dad. He had neat things to share – always.
We're rolling 'up' (like Cardi B says – when it's up, then it's up). Heading North and also East, next. No firm plans. Just rolling along. Singing Cardi B songs.