Over the past month, Jake and I have been lucky to spend time with several friends from our lives before Dyna who haven't run away from us screaming "leave me alone crazy people!" Our friend Scott added himself to that list while we were in Colorado Springs, CO. He flew all the way from the not-so-sunny city of Rochester to hang out with us for a long weekend. We didn't want to disappoint him by not doing enough stuff, so we climbed 2 'Fourteeners', hung out 1,000ft below the ground, camped under the Super-Blood-Moon-Eclipse, and drank good beer. Oh, and we made him help us finish fixing the alternator. I believe that these blog posts should be giving you fair warning as to what a trip to stay with us in Dyna will entail; mostly, helping us fix various broken parts of her.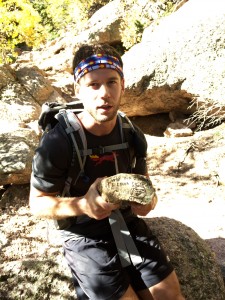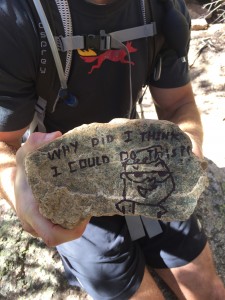 We thought it would be a good idea to introduce Scott to 14,000ft by hiking the 13ish miles up to the top of Pike's Peak during his first day in CO. It turned out to be an extra great idea, seeing as Scott lives in Rochester, NY, which lies at 505ft above sea level. Don't worry, he didn't die. He just reportedly 'felt like it'. I forgot to mention that we tricked him into climbing the 'Incline' on the way up. But hey, we hitchhiked down to save our legs for another mountain in a few days. We're great friends like that.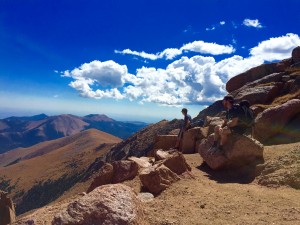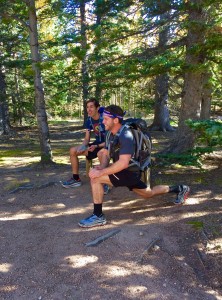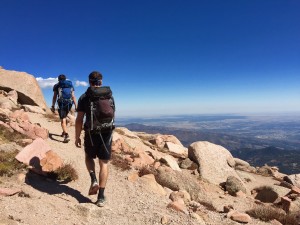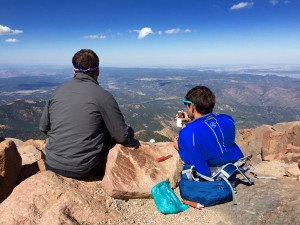 Since we wanted to give Scott a little break after climbing Pikes, we decided to force him to help us finish fixing Dyna's alternator. After Jake & Daddin'/Andy pulled it out of the depths of Dyna's engine, they decided that they should have someone with some alternator know-how take a look at it. Conveniently, we were parked just across town from one of the few gentlemen in the U.S. who make a career of rebuilding alternators of all sizes! If you do happen to need your alternator re-built, 'Quality Alternator Repair & Turbo Services' in Colorado Springs is the place to be. Or if you just want to look at a lot of alternators laying all over the place, this is also the place. Anyways, party time! Because we would not have had any $ left to buy an epic breakfast before Jake & Scott dropped the re-freshed, re-fancied, cleaned alternator back into Dyna's underbelly if we had to buy a new one.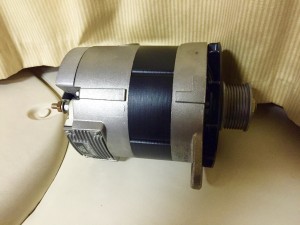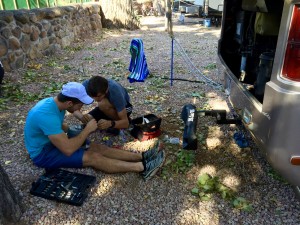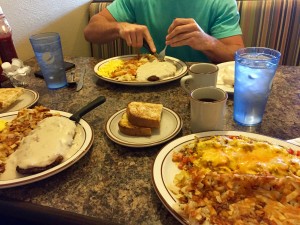 When we weren't torturing Scott with long strenuous hikes or large engine repair tasks, we drank beer. And ate donuts. In Denver. Scott really wanted to check out Voodoo Donuts and since there is one in Denver, we decided to make a day of it. We picked up my friend Holly (that's right, this Holly) and grabbed some VooDoo. And revisited Glazed and Confuzed. Because we're Americans. And Americans do things like eating donuts from every decent donut shop in a small vicinity. And then they drink beer. And go to Oktoberfest. And dance. So, that's what we did on Saturday with Scott. I don't think he hated it.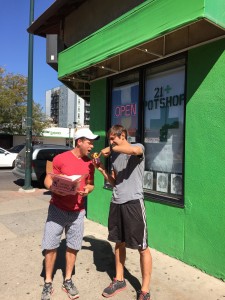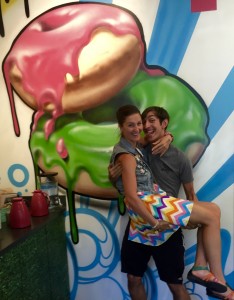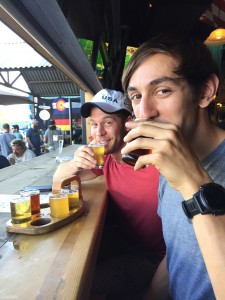 We cured our donut/beer hangover with a little jog up to Garden of the Gods for some geocaching. Jogging is the second best hangover cure. Being under 25 years old is the first best. After rejuvenating ourselves with fresh-air, we headed towards Cripple Creek to see the Molly Kathleen mines. We stopped at a breakfast place which was full of elders (usually a good sign), and after a small tragedy involving a poor older gentlemen falling, we pulled ourselves together and drove out to drop down 1,000ft into the earth. The Molly Kathleen Mine Tour was pretty sweet. It helped that our tourguide (Leash) was a super badass 4th generation woman miner who seriously loved power tools (I think she's single too!). After cramming 7 of us into a very small cage/elevator, she showed us goldmine things and then gave us some ore. Then we headed out to do a little tent camping (sorry, Dyna, you were just too big for this trip) at the base of Mt.Elbert. While we didn't plan it, camping out in the middle of nowhere gave us an awesome view of the 'Super Blood Moon Eclipse'.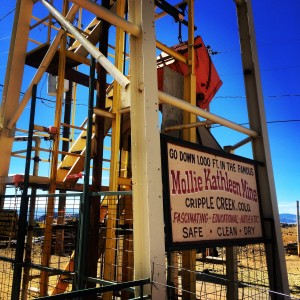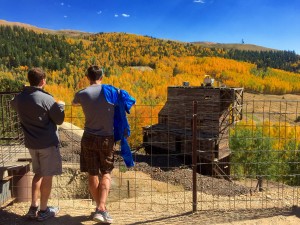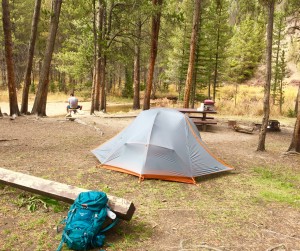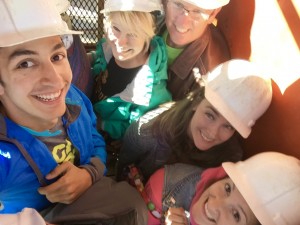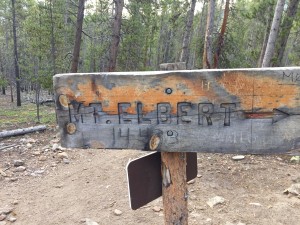 Since we didn't want Scott to get out of shape during his long weekend in Colorado, we decided it would be for the best to climb Mt.Elbert, the tallest Rocky Mt. I won't speak for Scott, but he appeared a bit better acclimated to altitude than on our foray up Pikes. It was a nice hike, although I personally didn't enjoy the downhill portion (hey, tourist hotspots -Pikes- have their advantages; hitchhiking availability!)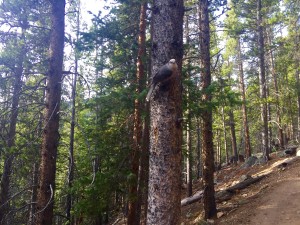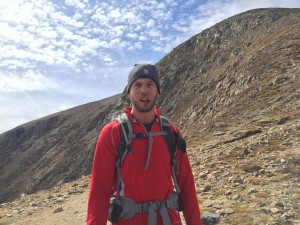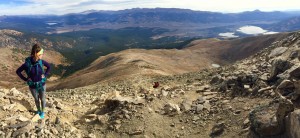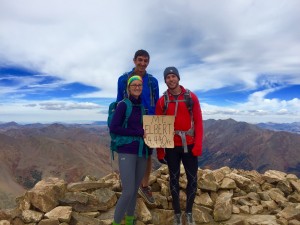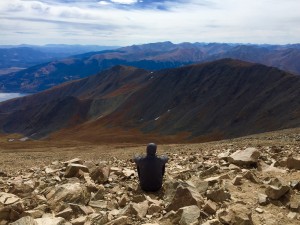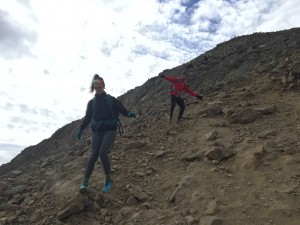 Because Scott insisted on going back to NY on Tuesday, we headed out of the wilderness and back to Dyna. On the way we stumbled upon gated off gates on a treacherous road. Then we happened upon a humongous community dinner in Buena Vista which literally took up the entire mainstreet. It was beyond cool, except for the fact that it meant the ice cream store was closed. (Don't worry, we're not deterred that easily.) We also saw a lady hit a deer, which was awful and may have made me cry. But, like I said, we aren't easily deterred from ice cream. So we continued on to ice cream. And then showers (hey Scott- 1814!!)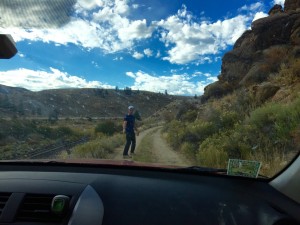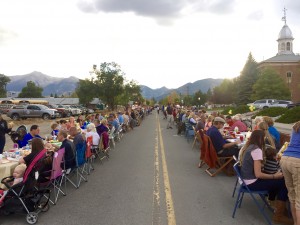 The next details of Scott's visit weren't so great. They involved packing up Dyna so we could head down towards Albuquerque, NM and packing up Scott so he could head back to Roc-city, NY. Scott was able to demonstrate his big rig driving prowess, however, so that was cool.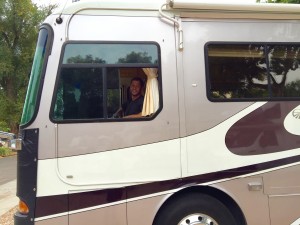 That's all for now. We'll be spending a few nights in Trinidad State Park on the Colorado/New Mexico border before spending a week at the Albuquerque International Balloon Fiesta!