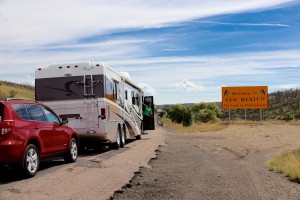 The last 3 months (& first 3 months!) of our travels have been geared towards slowly, but surely, driving Dyna towards Albuquerque, New Mexico. We took the 'long way' around Utah and Colorado to get here and now, we are HERE! Here's a fun fact: Jake reserved camping spaces at the Fiesta two months before we had found or bought Dyna. We had been told that spaces are limited and popular and thankfully, my 'always on top of things' partner, Jake, was cognisant that Fiesta was not something we could miss. Thank heavens for him!
We arrived at 'Balloon Fiesta Park' mid-afternoon on Thursday, October 1st to park Dyna in the 'standard' lot, which is across the street from where the balloons launch. After a gaggle of 'golf-cart-guys' (definition: typically older gentleman whose purpose is to drive his golf-cart in front of your RV through a campground and then attempt to help you park it) were finished marveling at the fact that a woman was driving a rig (me), one gentle golf-cart-guy parked us in a dusty lot that was butt-to-butt RVs. We'd never parked 'rally style' before, but I guess you can't be too picky when you are about to be surrounded by balloons! After we settled in (aka, hung my Smurf wind chimes from their place on Dyna's mirror) we walked over to check out the launch field and the other RV lots. The 'President's Compound' looked pretty sweet as it was up on a hill overlooking the launch field and I figure you could have a pretty awesome view of mass ascensions and glows from there without walking to the field. However, $85/night without access to hook-ups of any sort steered us clear of this 'luxury' compound. Since we had plans to meet up with Bob & Janice the next week in the 'VIP' lot (which would basically be another dirt lot where RVs are crammed butt-to-butt without hookups, but this time, closer) we weren't too worried about being a bit farther away in the 'Standard' lot for the weekend, especially since we're the 'walk everywhere' type of people. And if you're not the 'walk everywhere' type of people, there are folks driving shuttles between the RV lots and the launch field begging you to let them give you a free ride.
Turns out, there are no bad locations at Balloon Fiesta. While we couldn't watch balloons launch from the Standard lot, it's kind of hard to miss 500+ balloons flying through the air. As an added bonus, there were several days that the 'big sacks of air' landed in the Standard lot! After spending the entirety of the first launch morning down on the launch field, we fell into a pretty awesome pattern of waking up at 5am, walking down to the launch field (with coffee), watching the morning glow and launch, then heading back to the rig to sit on the roof with blankets (and more coffee) and watch the balloons fly overhead.
Denver Holly and her pup Henry made the drive down from Denver to join us for Friday/Saturday, and since the Fiesta didn't officially start until Saturday (they did launch for practice on Friday morning!), we ventured into Old Town Albuquerque. Definitely worth a stop; lots of shops hawking cool crap and a Frozen Yogurt store that sold FroYo priced by the cup, not by the weight. Finally! All the FroYo I can eat for $3! Did I mention they had Gushers to top your FroYo with? UNLIMITED GUSHERS. This is a childhood dream come true. Gushers just sitting in a large tub, unwrapped, and ready to explode with their sickening sweetness into your mouth.
Saturday morning, we started our routine of early rising, entering balloon heaven, eating breakfast, napping, people watching sitting outside the rig, then heading back down to the launch field for the 'evening glow' activities. It was seriously a week of what my heaven might be like. We broke up our routine with activities like a visit to the Balloon Museum (on site at Fiesta) and popping into an RV show (we like to pretend to want to buy a new RV) and hitting up a 'pin trading' meet-up (always looking to pimp my 'adventure jest').
On Tuesday, we joined Bob & Janice and their caravan of RV friends in the VIP West lot. More balloons. More people watching. Added bonus of getting to hang out with Bob & Janice (and sometimes their friends) & Guinness.
I was legitimately sad to leave on Friday morning. We are incredibly lucky to be able to lead this lifestyle right now. And to be able to spend an entire week immersed in hot air balloon heaven. We took a boatload of photos during the first few ballooning sessions, but by the end of the week we were heading down to the field camera-less and just enjoying our surroundings. I figured that I would just post a bunch of pictures so that you can check them out if you want, so enjoy if you decide to!
BALLOON FIESTA TIPS from first time Fiesta RVers:
GO TO FIESTA!!!
camp on Balloon Fiesta property if at all possible. We did see some tent campers up in a section of the VIP West lot (not sure if they were public or ballooners), so that might be an option. We totally thwarted the traffic woes of each morning and evening, although we heard horror stories of people never even making it off the highway to get to the Fiesta! And we got to spend our $10 for parking on breakfast burritos!
volunteer for a crew EARLY. We didn't realize this was something we could do until Saturday evening. Sunday morning turned out to be 'iffy weather at best' (although many balloons did end up flying). Since Jake works M-F, we were unable to crew any of those days. Alas, we didn't get to crew for a balloon, but if/when we go again, you bet your booties we will be! Also, if you volunteer, you receive a pass to get into Fiesta for free all week!
we found the best time to enter an RV lot was mid-afternoon. No lines!
honestly, parking in the Standard lot was no worse than parking in the VIP lot. There was a shorter walk to the launch field from VIP, but the views were really pretty similar (you can see the balloons once launched, but can't see them when they are still on the ground)
go drive around after a launch and check out all of the cool places the balloons land. Like in the middle of the road you are driving down.