I don't think I ever really got a grip on what people meant when they said things along the lines of 'the size of Texas' or 'Texas sized' until we started traveling full time. When people say 'bigger than Texas', I think they might be exaggerating, because at this point, I'm pretty sure there isn't much that is 'bigger than Texas.' As such, we keep gracing Texas with our presence; this is a post about our time in and around Fort Collins, Texas, which is pretty big into cowboys. And when you're talking about Texas being big into something, then you're talking BIG.
Now, not only is Fort Collins the cowboy capital of the world, but it is also very close to the sticks and bricks home of some friends we met back in Colorado Springs, Steve & JoAnn. So we parked Dyna half-way between the two (Holiday Park COE) and staked out for 2 weeks.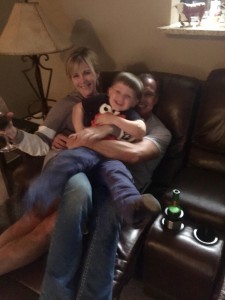 Holiday Park was beautiful, but it had some rules. Like no leaving without a pass (even running in and out on foot). And having to be back in the park by 10pm or you got locked out (no gate code). We probably wouldn't stay there again, as the facilities were a bit run down, the rules were a bit restrictive, and the amenities (electric and water only) were lacking for the price.
JoAnn and Steve showed us around the Fort Worth/Granbury area because they are awesome. We spent a Saturday downtown, where after lunch at Joe Garcia's (where JoAnn introduced us to the magic of warmed tortillas with butter and salt- try it), we spent a day checking out the Stockyards. Here Dexter decided that he wanted to sit on a Longhorn Steer, but couldn't do such a thing without a cowboy hat. In case you didn't know, this is a very serious conundrum when you're 4 years old. Luckily for Dexter, JoAnn swooped in and purchased him the hat of his dreams (and choosing) which he did not take off for days. This hat was immediately used to ride a Longhorn, ride one of those bucking bull machines, eat ice cream, and line dance solo style in Billy Bob's Honky Tonk while Josh Turner warmed up for his show that evening.
We celebrated Jake's birthday while in the Fort Worth area in Cowtown style; Jake & I hit up The White Elephant for bloody marys and then checked out our first real rodeo. Like the kind were they ride actual bulls. Who buck. A lot. We also checked out downtown Fort Worth, where there are some sweet water gardens. And we played candyland and baked cupcakes. Because that's what you do on birthdays.
Sometimes we just explored Fort Worth…
…and sometimes we made a spur of the moment trip into Fort Worth to attend a Donald Trump rally. Literally, spur of the moment. As in, his website will lie and tell you tickets are 'sold out' but when you show up, they don't even take tickets. You can just walk in (through metal detectors and plenty of security). Now, I'm not going to get all political here, but I will say that we went for the spectacle, to see just what exactly he had to say, and to make a first hand judgement of whether he is portrayed fairly in the media. It was a spectacle of sorts. He had very little of substance to say. He isn't portrayed accurately in the media; he's even more ridiculous in person. I have to confess that I was embarrassed to have brought my nephew to this event, and sadly, don't recommend anyone bring a young person to one of his rallies. Which is incredibly sad. Never thought of politics as something that we have to shelter our kids from. I expected that it might be a 'circus'. I did not expect it to be so laced with cruel inappropriateness. End rant.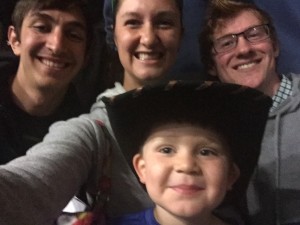 Speaking of animals…
JoAnn took Dex and I to the Fossil Rim Wildlife Center, which, was awesome. Like the kind of awesome where a giraffe sticks it's head inside your car to eat from your palm. We thoroughly enjoyed the entire park- accept for the Emus. Those things are scary as all get out. Since there is no better way to cap off a few hours at a drive through wildlife park (and attempt to erase the memory of an Emu trying to stick it's grubby head in your car) than a drinking rootbeer float, that's what we did. If you're ever in the area, Dex & I give the Shoo Fly Soda Shop in Glen Rose 2 thumbs up!
Since I hadn't run more than 6 miles at any given time since early January, and was struggling to get in 4 days of running a week (seriously, how do parents do that?), when JoAnn informed us that the CowTown marathon was taking place while we were in town, I thought "this is GREAT!". Then, when I found out that this race series also held an ultra distance race (ok, it was only 50k, but still), I was all, "Heck Yes!" And then I remembered about the whole not having run more than 6 miles at any given time since early January. So, rationally, I signed up for the 50k and Jake signed up for the half-marathon (he is usually the more intelligent one in the relationship). Race recap: it was an awesome day. I ran a relatively pain-free, relaxed 50k that had amazing crowd support (the Chick-Fil-A cows were there!) in beautiful running weather. After meeting up with Jake, David, and Dexter post race for a waterbeer (i.e. Miller, Coors, Bud, etc.), we spent the afternoon marinating in our own stench at a nearby playground where Dexter played on the carousel of doom (you know, that spinny playground device that has possibly been banned in NY due to high likelihood of maiming?) with about 20 other kids. It was a good day.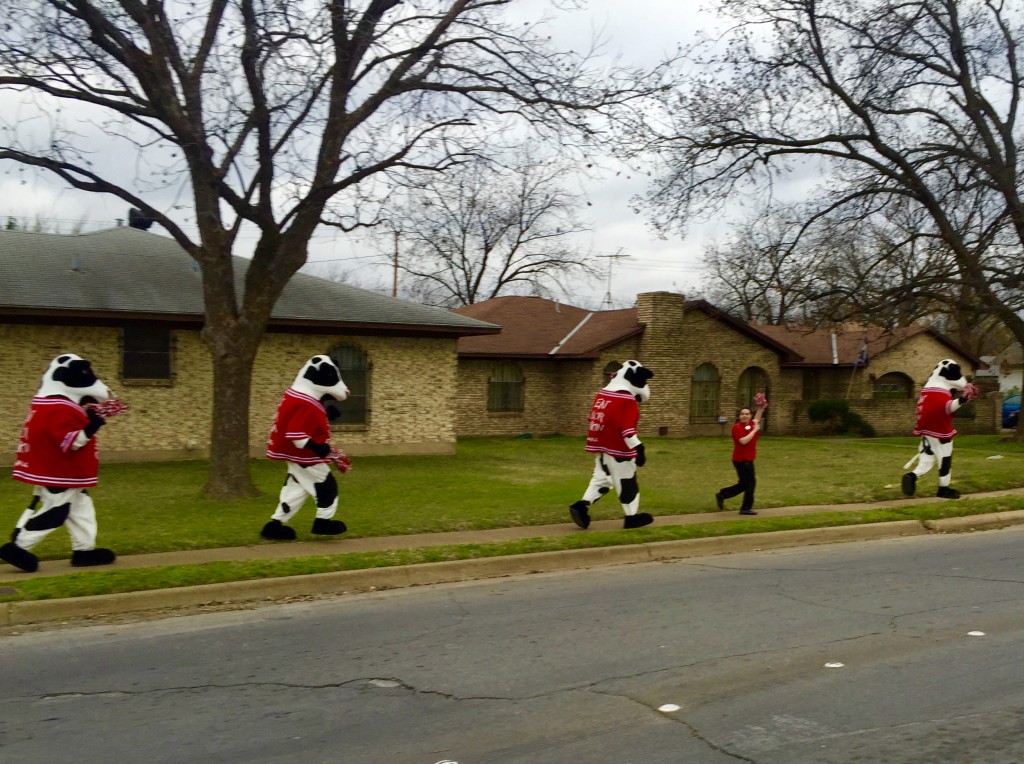 Before rolling out of the Fort Worth area, JoAnn & Steve treated us to a home cooked dinner of ribs & fixings. I may have mentioned this in a previous post, but Steve knows how to grill. He's kind of a grill guru. And even though JoAnn won't eat it, her potato salad is top notch. Anyone who likes good food might want to become friends with Steve and JoAnn. They are great hosts, they cook good food, and their company is pretty top notch too! We've succumbed to the fact that until the next time we visit, we'll be stuck with sub-par grilled meet and a lack of Texas drawl in our lives. Thanks for the great time in Fort Worth, Steve & JoAnn!