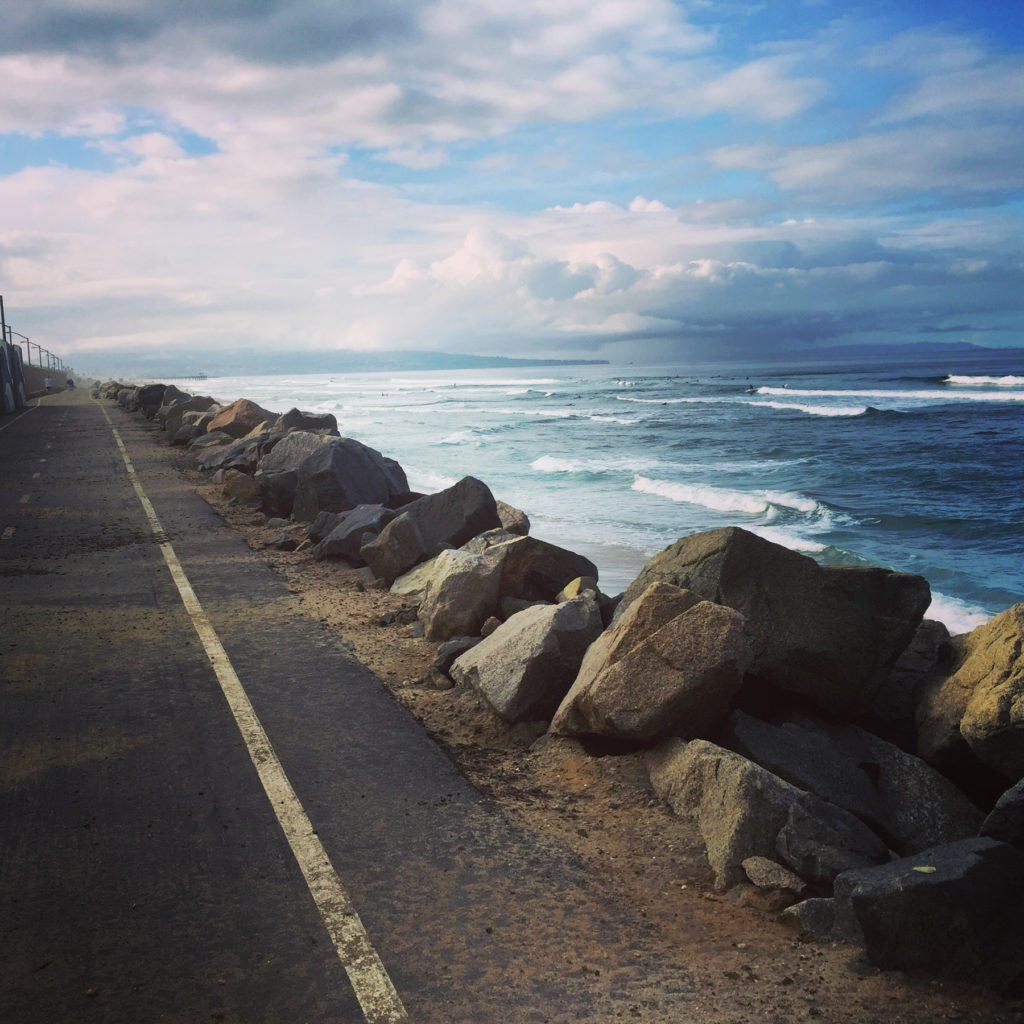 Los Angeles was a blur for me (Liz). And since I'm the blog writer (for now anyways), this post will be mostly a blur for you. While we were in LA for a bit more than 2 weeks, I spent a week and a few days of that back in NY with family. I had a very important package (Dexter) to return and figured it would be a good idea to make sure that this package transitioned easily back into the non-nomadic lifestyle. My week at home jetpacked (that's a word now) by and I didn't get to spend nearly as much time with my family as I would have liked, but all in all, it was a success. Coming back to LA without my 50lb adventure buddy was hard. When I got back, Jake & I spent some time feeling the gap that only a four-year-old human whirlwind can leave in your lives. And we also spent some time appreciating the gap that he left; I could run freely without concern about what Dexter may or may be hammering/taping/coloring on while I wasn't there to negotiate. Because, let's be honest, living with a preschooler is the equivalent of living with a politician. Or a terrorist. Same thing. They make unreasonable demands (i.e. 'you gave me too much ice cream! I need a smaller ice cream!'), ridiculous assumptions (i.e. 'ok, we can leave this playground so we can go to another playground') and will battle to get their way at any cost (i.e. time out sessions consisting of 2 straight hours of 'don't come out until your (4 minutes) timer sounds). But they are also amazingly awesome; hilarious, full of the neatest ideas, and genuinely in love with the world. We miss/ed him. But we also enjoy being able to get up when we want, go drink beer when we want, hike, bike, and nap when we want. In short, we look forward to him rejoining us for some adventures in the future, but until then: FREEDOM!
David Moon also left us while we were in LA, so this little house on the highway is now a party of 3 (Lucy remains as our adventure cat).
We stayed at Dockweiler RV park, which is at the end of two Western facing LAX runways. On the ocean. With access to miles of an oceanside, paved running trail which if you ran far enough on it, you could meander through the canals of Venice Beach. Also, there was a never ending supply of aircraft taking off in predictable (every 20 seconds) patterns with decibel levels surpassing those which my college audiology professor would deem acceptable. I'm not a huge fan of the ocean. And this ocean kept pelting our feet and legs with tar whenever we played in it's waves. But we still loved it; enough that we booked an extra day at the end of our planned stay.
We got into the city a few times, but the traffic in LA really blows. We picked around in 'The Last Bookstore' and drove through the Hollywood Hills. I really love a good bookstore, and find myself seeking them out in each new place we settle. This one was pretty huge and had a books shambled together into different forms to make art type things. The used book section was enormous, so I was down with it. We mostly just hung out in the nearby coastal suburbs, which we often accessed by plodding along the paved running trail (which some people used for other activities like walking or rollerblading or biking, but which was clearly made for running) on our bikes. We hit up El Segundo and Manhattan Beach, admiring the luxurious beach homes overlooking the water and hitting up taco Tuesday. Venice Beach was a tiny bit buckwild, but not too buckwild; we spent more time than we probably should have ogling the muscle men work out (mostly just flex for the small crowd gathered around their outdoor gym) and watching the skaters flip their wheeled objects around giant cement bowls and oddly placed rails. We celebrated my buckwild love for bread pudding with some of the best bread pudding I've ever eaten, at a boardwalk stand called 'Espresso Yo'Self'. Also, buckwild is a word, so deal with it. We made it to the end of Route 66 on the Santa Monica Pier and perused the shops up the hill. When we did get into the city, we hit up Korea Town for some sushi; we were unknowingly lured into being the only guests at a newly opened Korean eclair shop where we were force fed a variety of samples of eclair by overly friendly hosts while enjoying some wine. And by force fed, I mean the pastry chef asked us if we would like to try some of his new creations while a wide eyed waitress smiled at us intently, so we said yes. Because, really, is it possible to be force fed a dessert? No.
And suddenly, our time in LA was over. We were a little sad that we didn't get to taste a bit more of the area but our wallets weren't as sad. So we're rolling as 3 to the illustrious city of Bakersfield, CA. Because we heard we can catch a decent deal on a campsite out there. And in LA, I'm not sure that 'on the cheap' is part of the language (well, maybe it is, but not in regards to a place to park the rig).